Congress returns from its recess next week with a government shutdown looming next Friday. "If Congress does not strike the first truly bipartisan deal of his presidency by then, Donald Trump will spend his 100th day explaining to the public why the government he's charged with running has partially shut down." How Trump's First 100 Days Could End in a Government Shutdown.
But first, Tea-Publicans apparently believe they have enough time to try to raise a zombie "Trumpcare" plan from the dead. Sarah Kliff reports at Vox.com, House GOP members are floating a new health plan. Here's what's in it.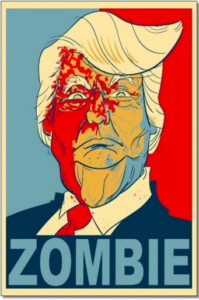 House Republicans are floating a new amendment to their health care bill — one that would likely cause even more Americans to lose coverage than the last version.
Leaders of the staunchly conservative Freedom Caucus and the more moderate Tuesday Group have reportedly hashed out a proposal that would let some states ditch key Obamacare policies, such as the requirement to charge sick people the same for coverage as healthy people. States would also have the choice to opt out of the Affordable Care Act's essential health benefit requirement.
The Huffington Post reported on the development late Wednesday night, and Politico posted a short white paper early Thursday describing the changes. We still don't know how final this amendment is or which House Republicans support the changes.
What we do know is that this latest proposal doesn't do much at all to assuage concerns about the older proposals. While it meets many of the demands of the party's far-right wing — namely, the deregulation of the individual insurance market — it does nothing to address concerns about massive coverage loss. Instead, it likely makes those problems worse.
"It's pretty frustrating to see they've worked so hard to come up with another Rube Goldberg–type solution," says Craig Garthwaite, a health economist at Northwestern University's Kellogg School of Business.