A "whiter shade of pale" Mike Pence was in Phoenix this week for the GOP tax scam tour. See earlier, VP Mike Pence in Phoenix today on GOP Tax Scam Tour.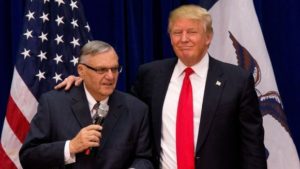 But Vice President Pence did much more than that. He gave a big wet kiss to disgraced convicted felon, crazy Uncle Joe Arpaio, whom fellow Birther conspiracy theorist Donald Trump gave his first pardon as president in order to demonstrate just how far he was willing to go to obstruct justice and to protect his circle of sycophant supporters. Was Pence's big wet kiss meant to be an implied endorsement of Joe Arpaio by "Dear Leader" in the GOP Senate primary? ("Chemtrails" Kelli Ward and Martha McSally had a sad).
The Washington Post reported, A champion of 'the rule of law': Pence praises pardoned Arizona sheriff Joe Arpaio:
Vice President Pence called former Maricopa County Sheriff Joe Arpaio, who was convicted of contempt of court last year, a champion of "the rule of law" and said he was honored by his attendance at an event with him Tuesday in Arizona.
During remarks at an event in Tempe, Ariz., on tax cuts, Pence acknowledged Arpaio was in the room, suggesting he had not expected to see him.
"I just found out when I was walking through the door that we were also going to be joined by another favorite, a great friend of this president, a tireless champion of strong borders and the rule of law, who spent a lifetime in law enforcement," Pence said.
"I'm honored to have you here," the vice president added.
* * *
Arpaio's conviction has done little to dampen the praise he continues to receive from the Republican establishment.
A recent Magellan Strategies poll found Arpaio running second in a three-person race with a 67 percent favorable rating among Republican primary voters.
Because haters gotta hate.