For the first time in American history, a vice president had to vote in the Senate to break a tie on a Cabinet nominee, and Betsy DeVos was confirmed as Donald Trump's education secretary. With historic tiebreaker from Pence, DeVos confirmed as education secretary: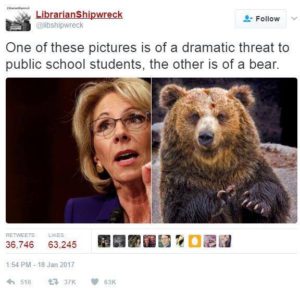 The Senate confirmed Betsy DeVos as education secretary Tuesday by the narrowest of margins, with Vice President Pence casting a historic tiebreaking vote after senators deadlocked over her fitness for the job.
The entire Democratic caucus of 48 senators voted against DeVos, as did two Republicans, Lisa Murkowski of Alaska and Susan Collins of Maine, who said they did not think that DeVos was qualified for the job. The remaining 50 Republicans voted for her, setting up a 50-50 tie that could be broken only with Pence's vote.
It marked the first time that a vice president's tiebreaker was needed to confirm a Cabinet secretary, according to Daniel Holt, an assistant historian in the Senate Historical Office. And it was the first time a vice president cast any tiebreaker in the Senate since Richard B. Cheney did so nine years ago.