Speaker of the House Paul Ryan, Senate Intelligence Committee chairmanRichard Burr, and ranking Democrat on the committee Mark Warner said Thursday that they have seen no evidence of President Donald Trump's accusation that he was wiretapped last year by President Obama. Ryan, Senate Intel committee see no evidence of Trump wiretap: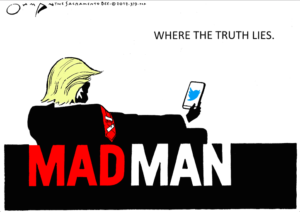 "We have not seen any evidence that there was a wiretap or a (Foreign Intelligence Surveillance Act) court order against Trump Tower or somebody in Trump Tower," Speaker Paul Ryan said in an interview Thursday on CNN's "The Situation Room" with Wolf Blitzer.
* * *
Senate Intelligence Committee chair Richard Burr and ranking member Mark Warner issued a statement earlier Thursday, saying "based on the information available to us, we see no indications that Trump Tower was the subject of surveillance by any element of the United States government either before or after Election Day 2016."
The statement from the leaders of the Senate Intelligence Committee marks the clearest and strongest refutation of Trump's allegations since the President first made them two weeks ago. The senators statement also addresses Trump's more recent statement that he was not merely speaking about wiretapping specifically.