Secretary of Agriculture Sonny Perdue was the guest of honor at the annual Farmfest gathering in southern Minnesota this month. He didn't realize that he was on the menu. He was booed after joking that farmers are "whiners" who need to suck it up for Trump trade policies.
The New York Times reports, Farmers' Frustration With Trump Grows as U.S. Escalates China Fight:
American farmers have become collateral damage in a trade war that Mr. Trump began to help manufacturers and other companies that he believes have been hurt by China's "unfair" trade practices.
More than a year into the trade dispute, sales of American soybeans, pork, wheat and other agricultural products to China have dried up as Beijing retaliates against Mr. Trump's tariffs on Chinese imports. Lucrative contracts that farmers long relied on for a significant source of income have evaporated, with Chinese buyers looking to other nations like Brazil and Canada to get the commodities they need. Farm bankruptcy filings in the year through June were up 13 percent from 2018 and loan delinquency rates are on the rise, according to the American Farm Bureau.
The predicament of farmers is becoming a political problem for Mr. Trump as he heads into an election year. For months, farmers have remained resolute, continuing to pledge support to a president who says his trade policies will help the agricultural industry win in the end. While there are few signs of an imminent blue wave in farm country, a growing number of farmers say they are losing patience with the president's approach and are suggesting it will not take much to lose their vote as well.
Mr. Trump, who regularly brags about an economic boom despite signs of a slowdown, has in some cases made matters worse. He recently dismissed sales of American wheat, suggesting Japan was buying it only as a favor to the United States. And his frequent tweets insisting that "farmers are starting to do great again" have rubbed some agriculture groups the wrong way.
"We're not starting to do great again," Brian Thalmann, the president of the Minnesota Corn Growers Association, told Mr. Perdue at the event. "Things are going downhill and downhill quickly."
On Monday, after a 72-hour period during which Mr. Trump twice escalated his trade war with China, Mr. Thalmann said he could no longer support the president as he did in 2016."
At some point we have to quit playing games and get back to the table and figure this out," Mr. Thalmann said. "There's no certainty to any of this."
Losing the world's most populous country as an export market has been a major blow to the agriculture industry. Total American agricultural exports to China were $24 billion in 2014 and fell to $9.1 billion last year, according to the American Farm Bureau. Exports of farm products to China fell by $1.3 billion in the first half of the year, the agriculture group said this month.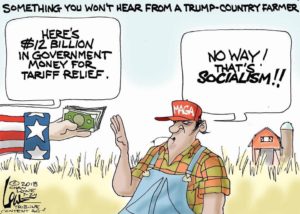 The administration has tried to mollify farmers by rolling out two financial aid bailout packages totaling $28 billion (socialist welfare to buy farmer's votes in 2020). The White House has also dispatched Mr. Perdue, the 72-year-old former governor of Georgia who was raised on a farm and trained as a veterinarian, to places like Minnesota, Iowa and Wisconsin to calm the nerves of farmers.
Trump spoke on Fox News Radio Thursday morning, saying that he's given farmers billions to support them bail them out during his trade war. The reality, however, is that the majority of the bailout funds were given to large corporate farms and not family farmers.
But as the trade fight gets uglier, farmers are beginning to panic. Last week, Mr. Trump said he would increase tariffs on $250 billion worth of Chinese imports to 30 percent and impose a 15 percent tax on another $300 billion worth later this year. China has already said it will no longer buy American agricultural products and announced on Friday that it would raise tariffs on $75 billion of exports from America.
* * *
The administration is looking for other ways to help farmers, including scrambling to secure additional trade deals. At the G7 summit in France this week, Mr. Trump said the United States and Japan were nearing an agreement that would result in Japanese companies buying more American corn.
Mr. Trump is also trying to appease corn farmers who complain that an Environmental Protection Agency decision this month will hamper ethanol production. Farmers say the agency's decision to exempt small oil refineries from a requirement to blend corn-based ethanol into gasoline has led to a drop in demand for the fuel.
This is a bigger blow than the Trump tariffs. Some Iowa ethanol leaders say President Donald Trump should no longer count on their support in next year's election, given his administration's action to cut demand for ethanol. 'A slap in the face': Trump's ethanol waivers are sparking rebellion in farm country:
Earlier this month, the U.S. Environmental Protection Agency let 31 oil refineries off the hook from a requirement to blend 1.4 billion gallons of ethanol and biodiesel into their fuel.
Since taking office, the Trump administration has granted 85 refineries a pass from buying 4 billion gallonsof renewable fuel, killing demand for 1.4 billion bushels of corn used to make it, Bowdish said.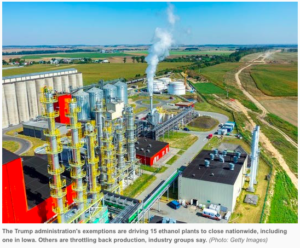 The exemptions are driving 15 ethanol plants to close nationwide, including one in Iowa. Others are throttling back production, industry groups say.
"The exemptions are ridiculous and a slap in the face to farmers," said Curt Mether, president of the Iowa Corn Growers Association and a western Iowa farmer.
"If people connected to agriculture decide to vote for the president, they're just voting to cut off their own economic prosperity," said Nick Bowdish, CEO of Elite Ethanol in Atlantic.
* * *
Bowdish said the exemptions add "more pain and misery" for farmers and businesses tied to agriculture.
Trump's trade war with China, a massive buyer of U.S. soybeans and pork, has helped drive down prices for those commodities. And spring flooding kept U.S. farmers from planting a record 19.4 million acres of corn, soybeans and wheat this year. That follows years of low prices for major crops.
The trade dispute has killed Chinese demand for ethanol, Iowa leaders said.
"Farmers are getting it from several directions," said Jerke, the Southwest Iowa Renewable Energy CEO.
U.S. farm income is expected to total just $69 billion this year, nearly 45% below a 2013 high.
At Minnesota's Farmfest, it was clear that Mr. Perdue's Southern charm could go only so far. His answers to questions about how the trade war with China would end were curt, and his quip about whining farmers left some with a sour taste.
"We shouldn't have to whine to get paid," said Joel Schreurs, a farmer from Tyler, Minn., who questioned Mr. Perdue at the event. "They should be grateful that we're taking one for the team."
Last week, Agriculture Department staff members in Nebraska left the Pro Farmer Midwest Crop Tour after receiving a threat from an angry farmer. According to an organizer of the event, farmers have been venting to the government employees who attended the annual tour about depressed crop prices, falling farm income and difficulty gaining access to credit.
"This is a stressful time in agriculture," said Joel Jaeger, the general manager of Pro Farmer. "There's certainly a lot of stress in the farm community."
But many farmers continue to support Mr. Trump and express hope that the president knows what he is doing in his dealings with China. A July survey from Farm Journal found that 79 percent of 1,100 farmers still back Mr. Trump despite the lack of progress in negotiations with China. However, his support dropped to 71 percent in August.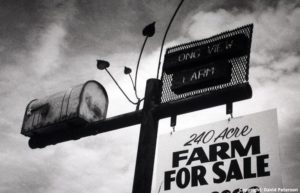 How many farmers are willing to lose the farm that has been in their family for generations out of blind party loyalty and GOP tribalism? Are they really willing to lose everything that matters in their life just to cast a vote for Donald Trump simply because he has an "(R)" behind his name? Is this what they want to tell their children when the bank forecloses on the family farm and the only way of life they have ever known? This is their legacy and inheritance.
Paul Krugman asks this question from a different perspective today. The Frauding of America's Farmers:
The questions, looking forward, are whether farmers understood what they were getting themselves into, whether they understand even now that their distress isn't likely to end anytime soon, and whether economic pain will shake their support for the man who's causing it.
* * *
[H]ere's the thing: It shouldn't have been hard to predict that Trumponomics would be bad for farmers. Trump's desire for a trade war was out in the open from the beginning; protectionism is right up there with racism and anti-environmentalism as one of his core values. And a trade war was bound to hurt farm exports. Did anyone really imagine that China, an economic superpower with its own fierce nationalism, wouldn't retaliate against U.S. tariffs?
So what were farmers thinking? My guess is that they let the will to believe override their judgment. Trump seemed like their kind of guy. He certainly seemed to share their dislike for urban elites who, they imagined, looked down on people like them. So they convinced themselves that he knew what he was doing, that he would win his trade war and that they would be among the victors sharing the spoils.
Even now many farmers seem to believe that the pain will end any day now, that Trump will soon announce a deal that restores all the old markets and more.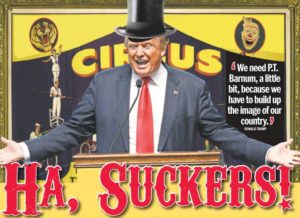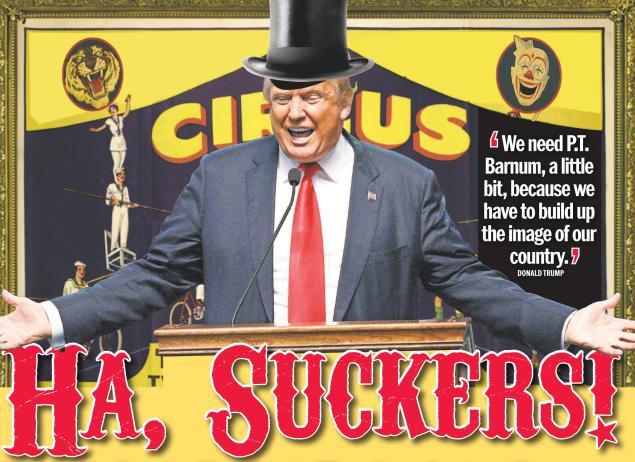 In short, farmers' support for Trump should be seen as a form of affinity fraud, in which people fall for a con man whom they imagine to be someone like them.
And as is often the case in such frauds, the con man and his associates actually have contempt for their marks.
* * *
So what will happen as the trade war drags on? Don't expect farmers to suddenly exclaim en masse, "Hey, we've been had!" Real life doesn't work that way. But they have, in fact, been had, and they may finally be starting to realize it.
The Washington Post reports, Trump's trade war could cost him with a key constituency: Farmers (excerpts):
Even though farmers make up about 1 percent of the U.S. population, because of where they are concentrated, they played an outsize role in getting Trump to the White House. Their support for Trump helped move several states that consistently have gone into the Democratic column over to his. But lately, farmers have been more vocal in criticizing Trump's trade war, and Democrats see an opening to make the case that Trump isn't acting in their best interests.
* * *
Iowa, Wisconsin, Pennsylvania and Ohio: These are all states that Trump needs to win to be reelected. And they're all states where farmers are hit hard by "Trump tariffs," making this a potential double whammy for Trump. Farmers are some of his core supporters. They tend to live and work in rural areas, are reliably Republican and reliably voted for Trump.
Republican senators have been warning for months that farmers can't take much more of this.
Sen. Roy Blunt (Mo.) told Politico in May: "They can feel it. The farm community up 'til now has really supported the president without flinching. But eventually you flinch."
Now, farmers' concerns are no longer a murmur. The National Farmers Union issued a statement about Trump's trade war that sounded as if it could be coming from his political opponents.
Here's the group's president, Roger Johnson, on Friday: "It's no surprise that China is slapping even more tariffs on American products. Every time Trump escalates his trade war, China calls his bluff — and why would we expect any differently this time around? And it's no surprise that farmers are again the target."
Here is a follow-up interview of Roger Johnson of the National Farmers Union on MSNBC .
[I]t's really big news that economists are warning that the United States could be in a recession soon.
All of those things add up to a narrative Democrats hope to push in 2020, that Trump's trade war with China is costing Americans, and especially farmers, money.
"If he doesn't lose 100 percent of it from the farm belt, then people are kind of crazy because this is not going well for farmers at all," North Dakota farmer Bob Kuylen told CNN this week, as reported by Newsweek.
Well said, Mr. Kuylen. You understand that you've been had by a grifter and a con man, and are not afraid to admit that you made a mistake. Now if only you can convince your fellow farmers to do the same.