While most Arizonan's were enjoying their Memorial Day holiday, the Arizona legislature was in session. They finally passed a budget after some extended horse trading, and early this morning at 12:58 a.m. declared sine die. Thank God it's over!
The Arizona Capitol Times reports, Legislature passes $11.8B budget, adjourns session:
With an $11.8 billion spending plan on Gov. Doug Ducey's desk, the Arizona Legislature adjourned sine die on Tuesday after a long and at times contentious debate on the budget, statutes of limitations for sexual abuse survivors and a higher daily allowance for lawmakers.
It only took the Arizona Legislature 135 days, and most of the Memorial Day holiday weekend, to get it done.
* * *
In the end, Ducey got much of what he asked for when he proposed a spending plan in January, including his savings goal.
"With this budget, Arizona is learning from the past mistakes, exercising fiscal responsibility, investing in the things that matter and making a historic down payment on securing Arizona's future," Ducey said in a written statement.
And if there was any doubt that the governor approves of the Legislature's labor, Ducey left no doubt: "I look forward to signing it."
In the final act of session, the House handily defeated a bill of last-minute budget amendments, including new funding for diabetes programs and financial literacy for youth organizations, with a raucous 7-53 vote. Democrats and Republicans alike rejected the bill, preferring instead to adjourn sine die.
Bowers, R-Mesa, cryptically suggested that lingering frustrations — he wouldn't say with what — also played into the House's final vote.
"I'm guessing they may be upset about how things happened," Bowers said.
Still, the final budget also included new spending that helped ensure Republicans in the Senate had enough votes to approve the spending plan along party lines, even when one GOP senator voted against most bills.
That includes more than $18 million for graduate medical education, $5 million on top of the $15 million allocated for school resource officers and counselors, and another $5 million for the Housing Trust Fund, all requests made by Sen. Heather Carter, R-Cave Creek.
That's not all Carter held out for. She joined Sen. Paul Boyer, R-Glendale, in refusing to vote for a budget as long as GOP leaders blocked a vote on Boyer's bill to increase the statuet of limitations for survivors of childhood sex abuse to sue their abusers.
As unanimously adopted by the House and Senate, the limit will increase by 10 years, from age 20 to 30.
And Boyer negotiated an opportunity for anyone who's aged beyond that new limit to sue their abusers before Dec. 31, 2020, although the agreement stipulates they can't be awarded punitive damages in court.
With Boyer and Carter's votes secure, the Senate was prepared to play catch up with the House, which secured party line votes on all 11 budget-related bills during a marathon voting session late Friday night and Saturday morning.
Carter and Sen. Kate Brophy McGee, R-Phoenix, joined with Democrats to kill a bill that would allocate $2.5 million to a center that discourages abortion, citing disappointment that the Legislature wasn't funding the state's 211 hotline instead. [Cathi Herrod and the Center for Arizona Policy lost this one? That's making progress.]
And most lawmakers in both the House and Senate voted for a bill that would triple daily allowances for rural lawmakers and nearly triple them for Maricopa County residents. [See Pamela Powers Hannley's post for an explanation.]
In the Senate, the budget bills passed mostly along party lines. Only Sen. J.D. Mesnard, R-Chandler, broke ranks, voting against most of the budget measures out of protest a tax conformity plan that cuts roughly $320 million in income taxes next year.
Mesnard, however, didn't object to the tax cut, but to the beneficiaries of it. The plan agreed to by GOP leaders and Ducey collapsed the state's income tax brackets from five to four, predominantly decreasing taxes for lower and middle class Arizonans. Mesnard had pushed for a three-bracket structure aimed at lowering taxes for wealthier Arizonans, who Mesnard argued were hit harder by President Trump's 2017 tax reform plan.
* * *
The tax plan came close to failing in the Senate, as a group of Republicans gathered around Mesnard's desk to discuss it in the middle of voting. Sen. Michelle Ugenti-Rita, R-Scottsdale, asked whether they could kill the tax plan and still pass the budget, and it took a reminder from Fann that the plan was part of the budget package legislative leaders negotiated with Ducey for it to succeed.
Freshman Sen. Tyler Pace of Mesa scolded other senators for not dealing with tax conformity a year ago, before taxpayers filed their 2018 taxes. He ended up voting for the plan, but called that vote "unfortunate."
"If I vote aye, we move forward," Pace said. "If I vote nay, we go into the same position we were last year, of neglect, where we say we'll do a special session, we say we'll fix this problem."
In the end, the budget's criminal justice and K-12 spending bills were the only measures Mesnard voted for.
Senate Democrats, meanwhile, voted against all budget bills despite entreaties from Fann to support them.
"So many  things in this bill are the direct result of the kindness and the caring and the asks from my Democratic colleagues," Fann said before moving one bill.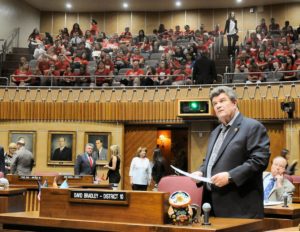 Senate Minority Leader David Bradley, D-Tucson, said Democrats found it difficult to negotiate because goal posts kept moving.
"We make a direct offer, we get an indirect or no response," Bradley said. "We have only offered up ideas accompanied with numbers and have awaited a response."
He said Democrats wanted a budget that would support teachers, students, homeless Arizonans and pregnant and chronically ill residents.
Because Republicans hold a one-vote majority in the House and a two-vote majority in the Senate, this year was a perfect time to set a new standard for bipartisanship in the Legislature, said Sen. Martin Quezada. But on that count, both houses failed, the Glendale Democrat said.
"We seem to have a perverted idea of what bipartisanship actually is," Quezada said. "A bipartisan budget is not a budget that happens to have one or two Democratic votes at the end of the night."
The Arizona Republic adds, Arizona Legislature's 2019 session ends as lawmakers approve $11.8 billion budget:
The budget increases the state's reserves to $1 billion, which was a non-negotiable item for the governor. It also fulfills the second part of Ducey's promise to increase teacher raises 20% by 2020 and doubles the money Ducey promised to send to schools for capital needs this year.
The budget came with a tax conformity plan that lowers the tax rate and make changes to the child tax credit, standard deduction and charitable contribution deduction, more than offsetting the increase for 2019. Democrats have derided the plan as a $300 million-plus tax cut.
All told, the budget is substantially similar to what Ducey requested when he announced his spending plan in January.
* * *
For their part, Democrats tried to broker some bipartisan deals to be included in the Republican-led budget plan. They participated in some negotiations with the majority party in the Senate to no avail. They offered dozens of amendments on budget bills, none of which were adopted.
"We had an opportunity this session to work in a bipartisan way and take the next big step, building upon 20 by 2020, in restoring funding to our desperately underfunded classrooms," Senate Minority Leader David Bradley, D-Tucson, said in a statement.
"Instead, this budget puts funding for Arizona schools at serious risk with the sunset of the Trump tax cuts in 2025, the looming Prop 123 cliff that same year and the possibility of a future recession. Permanently forgoing this revenue for a half billion dollar tax cut is irresponsible."
What's in the 2019-2020 budget
The budget's main provisions include:
A 5% raise for teachers, the second installment in Ducey's three-installment plan to raise teacher pay 20% by 2020.
A plan to phase out the much-maligned $32 vehicle registration fee instituted last year. The phase out will happen over two years.
A $130 million plan to expand Interstate 17 over the next three years at areas where motorists often hit heavy traffic.
$15 million to expand academies that train teachers at the state's universities.
$20 million for a school safety grant program, where schools can apply for counselors or on-campus law enforcement officers.
Infusions of $271 million in the current fiscal year and in the fiscal year that begins on July 1 to bring the state's rainy day fund to $1 billion
$1.6 million to eliminate a freeze on the KidsCare program, which provides health care coverage to children in low-income families
Substantial raises for corrections officers, Department of Public Safety troopers and Department of Child Safety caseworkers, among others.
$11 million to hire 48 new state troopers.
Howard Fischer adds, $11.8 billion state budget gets final approval:
Rebuffing Democratic complaints of misplaced priorities, Republican lawmakers late Monday gave final approval Monday to an $11.8 billion spending plan for coming fiscal year.
"This is a pretty amazing budget," boasted Senate President Karen Fann, R-Prescott. And she argued that much of what is in the spending plan are priorities suggested by Democrats.
"We know that there will never be enough money to fix everything and address every single thing," she said. "But we believe this is a prudent budget that spends wisely that takes care of all of our Arizona residents to the best that we possibly can at this point."
Several Democrats didn't see it that way.
Sen. Tony Navarrete, D-Phoenix, pointed out that the state has yet to restore the aid it used to provide to Maricopa and Pima community colleges. The result, he said, is placing additional burdens on students who choose those colleges because they are supposed to be more affordable than the state universities.
* * *
[Fann] did not dispute that the community colleges in the state's two largest counties are not getting the same state aid, divided up by students, as the rural colleges.
Leach said they were not forgotten, saying Pima Community College will get $15 million during the coming three years to expand its aviation training center "for an industry that's absolutely dying for people to hire." And there's $5.8 million for a health care program at the Maricopa colleges.
And he said there's $14.2 million to be divided up among rural community colleges.
* * *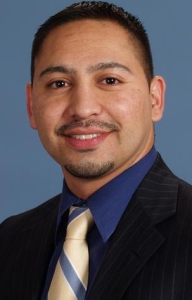 For Martin Quezada, D-Glendale, one big flaw is the "results-based funding" formula which he said gives extra money to schools where students already are doing well rather than targeting those where students are struggling. At the same time, the state still has not fully restored all the dollars it cut from schools during the recession.
And then there's what Democrats describe as about $325 million in tax cuts for the coming year — $386 million with other fee cuts — a figure that Sen. Andrea Dalessandro, D-Green Valley, said will increase to $531 million within three years.
Sen. Vince Leach, R-Tucson, said all that change does is offset the additional dollars Arizona is expected to collect from its taxpayers due to changes in federal tax laws. [Revenue neutral tax policy].  It also accounts for the fact that the state, taking advantage of a ruling last year by the U.S. Supreme Court, will be imposing its sales tax on online sales, picking another $85 million from the pockets of Arizona shoppers who click and buy rather than going to local brick-and-mortar stores.
Democrats contend the state should have kept at least some of that extra money. Dalessandro said 90 percent of her constituents told her they would rather invest in public education than getting a larger standard deduction on their state income taxes.
That idea proved unacceptable to the Republican majority. Sen. Sylvia Allen, R-Snowflake, said it's simple.
"This is not our money," she said.
"It belongs to the people," Allen continued. "They paid for it with their blood, sweat and tears."
And Democrats are unhappy that the plan calls for putting another $570 million into the state's rainy day fund over the next two years, bringing it to $1 billion. That, they said, is money that should be used for priorities.
* * *
Elsewhere in the spending plan, Fann pointed out that it adds $20 million to a program to help schools hire counselors or school resource officer. That's on top of $12 million already in the budget.
There also is $88 million for schools to use for repairs and maintenance, $76 million for new school construction and $10 million in grants for students in career and technical education.
There also is some additional cash for the universities: $18.9 million for Arizona State University, $9.4 million for the University of Arizona and $6.7 million for Northern Arizona University. But those are one-time funds, meaning the schools cannot start or expand existing programs with the dollars.
But Quezada complained that lost in all that are some smaller programs that are taking a hit in the spending plan.
He was specifically critical of taking $700,000 taken from an account which is supposed to help provide attorneys for poor people who are accused of criminal charges. Quezada said that's not fair.
When people start parsing through the budget that was passed they are certain to find additional details that have been overlooked in initial reporting.
Just be glad this legislative session is over before they could do any more harm.