Today at 2:00 p.m., Arizona Superintendent of Public Instruction Kathy Hoffman will deliver her 2020 State of Education address to the House Education Committee, outlining her vision and priorities for Arizona's public schools.The Secretary will address the Education Committee in House Hearing Room 1.
Here is a backgrounder on what you can expect to hear today from the House Education Committee members.
Back in November of last year I explained how The Voucher Vultures are back with yet another manufactured 'crisis' (excerpt):
The Voucher Vultures are back again, and this time they are exploiting military families in their never-ending quest to privatize public education. The Arizona Capitol Times reports, Conservative groups plan to sue ADE over voucher funds:
Two legal organizations intend to sue the Arizona Department of Education over the state's school voucher program on behalf of a military parent who claims her family isn't receiving funds in a timely manner.
The Goldwater Institute and the Liberty Justice Center sent the Arizona Department of Education a notice of claim — a required advisory before suing a government entity — November 12, alleging the department has forced families who should have received state funding to pay out-of-pocket for education expenses.
"There are more than 120 families that have not received these funds in violation of their ESA contracts," the claim alleges.
* * *
The parent at the center of the planned lawsuit, referred to as K.K. in the notice of claim, is a military member. According to the notice, she was supposed to receive funding for the second quarter of the 2019-20 school year by October 30, but still did not have the money by November 12, the day the claim was filed.
Department spokesman Richie Taylor said the family in question received its second quarter disbursement of $1,939.20 on November 5, several days after the department was supposed to distribute funds but a full week before the notice of claim. ADE provided Arizona Capitol Times with mostly redacted documentation showing the family received its second quarter funding just after midnight on November 5, and then made a transaction several hours later – as well as another purchase on November 6.
The delay resulted from the parent submitting an expense report with an error, which meant it needed to be resubmitted, Taylor said.
"Had the Goldwater Institute or Liberty Justice Center called instead of sending out a press release and filing a notice of claim, they would have known," he said.
The "Kochtopus" Death Star, the Goldwater Institute, which abuses legal process to make political statements, not always to pursue legitimate legal claims, filed suit anyway. In January, the Goldwater Institute sued Arizona Department of Education over vouchers:
The Goldwater Institute today sued the Arizona Department of Education, alleging it mishandled the state's school voucher program in a way that breaks state law.
The lawsuit, filed in Maricopa County Superior Court on behalf of several families, alleges the department engaged in illegal rulemaking when it developed its Empowerment Scholarship Account handbook and has no authority to demand that parents repay voucher funds the department determines have been misspent.
Goldwater filed the lawsuit on behalf of four Maricopa County parents — Maisha Byrd, Chauncey Hallford, Kayla Svedin and Prisca Walton — who have children with special needs who participate in the voucher program.
According to the complaint, Walton was informed in January 2017 that she had misspent voucher funds for one of her children, and neither of her children would have their accounts restored while she appealed.
The complaint does not lay out how the other plaintiffs have been harmed by current department policies. Rather, it focuses on the process by which the department developed those policies, saying the ESA handbook is a set of rules and therefore should have been adopted under a rulemaking procedure that allowed for public comment.
"Our complaint is not focused on any particular past injury, but seeks instead prospective relief from doing this again in the future," Sandefur said.
Attorney General Mark Brnovich said in an opinion in 2017 that his office did not consider the ESA handbook a set of rules but instead saw it as informational guidelines for parents. As such, Brnovich determined that the Department of Education didn't need to follow a formal rulemaking procedure to draft the handbook.
The problems alleged in the complaint all seem to predate Arizona's Superintendent of Public Instruction Kathy Hoffman's tenure, but she was named as a plaintiff in her official capacity – as was Brnovich.
Ah, but the Voucher Vultures and Republicans in the Arizona legislature have been demonizing Superintendent of Public Instruction Kathy Hoffman to make her their political piñata in the hopes of electing one of their own to Superintendent of Public Instruction in 2022.
The latest scandal the Voucher Vultures are all in a lather over was an Education Department blunder puts ESA parent names in hands of group that opposes expansion of voucher program:
The Arizona Department of Education likely violated federal student privacy laws when it released a spreadsheet that inadvertently named every parent with an Empowerment Scholarship Account in the state. The spreadsheet then fell into the hands of a group that opposes expansion of the program.
The Yellow Sheet Report, a sister publication of the Capitol Times, also obtained the spreadsheet through a public records request for documents showing the account balance of every ESA account in the state, and, on the surface, the documents the department provided appear to properly redact personally identifiable information. But when the Yellow Sheet Report highlighted the document, it became clear it was improperly redacted. Copying the entire table into a text reader reveals the redacted portions.
The likely explanation is that the department blackened the background in columns containing the names and email addresses of nearly 7,000 parents with ESA accounts, but didn't re-scan the document to ensure the words didn't show through.
Save our Schools Arizona spokeswoman Dawn Penich-Thacker confirmed that she received the same document, also improperly redacted.
The document shows parents' first and last name, email addresses, the grade their student is currently in, and, for students with special needs – the type of disability they have. But that is not explicitly stated, only as an acronym.
Two school choice advocates, who have been critical of the Department of Education's handling of the ESA program in the past, weren't happy when hearing what had happened.
Jason Bedrick, the education policy advisor for Education Choice (formerly the Friedman Foundation), said he's aware of similar situations happening in other states, but the department just did not redact things properly.
"They clearly did not do their due diligence over there," Bedrick said, adding that it's "unfortunate."
A department spokesman, Richie Taylor, said the document needed to be redacted because giving out that info would be a violation of the Family Educational Rights of Privacy Act, which protects the privacy of student education records.
"If you knew the parent's name and how much money they had, then you could know that their kid had a severe disability," Taylor said.
The document did not personally identify any children who use ESAs. 
Penich-Thacker, in an email, said neither she nor SOS Arizona put in a records request for this information that she received, which was also significantly less than the media received.
She said they receive a lot of "unsolicited" information from a "wide network of volunteers."
She said the mishap is really unfortunate.
"Everyone deserves their right to privacy, but especially children … we're certainly not going to delve into or do anything with the info," she said.
In a prepared statement the department said recipients were able to "reverse engineer" the document to gain access to redacted data.
"The Department takes student privacy very seriously and any characterization suggesting that the Department furnished unredacted student data would be an actionable misrepresentation," the statement read.
Oh, like that's going to deter the Voucher Vultures. Cue the outrage machine:
[Former state senator] Steve Smith, the state director for the American Federation for Children, a school-choice group, said this is "unacceptable, outrageous and completely reprehensible."
"This data has historically been among the most closely guarded in our state government until now," he said. "The state needs to act to ensure that the program is more competently and effectively managed to give assurance to these families who have been compromised."
Smith also took great issue in SOS Arizona having access to this information.
"One could imagine how betrayed these vulnerable families must feel, knowing that SOS has their information," Smith said.
On Saturday, right-wing blog contributor to the Arizona Republic, Jon Gabriel, used this error to advance the coordinated Republican strategy to make Kathy Hoffman their political piñata in the hopes of electing one of their own to Superintendent of Public Instruction in 2022. Arizona's education chief may not like vouchers, but she must follow the law:
Hopefully, the breach was a mistake as the department claims. Yet, it is just the latest example of their sloppy management of the program. Superintendent of Public Instruction Kathy Hoffman is on record as opposing ESAs, making her release of sensitive information to fellow school choice opponents all the more disturbing.
Earlier this month, the Goldwater Institute filed a lawsuit against the department over its mishandling of ESAs. The standards have been arbitrary, the process confusing and parents have been forced to delay or even give up promising educational opportunities for their kids.
Other school choice proponents are just as outraged. "This is an absolute betrayal of these families and students," said Steve Smith, the Arizona state director for the American Federation for Children. "Under Superintendent Hoffman, who opposes the ESA program, the Arizona Department of Education (ADE) has repeatedly made applying for and participating in the program extremely difficult for Arizona families."
Hoffman might not like parents choosing special educational options for their kids, but she must follow the law. Every child is entitled to privacy, whether in a traditional public school or a charter public school. I have a child in each, both receiving an excellent education in a style suited to their individual needs.
What the Voucher Vultures do not want to talk about is how these ESA vouchers are being misused as a taxpayer-funded personal slush fund to hoard money by some families. The Arizona Capitol Times reports, Parents in voucher program hold onto funds, amass large sums: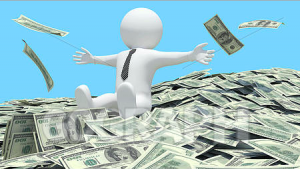 Dozens of families in the state's school voucher program are sitting on account balances of $50,000 or more, with nine of them accumulating more than $100,000 of taxpayer money over several years, according to public records.
The high amounts of unspent money in the Empowerment Scholarship Account program suggests some parents of the nearly 7,000 students enrolled might be hoarding the money.
In order to qualify for the program, students must fit into one of several groups such as having a disability, a military parent or attending a D or F rated school.
The ESA program was developed so parents could opt out of public education in favor of a private school or an alternative that may better suit their child. The program is taxpayer funded and an estimated $110 million was appropriated for the current fiscal year, according to the Department of Education. The total balance added up from all accounts exceeds $33 million.
Parents receive 90% of the amount that would go to their student's school district, and some students with disabilities can receive as much as $40,000 per year.
State Education Department spokesman Richie Taylor said the amount going into each account depends on the type of disability the student has.
The account with the most money has $128,000 and has been active since the 2015-16 school year.
The department's ESA handbook says parents are required to "spend something (any dollar amount)" within their contract year, and unused funds continue to roll over on a quarterly basis.
Once a student leaves the program after the 12th grade, they will have four years or until they complete college or a vocational school to spend the rest of the money, according to the handbook.
They are also allowed to spend the money on college or vocational school and any money left over after the account is retired goes back into the general fund, the handbook says.
Amy Chan, whose son is in the program, said she doesn't understand what the parents with high account balances are even spending the money on.
"How are they educating their kids without using that money," Chan said. "In our case,
we're using almost the entire amount of ESA funds that we're getting."
* * *
Chan said her only question for the parents with balances of more than $100,000 is what are they doing for their kids.
"The Legislature may need to look at how to retire funds at some point," she said.
Save our Schools Arizona spokeswoman Dawn Penich-Thacker, who also saw the same account records, said the high balances show "some parents are using their ESA account as a personal slush fund."
"If you're amassing hundreds of thousands of dollars, then clearly you're not using the ESA to educate your child in the way the average taxpayer would expect," she said.
Penich-Thacker said she has seen some ESA Facebook groups posting about hanging onto the account balances since they can be used on college tuition for some students.
Penich-Thacker proposed an annual check-in, at a minimum, to make sure parents aren't hoarding funds for years.
As of January 30, no lawmaker has sponsored any legislation that would affect the account balances.
How about some financial accountability for these taxpayer-funded accounts?
UPDATE: Laurie Roberts of The Republic noticed this financial scandal as well. If Arizona taxpayers fund student vouchers, why are their parents sitting on the cash?
Dozens of Arizona parents have accumulated more than $50,000 in public money that's sitting in accounts set up to educate their children.
Nine of those parents have amassed more than $100,000 in taxpayer cash.
Whether or not you agree with the state's school voucher program, surely we can all agree on one thing:
If we are going to turn over public money to parents who want to educate their children as they see fit, shouldn't they actually have to use it?
* * *
So, here's my question and it's a two-parter:
If you aren't spending that ESA money to pay for (or subsidize) private school tuition, how are you educating your child?
And if your answer is that you are using your own money to educate your child, why, then, do you need ours?
Just as there is no real accountability in the ESA program, there is no will in the Republican-controlled Legislature to require that tax money we pay to supply a K-12 education be used to actually provide a K-12 education.
* * *
Better to focus on the Department of Education's blunder than on the fact that money desperately needed by public schools is being diverted to some kids' college funds.