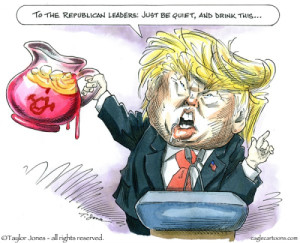 One week from today, the Republican National Convention gets underway in Cleveland, Ohio.
Will convention delegates "drink the Kool-Aid" and commit mass political suicide by selecting the "Toxic Trump" as the GOP nominee? Will Cleveland be the GOP's Jonestown?
The #NeverTrump delegate revolt has a plan to deny Donald Trump the nomination, but it has no challenger around whom to rally. The Washington Post's conservative blogger Jennifer Rubin recently pleaded, GOP delegates shouldn't pick the worst candidate available:
There are any number of pathetic voices trying to rationalize support for Donald Trump. He is better than Hillary Clinton! (Really, how exactly?) The Supreme Court! (What about it? Trump shows no commitment to any judicial philosophy and is just as likely to make a deal with Democrats to get something he cares about.) He could pick stellar advisers! (They wouldn't work for him, and if they did, he'd ignore them.)
It seems one argument even Trump's most strident defenders can make is: He's the best candidate to beat Hillary Clinton. Actually, he's the worst, and it would be politically suicidal to nominate him when other credible contenders are readily available.