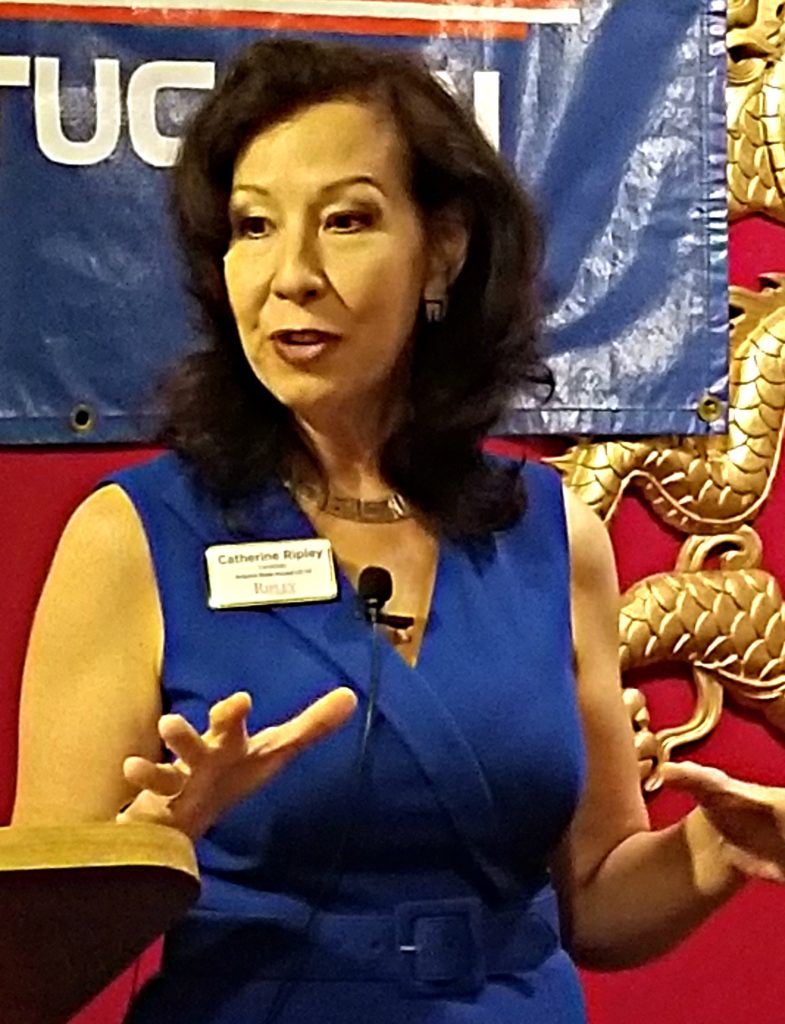 Arizona state House candidate Catherine Ripley vowed to bring her military and diplomatic experience to the Legislature, focusing on the state's looming water shortage, and promoting renewable energy.
A Democrat, she is in the crowded field running for AZ House in Legislative District 10 on the north and east sides of Tucson.
She spoke at the recent Democrats of Greater Tucson meeting, and said she would call on her 26 years' of experience as a naval officer, including tours in anti-submarine warfare during the Cold War and at Special Operations Command fighting the war on terror.
She is also a former US diplomat, serving in embassies in Madagascar, Africa, and The Hague, where she worked on national security issues after the 9-11 attack.
"The state Legislature needs more people with a wider spectrum of background and education to make a difference in Phoenix, and to speak for people who can't speak for themselves," she said.
Opponent flaunts Confederate flag

Subscribe to my weekly Getting Active in Local Politics newsletter at http://eepurl.com/dmzvUb. Then go to a meeting and Get Active in Local Politics!
Incumbent Republican Todd "Confederate" Clodfelter is notorious for displaying his Confederate flag screen saver and flaunting a Confederate flag bow tie on the floor of the Legislature.
"It's offensive, it's a symbol that's harmful and hurtful and horrific," Ripley says. "He is knowingly flaunting it, even after African-American legislators asked him kindly not to have it on his laptop. The deep-rooted racism was the reason for the Civil War. I don't understand anyone voting for him in this election."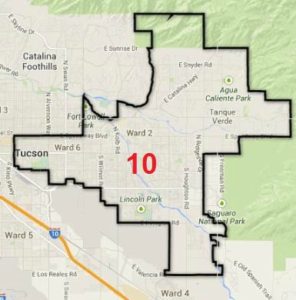 LD10 has two seats in the AZ House. State Rep. Kirsten Engel (D) is running for re-election and Domingo DeGrazia (D) and Nikki Lee (D) have also mounted campaigns. See Democratic Candidates for LD10 House Shine in Drive to Oust Clodfelter.
She currently teaches Political Science and the U.S. Constitution as an adjunct professor at Pima Community College, where she was inspired to run. "I had this ache, disillusionment, and near despair that many of us have had over last 1 ½ years. This is why I'm running, that ache has turned into hope, excitement, and fire."
"We need to get motivated and get activated. Doing nothing is not acceptable. We are in crisis mode right now," she says. "We in Arizona are living in a Republican trifecta — and it will not change if we continue idly, or yell at the radio and TV, or cry in the car and be upset."
She revealed that she is half Japanese (mother) and half Irish-Italian (father), stands 5-foot-2 and is age 58. "It was Christianity meets Buddhism, or noodles and rice in one bowl," she quipped.
Water and poverty
A top issue is keeping Arizona supplied with water. "I know what needs to be done about the drought that is happening and the lack of water in the Colorado River. We're in crisis mode, and there's no time for pontification, it's a time for activation," she says.
"We are in Arizona and there is poverty, there are 12,000 homeless people just in Tucson, and issues in civil rights and human rights that we sadly still have to fight for. The mismanagement and corruption of government are happening right under our noses — right in Phoenix," she says.
She will also promote renewable energy. "I believe that first and foremost we need to support electing Democrats to the Arizona Corporation Commission. We need to get Bill Mundell, Sandra Kennedy and Kiana Sears elected – to create some balance." See This Obscure Agency Crushed Solar Power in Arizona
"Arizona should be the solar capital of the country," she says. "We can fight against those who make it difficult to put solar panels on their homes."
She plans a major fundraiser at 8 pm on July 14 at the Jewish Community Center. Her sister who is a Broadway actress will appear.
For more information visit www.ripleyforarizona.com.