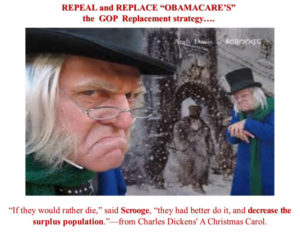 Just as anyone with even a rudimentary knowledge of health care policy had predicted, the Congressional Budget Office (CBO) today scored the GOP "Obamacare repeal" bill aka Ryancare Trumpcare, and finds that the Obamacare revision would reduce insured numbers by 24 million:
House Speaker Paul D. Ryan's proposal to revise the Affordable Care Act would lower the number of Americans with health insurance by 24 million while reducing the federal deficit by $337 billion by 2026*, congressional budget analysts said Monday.
[* This is dynamic scoring required by the Budget and Accounting Transparency Act of 2014 to make long-term budgetary effects appear better. See Paul Krugman on dynamic scoring, Selective Voodoo.]
UPDATE: The way the bill achieves the 10% lower average premiums has little to do with increased choice and competition. It depends on penalizing older patients and rewarding younger ones. According to the CBO report, the bill would make health insurance so unaffordable for many older Americans that they would simply leave the market and join the ranks of the uninsured. No Magic in How G.O.P. Plan Lowers Premiums: It Penalizes Older People.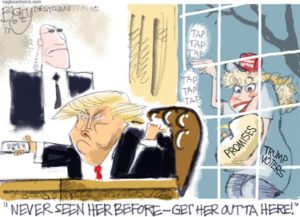 The report from the Congressional Budget Office underscores the dramatic loss in health insurance coverage that would take place if the GOP health-care plan is enacted, potentially contradicting President Trump's vow that the plan would provide "insurance for everybody" and threatening support from moderate Republican lawmakers.
Fourteen million people would lose health coverage next year alone, the report stated. Premiums would be 15 to 20 percent higher in the first year compared to the ACA, and 10 percent lower on average after 2026. By and large, older Americans would pay "substantially" more and younger Americans less, the report states.
No wonder Donald Trump does't want the GOP plan to be called "Trumpcare." White House: Don't call it Trumpcare. This grifter and con man literally brands his name on every product imaginable, so how bad does this GOP bill have to be for him to say "sorry, no"?
The CBO report marks the beginning of a new phase in the debate over the week-old health-care bill, which is moving through the House on an accelerated timetable despite opposition from Republicans, Democrats and virtually every sector of the U.S. health-care industry. Conservative Republicans, in particular, have demanded changes to the measure in exchange for their support.
The White House has spent the last week engaged in a charm offensive aimed at bringing those conservatives on board, as well as an effort to discredit the CBO before it released numbers that might cast the plan in a negative light.
Ryan had predicted that the CBO would forecast a loss in coverage, but he suggested those affected would merely be exercising their choice not to buy health plans, a choice that is currently penalized under the ACA.
"CBO will say, 'Well, gosh, not as many people will get coverage,'" Ryan said Sunday in an appearance on CBS's "Face the Nation." "You know why? Because this isn't a government mandate."
"It's up to people," he said. "People are going to do what they want to do with their lives because we believe in individual freedom in this country."
When these young, healthy individuals who think they are invincible and don't need health care insurance have an unexpected illness or accident and require medical care, hospitals will have to provide mercy care and you the taxpayer will wind up paying for them.
The same is true for the poor, for whom the GOP plan of a $4,000 tax credit will not be enough to pay for health insurance. Chuck Todd on Meet the Press used the Kaiser Family Foundation analysis overlaid with election results to demonstrate that Trump Voters Have Most to Lose Under Republican Health Plan (video).
UPDATE: Jeff Guo at the Washington Post has a simialr analysis. Losers in the GOP's health plan? Some of the most pro-Trump places in America.
This does not even begin to address the GOP plan for cuts to Medicaid by block grants to the states and imposing a cap on federal assistance, while ending the Medicaid expansion under Obamacare. Many poor will have no  health coverage, and be forced to rely on mercy care at hospitals.
And if the hospitals that are providing mercy care at a level of government reimbursement that affects their profitability, these hospitals will be closing their doors and going out of business. All because the party of individual freedom does not believe in individual responsibility — TeaPublicans always want someone else to pay the bill for their "freedom."
The GOP's Obamacare repeal bill is not really about health care at all, but rather is about rescinding the taxes on the wealthy that pay for the subsidies to expand health care insurance coverage to individuals who do not have access to affordable health care. GOP's health care tax swindle: Tax cuts for the rich financed by taking coverage from everyone else.
The ACA has increased coverage by 20 million to 22 million – almost half of those through the insurance markets the law created for people who cannot get affordable coverage through a job, and the rest through an expansion of Medicaid in 31 states and the District of Columbia.
According to the CBO, an estimated 52 million people would be uninsured in 2026, compared with 28 million who would lack insurance that year under current law.
* * *
"Right now, the date that's in the bill is what the president supports," White House press secretary Sean Spicer told reporters. "It's not a question of negotiation," he added.
On Friday, members of the House Freedom Caucus remained split over which elements more urgently needed change. Some called for changing the Medicaid timetable, while others urged the elimination of basic benefit requirements for health plans.
On Sunday, a growing group of conservatives was still threatening to kill the plan unless GOP leaders agreed to renegotiate parts of it.
* * *
In January, Trump had promised to replace the ACA with a plan that provided "insurance for everybody."
"There was a philosophy in some circles that if you can't pay for it, you don't get it. That's not going to happen with us," Trump said in a Jan. 15 interview with The Washington Post.
"It's not going to be their plan," Trump said of people covered under the Affordable Care Act. "It'll be another plan. But they'll be beautifully covered. I don't want single-payer. What I do want is to be able to take care of people."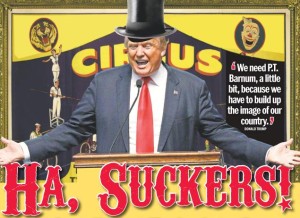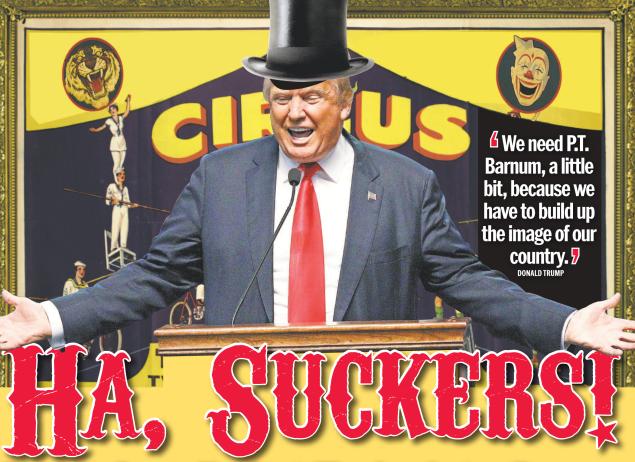 Sorry suckers! President Trump is the king of flip-flops:
At The Fact Checker, we award an Upside-Down Pinocchio when a politician shifts position on a policy without acknowledging that they did so.
Perhaps no politician is a bigger flip-flopper than Donald Trump.
* * *
No 'cuts' to Medicaid
When Trump started running for president, on several occasions he asserted that he would not reduce funding for Medicaid, the health-care program for the poor. It was a key part of his strategy to show that he was different from other Republican candidates. Here are some examples:
In his announcement speech, on June 16, 2015, Trump said: "Save Medicare, Medicaid and Social Security without cuts. Have to do it."
In an interview with the Brody File on the Christian Broadcasting Network on May 20, 2015, Trump declared: "I'm not going to cut Social Security like every other Republican. I'm not going to cut Medicare or Medicaid. Every other Republican is going to cut. Even if they wouldn't they don't know what to do because they don't know where they money is. I do."
Granted, Trump does not appear to have made such promises about Medicaid since the early days of his presidential campaign. But it was in his announcement speech and he has never explained why he suddenly decided Medicaid was not worth mentioning again.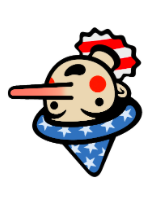 This is relevant now because the president has embraced the House Republican plan to replace the Affordable Care Act, which would change the financing of Medicaid to a block grant system.
Currently, Medicaid financing is open-ended, depending on how many people are enrolled and what care they need; states have to match a percentage of the federal funding. But under the proposal, states would just get a set amount of money per beneficiary, and thus would have to make up any additional costs. Most experts say this shift would put such a burden on the states that they would be forced to reduce Medicaid enrollment. (The left-leaning Center on Budget and Policy Priorities estimates that $116 billion in costs would be shifted to the states over 10 years, not including the ACA expansion.)
The GOP proposal also would effectively end the expansion of the Medicaid program, encouraged under the ACA, starting in 2020.
House Republicans have long pushed to convert Medicaid to a block grant system, so their proposal is not especially surprising. But clearly, this is a flip-flop on Trump's previous pledges not to cut Medicaid — which he had even touted as an example as to why he was not like other Republicans. Yet now he is embracing a plan that reflects a key GOP goal.
The White House did not respond to a request for an explanation for Trump's shift.
Grifters and con artists never explain their actions, they just walk away from their victims.
Contact your member of Congress and senators to tell them to kill this bill.
UPDATE:  The Washington Post editorializes, The CBO shows there is no rational justification for the GOP health plan, and the New York Times editorializes, Trading Health Care for the Poor for Tax Cuts for the Rich. That accurately sums it up.