The GOP primary in CD 8 has exposed what a sorry lot of candidates from which Republicans have to choose.
Former state Senator Steve Montenegro, "a true conservative Christian minister running for Congress" (per his website), suddenly has a scandal: Flirtatious texts, topless photo roil Steve Montenegro's campaign; he blasts 'false tabloid trash':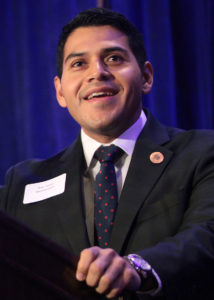 Days before Steve Montenegro decided to run for Congress, a state Senate staffer was trading flirtatious text messages with a cellphone number associated with Montenegro, according to a record of the messages viewed by The Arizona Republic.
During one exchange in November, while Montenegro was on a work trip in Tennessee, the messages discuss how the staffer could have attended the conference as well. The staffer later sent a topless photo of herself to the number.
The response, according to the messages: "You should have come."
The texts suggest a close, consensual relationship, albeit between an ambitious elected official and someone in an entry-level legislative job.
Montenegro's campaign has declined since last week to comment in response to Republic inquiries about the messages. He has skipped campaign events in recent days.
In a statement released by his campaign after a story about the text messages aired Tuesday on 12 News, Montenegro dismissed the matter as "false tabloid trash" but didn't address the content of the text conversations.
His campaign didn't respond when asked to specify what he deemed to be false or distorted.
Today, Steve Montenegro faces calls to quit congressional race; backers largely mum:
Steve Montenegro's congressional campaign faced calls for him to quit the West Valley race Wednesday after The Arizona Republic reported on flirtatious text messages — including a topless photo — involving a junior legislative staffer.
Cathi Herrod, president of the influential Center for Arizona Policy, and a pair of female Republican state lawmakers led the effort to upend the GOP field six days before voting ends in the special primary election in the 8th District.
* * *
State Sen. Karen Fann, R-Prescott, and state Sen. Nancy Barto, R-Phoenix, also weighed in against Montenegro.
"I join (Cathi) Herrod in calling on (Montenegro) to withdraw from (the) race. I find the allegations troubling particularly in these times. Arizona deserves better," Fann wrote.
Barto urged voters to support former state Sen. Debbie Lesko, R-Peoria, who is another top contender in the special election.
* * *
Former Gov. Jan Brewer, who has endorsed another candidate in the Republican primary, Debbi Lesko, also called on Montenegro to drop out, without mentioning her preferred candidate.
Prominent Montenegro backers, including former congressman Trent Franks, Texas Sen. Ted Cruz and evangelical leader James Dobson, could not be reached for comment Wednesday on his candidacy.
The 36-year-old former state senator raised the most money through January in the race to replace Franks, and has been among the leaders in several polls. But Montenegro has skipped several campaign events in recent days as The Republic and other media outlets began raising questions about the text messages.
UPDATE: The woman who exchanged suggestive text messages with congressional candidate Steve Montenegro has contradicted the former state senator's account of the part he played in their "intimate" conversations. Ex Senate staffer says Montenegro took part in suggestive texts:
In a statement provided by her attorney, she also identified herself to the press February 22 during a press conference at the Senate. Stephanie Holford said she was the digital media coordinator at the state Senate beginning in January 2017, the position she held when she first came to know Montenegro, one of the GOP frontrunners in the Arizona 8th Congressional District primary election.
She left that job on February 21, according to her attorney, Tom Ryan, following news reports that she had sent Montenegro a topless photo among other messages that indicated a relationship between the two.
In her statement read by Ryan, Holford said they often communicated through text messages, which were professional at first but turned personal "in a very short period of time."
* * *
In a later conversation, Holford asked whether she should refer to him as "senator" or "Steve," and he instructed her to use his first name.
Eventually, they began to flirt, she said, and she became comfortable enough with their relationship that she began sending photos "in various states of undress."
Ryan said Montenegro did not send nude texts of himself, and the relationship was not physical.
"Senator Montenegro asked me to send them on Snapchat instead," she said. "We engaged in sexual conversation about these pictures. These were detailed and intimate."
A photo shared with The Arizona Republic and others without her knowledge or consent was not provided to the press in general. Photos shared via Snapchat self-destruct.
Ryan said he has specifically declined to see any of the photos and does not want them to be further disseminated because they were intended to be private.
In addition to naming herself, Holford said her ex-boyfriend obtained the messages and photo to show to the press.
Montenegro's chief rival is former state Senator Debbie Lesko, the candidate from the "Kochtopus." She has been an unapologetic member and supporter of the American Legislative Exchange Council (ALEC), and she was the lead sponsor for their" school vouchers on steroids" bill that seeks to privatize public education (now the subject of citizens referendum on the 2018 ballot).
Lesko is also a disciple of the "Kochtopus" way of  "dark money" in political campaigns. Debbie Lesko accused of moving $50K from campaign to a PAC that backs … Lesko:
Congressional candidate Debbie Lesko last month steered $50,000 from her state Senate campaign to a federal political-action committee that has supported her in the West Valley race, a move one of Lesko's opponents claimed is illegal in complaints filed this week.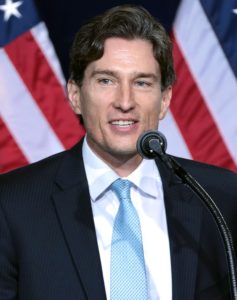 The $50,000 transaction laid out in campaign-finance records underpins complaints to the Federal Election Commission and Arizona attorney general made by former Rep. Phil Lovas, who is also seeking the Republican nomination for the vacant 8th District seat.
Steve Montenegro, who is also vying for the GOP nomination, also condemned the maneuver.
Lovas said the movement and use of the funds reflect coordination that violates campaign-finance rules.
"This is an illegal money-laundering scheme," he said. "They're clearly in violation of the law. They knew 70 percent of the vote would be in by the time this comes out. … I think it's clear that there's coordination."
Lesko's campaign maintains they did not break any rules even though the federal PAC is supposed to operate independent of her.
* * *
Tim Sifert, the Republican campaign operative who created the PAC, declined to discuss the matter.
"We're in compliance with the FEC," he said.
* * *
Montenegro, a minister who is battling news of flirtatious text messages with a junior female staffer, was eager to trash Lesko's actions.
"Debbie Lesko thinks the law doesn't apply to her," Montenegro said. "For months, Debbie Lesko and her campaign engaged in money laundering by illegally funneling money into her SuperPAC and knowingly lied about it by filing false campaign reports. Even worse, it was only when Lesko and her team were confronted by the media did they admit to the scandal. Arizonans deserve better than a politician who thinks she's above the law."
UPDATE: Debbie Lesko is now threatening to sue Phil Lovas, one of her rivals in the Republican primary for the 8th Congressional District, over allegations he made regarding $50,000 she contributed from her state Senate re-election committee to a super PAC that's aiding her campaign. Lesko threatens CD8 rival Lovas with litigation:
On Wednesday night, the Lesko campaign sent a litigation hold letter to Lovas demanding that he maintain all records related to his accusations against her because it expects to bring litigation against him. Lesko's letter came on the heels of complaints that Lovas filed with the Federal Election Commission and Arizona Attorney General's Office alleging that she broke state and federal campaign finance laws.
As Laurie Roberts of The Republic says, Are Steve Montenegro and Debbie Lesko the best Arizona's CD 8 can offer?
The two leading candidates in Congressional District 8 certainly paint a pretty picture.
One appears to have dallied with a low-level legislative staffer, sending and receiving flirtatious text messages while he was a state senator – flirty enough at that one point the woman sent him a topless photo of herself. His response was to direct her to use Snapchat, where pictures (and fingerprints) disappear into cyberspace.
The other is facing questions about whether she laundered her state campaign money into an independent campaign to support her congressional bid – a move that could be a violation of federal campaign-finance laws.
Calls for both to resign
Both Steve Montenegro and Debbie Lesko are facing calls to withdraw from the race.
Montenegro, from the Center for Arizona Policy's Cathi Herrod, who noted that he "clearly didn't deny (the) allegations."
Lesko, from former state Rep. Phil Lovas, who is running a distant third in the race to replace Trent Franks, R-I'llPayYou$5MilliontoHaveMyBaby.
"This illegal money laundering scheme disqualifies her," he said.
Me? I'm thinking either Montenegro or Lesko would fit in quite well in Washington, where fidelity and ethics are apparently optional.
Montenegro should come clean
But then they're running in one of the state's most conservative districts – one in which the winner of the Republican primary almost certainly will go on to win the seat.
If character matters, Montenegro should be done. His text exchanges with an entry-level staffer put a serious dent in his family-values, Christian conservative campaign.
And his reaction – calling it "tabloid trash" and chalking it up to a media campaign to get rid of him because he's a Hispanic conservative – is just ludicrous.
"As a Hispanic conservative, I knew they would stop at nothing to prevent me from going to Washington D.C. and fighting for the working families of our district," he wrote on his Facebook page, after 12News' Brahm Resnik broke the story on Tuesday evening.
How about a denial, pal?
Lesko trying to fool voters?
Then there is Lesko, who is enjoying the support of Conservative Leadership for Arizona, an independent campaign formed get her elected to Congress from the Arizona's Eighth District.
Turns out Conservative Leadership for Arizona is funded by … Lesko.
More specifically, by Lesko's state Senate re-election campaign committee.
FEC records show that Republican strategist Tim Sifert registered Conservative Leadership for Arizona on Jan. 10. The super PAC received $50,000 on Jan. 18 but reported on Feb. 15 that the money came from "other federal receipts" such as dividends and interest.
After a reporter questioned that, the FEC report was changed on Feb. 19 to reflect that the money really came from Re-Elect Debbie Lesko for Senate.
Team Lesko says nothing to see here
Lesko's campaign consultant, Barrett Marson, told Yellow Sheet Report that there was no coordination between Lesko and CLA – no expectation that the money would be spent on her federal campaign. Which would, of course, be illegal.
"There were no strings attached," he said.
Yes, it is all just one big coincidence that Lesko dumps $50,000 in state campaign funds – which cannot be used in a federal campaign – into a federal PAC.
Then miracle of miracles, that federal PAC decides to spend the money on an independent campaign to send Lesko to Congress. FEC documents show CLA spent nearly $28,0000 on road signs and mailers supporting Lesko's bid to replace Franks. It has spent another $21,000 on polling.
What a surprise that must have been to Lesko.
Is this really the best CD 8 has to offer?
And what a surprise to voters — to find out that the supposedly independent folks calling for Conservative Leadership for Arizona — the ones who think Lesko would be swell in Congress — are funded by none other than Lesko.
Of course, Lesko is nowhere near in Montenegro's league when it comes to sketchy behavior. But isn't it possible to set the bar just a little higher when it comes to who should represent us?
Did I mention that there are 10 other Republicans running in the Feb. 27 GOP primary?Or that to my knowledge none of them are playing fast and loose with the staff or campaign finance laws?
The Republic unfortunately endorsed Debbie Lesko in the Republican primary. Yeah, let's send the candidate from the "Kochtopus" to Congress. (Must have been Robert Robb behind tht choice).
The Republic also endorsed Dr. Hiral Tipirneni in the Democratic primary. Republicans disappointed with their choices in their GOP clown car primary should give her fair consideration for your vote in the special election general election:
We're endorsing Hiral Tipirneni. Here's why:
Tipirneni, in her work as a physician, has firsthand insights into the challenges and failings of the health-care system. She calls health-care reform "a moral imperative for me" and champions legislation that expands access, including allowing individuals between the ages of 50 and 64 to buy into Medicare.
She also opposes any scaling back of medical benefits to seniors, such as the idea of taxing some of those benefits.
Tipirneni favors greater and more affordable access to college and vocational education, which she views, rightfully, as a way to economic and individual security. And as a product of public education, she also favors ways to encourage people to enter the teaching field, including forgiving student loans.
Democrats have good reason for optimism
Although her stances reflect a Democratic agenda, Tipirneni touts a science-led, data-based approach to policymaking, which could help take the passion out of vitriolic debates over how to deal with entitlement reform or environmental programs. Or how to deal with gun violence, which she views as a public-health issue.
Brianna Westbrook brings unique qualifications to the race, too. She has spent time advocating civil rights and protection for transgender individuals and for the working class.
Both candidates may be inspired to run for public office for the first time, but we hope their work in the public sphere continues beyond this race. CD 8 stands to benefit from it. Arizona, too.
Time for a change in CD 8. Give the Democrat a chance.