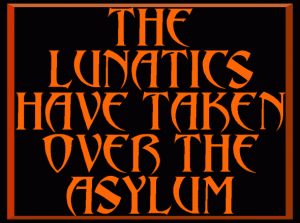 The mutineers of the farther-far-right GOP House Freedom Caucus, co-founded by Rep. Matt Salmon (R-AZ), have claimed another victim: House Majority Leader Kevin McCarthy aka "Boehner 2.0" according to the mutineers, has withdrawn his name from consideration for Speaker. The lunatics have taken over the asylum and chaos reigns in the House.
The Hill reports, Shock! McCarthy drops from Speaker's race:
Majority Leader Kevin McCarthy (R-Calif.) has dropped out of the race for House Speaker, shocking Capitol Hill and raising questions about who will lead the House Republican Conference.
Republicans were to meet Thursday at noon to elect a new Speaker, following Rep. John Boehner's news that he would retire at the end of the month. Instead, they received the surprising news from McCarthy.
"I think I shocked some of you," McCarthy joked to reporters after his bombshell.
He said he would stay on as majority leader, but believed Republicans needed to unify around a "new face."
"I feel good about the decision. I think we're only going to be stronger," he said.
McCarthy suggested it was unclear whether he could have won the 218 votes on the floor needed to be elected Speaker.
"I don't want to go to the floor and win with 220 votes," said the California lawmaker, who cast his decision as putting his conference first. "I think best think for our party is to win with 247 votes."
McCarthy was also asked at the brief press conference about a letter this week from Rep. Walter Jones (R-N.C.) that called on any leadership candidate with skeletons in their closet to drop out. Asked if his decision was influenced by that letter, McCarty shook his head no and said, "C'mon, no."
McCarthy told his colleagues of his decision as they were preparing to cast ballots for Speaker. The election was immediately postponed.
Republicans described the room as being in stunned silence at the news, while Rep. Tom Rooney (R-Fla.) said McCarthy's withdrawal drove some lawmakers to tears.
"The person next to me was crying," he said.
Rep. Tim Huelskamp (R-Kan.), who has been a fierce critic of the current GOP leadership team, said McCarthy spoke only briefly to the conference.
* * *
Huelskamp said McCarthy's supporters "all looked in shock to me."
"They were lined up to give him a hug," he said. "I saw tears in eyes.
"It's the strangest thing I've seen in a long time."
Rooney held out some long-shot hope that McCarthy could be persuaded out of his decision, and said Boehner (R-Ohio) would likely have to stay on longer than expected.
"I hope people can talk some sense into Kevin," said Rooney, a backer of the majority leader.
McCarthy had struggled to win over conservatives, and while he was the favorite to win the closed-door vote, conservatives insisted he did not have the votes on the floor to win election.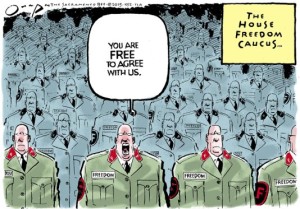 The House Freedom Caucus, a 40-plus group of conservative lawmakers, endorsed Rep. Daniel Webster (R-Fla.) on Thursday for the Speakership. A third Republican, Rep. Jason Chaffetz (Utah), also had challenged McCarthy for the position. Neither Chaffetz nor Webster, however, were seen as having the support McCarthy was expected to gain.
McCarthy had also been hurt by remarks he made on Fox last week in which he linked the House Benghazi panel to Hillary Clinton's presidential poll numbers. The comments suggested a political motive behind the panel, and forced an apology from McCarthy.
Rep. Dana Rohrabacher (R-Calif.) said he believes the move is "absolutely" the result of those comments.
Chaffetz, speaking after McCarthy, said he was stunned by the news.
"What he did was tough," Chaffetz said of McCarthy.
But the Utah Republican acknowledged he might not be able to build a coalition for Speaker either. "I'm not sure if I'm the right person," Chaffetz said.
It's not clear what will happen next, though Rep. John Fleming (R-La.) said he could see five or six new candidates step up to run for Speaker after McCarthy's stunner.
Rep. Paul Ryan (R-Wis.), the chairman of the Ways and Means Committee, is perhaps the most respected man in his conference and has long been seen as a possible Speaker.
But he quickly took himself out of the running, saying after McCarthy's decision he did not want the job.
"Kevin McCarthy is best person to lead the House, and so I'm disappointed in this decision," said Ryan, who nominated his longtime friend.
"Now it is important that we, as a Conference, take time to deliberate and seek new candidates for the speakership," he continued. "While I am grateful for the encouragement I've received, I will not be a candidate. I continue to believe I can best serve the country and this conference as chairman of the Ways and Means Committee."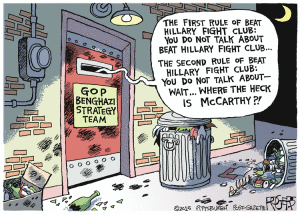 Another possible candidate could be Rep. Trey Gowdy (R-S.C.), the chairman of the House panel investigating the 2012 terrorist attack in Benghazi, Libya. Chaffetz and others sought to convince Gowdy to run last week, but he declined.
One lawmaker floated senior Rep. Tom Cole (R-Okla.) for Speaker. Cole, the lawmakers said, is viewed on Capitol Hill as a voice of reason.
Others said it is possible the House could look for a "caretaker" Speaker who could take the chamber beyond next year's election.
Rohrabacher said members are already discussing such a situation.
* * *
Boehner announced his resignation as Speaker two weeks ago and is set to leave at the end of October, but Thursday's news raises questions over whether he can keep to that schedule.
Fleming added that Boehner "said nothing about delaying his retirement."
The gang that couldn't shoot straight can't even elect a leader because of the radical extremists in the GOP House Freedom Caucus. And they want to be in control of the government? God save America from such a fate.
UPDATE: In a phone interview with the National Review's Rich Lowry, Kevin McCarthy said that he would not have "enjoyed being speaker this way" and speculated the House may need to hit "rock bottom" before it can become governable. Kevin McCarthy Suggests House Republicans Are Ungovernable, May Need To 'Hit Rock Bottom'.
Check out these headlines from Roll Call: 'What the Hell?!' Mayhem After McCarthy's Exit, and With No Plan, GOP Sputters Over What's Next . Total chaos, total incompetence.
Charles Pierce at Esquire: This Speaker of the House Sh*tshow Is Far From Over: "This] is the final justification for all of us who have been saying for a while now that there is no "extreme" wing of the Republican party any more. The prion disease has taken full hold of the party's higher functions." "The balance of power in half the national legislature now seems to be in the hands of the crème de la crazee." "Is this finally enough for the elite political press to notice that half the American political process is in full-blown dementia?"