I'm not surprised, but disappointed, that the Senate debate on immigration and a DACA fix has devolved into Kabuki theater. They are simply going through the motions of "stylized movements, dances, and songs in order to enact" a tragedy — a Senate bill that is DOA in Paul Ryan's House, and under a veto threat from the white nationalist in the White House. It is a futile effort.
Joan McCarter at Daily Kos sums it up succinctly. Democrats need to make Republicans walk their talk and vote on a clean DREAM Act:
The so-called "Common Sense" bipartisan group of senators finally, decided on their plan late Wednesday, ignoring veto threats from both the White House and the House Freedom Caucus, intent on making a deal for the sake of a deal regardless of lasting harm it could do to immigrant families. See, the New York Times Senators Strike Bipartisan Deal on Immigration Despite Veto Threat, and this from the Washington Post, Bipartisan group reaches deal on immigration, fulfilling some Trump demands:
The self-dubbed "Common Sense Caucus" of senators late Wednesday circulated legislation that would fulfill Trump's calls to grant legal status to 1.8 million young immigrants and would appropriate $25 billion for southern border security construction projects over the next decade—not immediately, as Trump wants. The bill also would curb family-based immigration programs, but not to the extent Trump is seeking, and would not end a diversity visa lottery program that he wants eliminated.Word of an agreement came as formal debate on immigration policy is set to intensify Thursday. The new bipartisan plan is slated for a vote, as is the GOP proposal sought by Trump, another Republican bill that would punish "sanctuary" cities and a bipartisan idea that would significantly water down Trump's demands. […]

In an interview late Wednesday, a senior administration official denounced the bipartisan bill, calling it a "giant amnesty" that did nothing to secure the border, and vowed the White House would strongly lobby against it Thursday.
They're conceding family reunification, a concession that Dreamers themselves have rejected. Meanwhile, Trump is not really denouncing the effort in a tweet, saying "Republicans and Democrats in Congress are working hard to come up with a solution to DACA," but mostly bragging about his economy[.]
This "centrist" plan is certain to face strong opposition from parts of the Republican conference, not to mention the House and Trump.
The Hill reports, Immigration fight down to the wire:
Undercutting the centrists, Trump on Wednesday threw his weight behind a rival immigration measure spearheaded by Sen. Chuck Grassley (R-Iowa), the chairman of the Judiciary Committee, which tracks closely with the White House's plan.

"I am asking all senators, in both parties, to support the Grassley bill and to oppose any legislation that fails to fulfill these four pillars — that includes opposing any short-term 'Band-Aid' approach," Trump said in a statement.
White House threatens veto of bipartisan immigration deal. Remember when "Tuesday Trump" said "send me a bipartisan bill and I will sign it"? Authoritarian "Thursday Trump" is the real Donald Trump.
UPDATE: Steve Benen adds:"For those keeping score, Trump — who, a month ago, said he'd sign practically anything put in front of him — has now rejected (1) the Graham-Durbin bipartisan agreement; (2) the McCain-Coons bipartisan agreement; (3) the bipartisan agreement Trump negotiated with Democratic leaders last fall; (4) the bipartisan framework Trump negotiated with Chuck Schumer last month; (5) the Gardner-Bennet bipartisan agreement; (6) and the Common Sense Caucus' bipartisan agreement."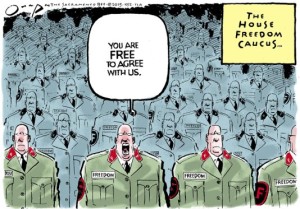 And then There's Paul Ryan's House, where he "is under increasing pressure from hard-liners in the House Freedom Caucus to put a conservative Dreamer solution on the House floor," and the leader of the maniacs is making threats. "I can say that it is a defining moment for this speaker," intoned Rep. Mark Meadows (R-NC). "If he gets it wrong, it will have consequences for him, but it will also have consequences for the rest of the Republican Party."
Moderate Republicans will not support the hard-right bill [from Rep. Bob Goodlatte (R-Va.)] and Ryan doesn't have the votes to pass it. Apparently he is unwilling to put the bill on the floor unless he has the vote to pass it and says he won't bring any other bill to the floor unless Trump has said he will sign it. Chances are about even that this House will not take a vote on an immigration bill at all. They're all looking for an out: "top leaders signaled that ongoing court challenges may give Congress more time than Trump's deadline of March 5 to replace an Obama-era program shielding hundreds of thousands of young immigrants from deportation."
Now is not the time for Democrats to endorse a compromise that Dreamers themselves say they don't want. See, Greg Sargent of the Washington Post, Democrats must be ready to take this drastic step against Trump:
Many people following the debate also expect a proposal to emerge that gives Trump money for the wall in exchange for protecting the dreamers. Yes, Democrats will vote against plans that deeply cut legal immigration. But they will likely support bills that make at least some of these other concessions, and perhaps more. (Time will tell.)

By contrast, Trump and most Republicans will very likely oppose the bills that give both sides some of what they want and continue to insist on basically giving Trump all of what he wants. This is not a balanced situation, particularly since Trump wants to be associated with protecting the dreamers anyway. It is true that many congressional Republicans don't actually want to protect the dreamers and view doing this as a concession. But they are nonetheless going along with Trump in demanding far more in concessions than Democrats are. The Republicans' position is that they won't protect the dreamers unless Democrats give Trump all the border-security money and deep cuts to legal immigration he wants — while calling that a compromise.

If Trump and Republicans are going to stick to this position, Democrats really have no choice but to say no. This way of doing business must be flatly repudiated. If Trump and Republicans don't want to protect the dreamers, then so be it. And by the way, if Dems do walk away, they will have the support of many of the Dreamers themselves.

"If they're going to demand the Stephen Miller wish list, Democrats should say no," Greisa Martinez Rosas, the director of advocacy and policy for United We Dream, told me this morning. "There's a line for how much we will allow Trump and Miller to extract for our protection."

In other words, because it would put pit the dreamers against many current undocumented immigrants (including their own parents) and against future immigrants, many dreamers themselves do not want Democrats to pay this price, even if it upends their own lives. If that doesn't drive home the fundamental imbalance of this situation, then nothing will. But regardless, it really may come to that.
It now has come to this.
As Joan McCarter concludes, Democrats "need to force a vote on a Clean DREAM Act and dare Republicans to walk their talk about saving the Dreamers."
The GOP messaging strategy here is to claim, falsely, "Hey, we tried. It's all the Democrats' fault for no DACA fix" (because they would not accede to our every demand and surrender). Greg Sargent addresses this, Democrats must be ready to take this drastic step against Trump:
The idea that the tradeoff Republicans want represents the middle-ground, mainstream position in this debate is absurd on its face: a recent Quinnipiac University poll found that only 17 percent of Americans favor cuts to legal immigration, while 81 percent favor legalizing the dreamers. But beyond this, the basic facts of this situation illustrate the absurdity of the GOP position:
Add a number "6.  Sen. John Cornyn (Texas), the No. 2 Senate Republican, said the Grassley measure would be the last proposal to get a vote, not the first, raising the possibility of a take-it-or-leave-it proposition."
The Hill reports:
McConnell teed up procedural votes on four proposals Wednesday evening: the Grassley bill, a separate plan from Sens. Christopher Coons (D-Del.) and John McCain (R-Ariz.), a proposal from Sen. Pat Toomey (R-Pa.) that would crack down on sanctuary cities, and a placeholder for the Collins ["Common Sense" Coalition] proposal.
The move came after he had Republicans sign four blank cloture petitions during Tuesday's conference lunch, which allows him to force votes on amendments if Democrats continue to stymie him.
That will eat up days of time since, under Senate rules, they would need to have an "intervening day" before an initial vote. Senators could get a deal to speed up the debate, though the Senate adjourned on Wednesday night without scheduling any votes for Thursday.
Sooo today is the "last chance" for a DACA fix bill in the Senate, because the Turtle Man says "the Senate needs to move on from immigration." The failure to approve a Senate bill means the House does not even have to act, should it choose. If the Senate does pass a bill, its likely fate is defeat in the House.
And then there is always the white nationalist in the White House who really does not want a DACA fix, and Stephen Miller salivating at the thought of getting on with deporting the DREAMers.
Only the federal courts stand in Miller's way.