Evil GOP bastard Mitch McConnell is forcing a procedural vote today to advance an "Obamacare" repeal and "Trumpcare" replacement, even though there is no bill that senators have had a chance to read and review, even as late as this morning.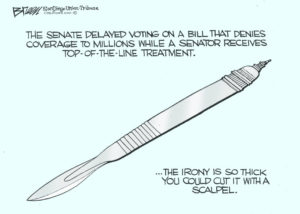 Adding to the drama, Sen. John McCain, recently diagnosed with brain cancer, is flying back to Washington for the vote so that he can cast a vote to take health care away from 20-30 million Americans, including more than 400,000 of his own Arizona constituents. It takes a real "hero" to do that.  He will also vote to blow up the health insurance markets by reintroducing segregation of the health insurance market, one for the young and healthy, and one for the old and sick with pre-existing conditions, with higher deductibles and premiums that make health insurance unaffordable to the latter group. All for the purpose of giving the wealthiest Americans another undeserved tax break (the real purpose of these GOP bills). Such a "maverick" from a man who enjoys the best health care in the world. Cynical old bastard.
The New York Times reports, Senate Braces for Health Showdown With McCain on Hand but a Plan Unclear:
Senate Republican leaders, keeping alive their push to dismantle the Affordable Care Act, are barreling toward a showdown vote on Tuesday to begin debating a repeal of the health law. And Senator John McCain announced Monday night that he will be on hand to cast his vote, despite a diagnosis of brain cancer.
Before Mr. McCain, an Arizona Republican, announced that he was jetting in to cast what is expected to be a vote in favor of starting debate, President Trump spent Monday ratcheting up pressure on Republican senators to get onboard. Mr. Trump criticized their inaction and warned that they risked betraying seven years' worth of promises to raze and revamp the health law if they did not.
* * *
Tom Perez, the Democratic National Committee chairman, countered, "No matter how many ways President Trump tries to twist or hide the truth, the facts won't change: The Affordable Care Act has been a lifesaver for millions of Americans."
After months of planning, debating and legislating, much of it behind closed doors, the Senate this week has reached the moment when votes will have to be cast. The big question Monday was what exactly the Senate will be voting on.
The fight on the Senate floor will unfold in stages.
First, the Senate majority leader, Mitch McConnell of Kentucky, said he would move ahead with a procedural vote on Tuesday to take up the health bill that narrowly passed the House in May. He urged his colleagues to do so.
"Many of us have waited literally years for this moment to finally arrive, and at long last, it has," Mr. McConnell said on the Senate floor.
If that vote succeeds, the Senate would then be able to consider numerous amendments, including complete substitutes for the House bill. But it remains unclear what would take its place, and Senate Republican leaders have not said which substitute measure would be considered first.
Under one possible series of events, Mr. McConnell could quickly move to replace the House bill with an entirely new measure to repeal the Affordable Care Act without a replacement.
If that amendment vote fails, as it most likely would, he could move to replace the House bill with a version of the proposal he has been refining for weeks: to repeal the health law while also replacing it.
Senator John Cornyn of Texas, the No. 2 Senate Republican, said there would be "endless amendments" if the procedural hurdle were cleared. He played down the significance of which substitute measure would come first.
"Everybody will get a vote on everything they want to vote on," Mr. Cornyn said. He added, "What we're trying to do is convince everybody that if they'd like to get a vote on their amendment, then they need to vote to proceed to the House bill."
Democrats were incredulous.
"We are potentially one or two days away from a vote on a bill that would reorganize one-sixth of the American economy, impacting tens of millions of American lives, and no one knows what it is," said Senator Chuck Schumer of New York, the Democratic leader. "It's sort of like Alice in Wonderland around here."
What they will vote on will not matter if senators oppose beginning debate. Mr. McConnell can lose only two Senate Republicans, now that Mr. McCain intends to be in the chamber.
Paul Waldman of the Washington Post writes, Senate Republicans take cynicism to a horrifying new level:
We are hurtling toward a health-care disaster in the next 36 hours or so, for the worst possible reason. Cynicism is seldom completely absent from the operation of politics, but this is truly a unique situation. Republicans are set to remake one-sixth of the American economy, threaten the economic and health security of every one of us and deprive tens of millions of people of health-care coverage, all with a bill they haven't seen, couldn't explain and don't even bother to defend on its merits.
Why? Because they made a promise to their base and now they say they have to keep it — regardless of what form keeping the promise might take and how much misery it might cause.
[Today], the Senate is set to vote on a Republican bill to repeal the Affordable Care Act. What Republican bill? The senators themselves don't even know.
I've often argued that Republicans in Congress aren't serious about policy, but this is taking their unseriousness to the level of farce. After complaining for years that the ACA was "rammed through" Congress — in a process that involved a full year of debate, dozens of hearings in both houses and 188 Republican amendments to the bill debated and accepted — they're going to vote on a sweeping bill that had zero hearings and that they saw only hours before, because who cares what's in it? It's only the fate of the country at stake. If taking away health-care coverage from 20 million or 30 million Americans is what it takes to stave off a primary challenge from some nutball tea partier, then that's what they'll do.
No one would argue that keeping promises isn't important. But Republicans have elevated the idea of keeping their promise to repeal the ACA to the point where it's drained of all substance. You can see it in the way they talk about the various iterations of their bill. You seldom hear a Republican defend it on the terms of the bill itself. They don't say, "Here's how this bill will bring down deductibles" or "Here's how the bill will take care of those who lose their insurance" or "Here's how the bill will lower costs." That's partly because their bills won't do any of those things, but mostly because they just don't care.
* * *
What you'd expect of leaders is to say, "Okay, there are a bunch of interlocking, complex problems we want to solve here. This has to be done carefully. Let's take our time and make sure we get it right." But that's not what Republicans are saying. Instead, they're saying "We have to vote on a bill now, even if we don't know what it's in it and even if it makes the problems we claim to care about impossibly worse, so we can say that we repealed Obamacare." Sure, it would be bad to kick 20 million or 30 million people off their coverage — but not as bad as having to admit they failed to pass a bill!
This is even less serious and more cynical than what they've been doing for the past seven years. When they held dozens of votes in the House to repeal the ACA, it may have been silly, but at least it didn't hurt anyone. Now they have the power to affect people's lives by the millions — even destroy them — and they can't be bothered to spend more than a day or two figuring out how to do it.
The Outcomes of the Many Republican Health Plans Are Not So Different:
We looked at key numbers in six of the proposed plans — three from the House and three from the Senate — that were analyzed by the Congressional Budget Office, a nonpartisan group of economists and statisticians.
The increases in the number of uninsured are nearly the same.
One of the most important variables — how many people would be without health coverage — is essentially the same in five of the plans that repeal and replace the Affordable Care Act. Those plans would increase the number of uninsured by more than 20 million people in 10 years.
The uninsured would increase by more than 30 million people under a sixth plan, a partial repeal of the Affordable Care Act with no replacement. This plan is similar to a 2015 repeal bill that was vetoed by President Barack Obama in 2016.
The six versions would make deep cuts to Medicaid.
With each new version, changes were made to appease lawmakers with sharply different priorities in an effort to pick up a few more votes.
A common thread in all the House and Senate versions, however, is that people with Medicaid coverage would be the largest group to be affected.
Under the Affordable Care Act, 31 states [including Arizona] and the District of Columbia expanded Medicaid coverage to poor adults who were previously uncovered. Republicans in Congress are seeking to sharply curtail federal support of the expansion, likely causing many states to end it.
In all the bills, the largest savings — more than $750 billion over 10 years — would be achieved through deep cuts to the program.
Most of the plans would also make changes to the structure of the entire Medicaid program, including spending reductions that the C.B.O. thinks are likely to cause coverage reductions over time.
The cost of premiums would eventually fall in five of the plans.
Republican lawmakers have long cited rising premiums as one of the main reasons for repealing the Affordable Care Act.
In all plans scored by the C.B.O. — except the partial repeal bill — average insurance premiums would rise in the first year, but eventually become lower than the current law by 10 percent to 25 percent.
The C.B.O. said that the changes would largely result from increases in average insurance deductibles and reductions in the number of older Americans with coverage.
As the Washington Post editorializes today, Every Republican health-care plan so far would cause great harm to the nation:
Majority Leader Mitch McConnell (R-Ky.) announced Monday afternoon that the chamber would vote Tuesday on . . . well, on something.
The scrambling reflected a basic fact: Every major Republican proposal put forward so far would mean millions of Americans would lose access to health care. Each plan would theoretically fulfill a GOP campaign promise while inflicting serious harm on the nation.
* * *
The proposals under consideration run the gamut from bad to horrendous, and the rushed process for proceeding to the floor has made a mockery of the "world's greatest deliberative body." The only proposal that could serve even as a template for a reasonable, bipartisan bill is the Cassidy-Collins-Capito-Isakson plan. But it has been sidelined since it emerged, and it would require weeks of negotiation to get it into shape.
Senators should reject Tuesday's motion to proceed to debate on repealing and replacing Obamacare. Keeping an irresponsible campaign promise is not worth inflicting any of these "reforms" on the American people.
Arizona's senators John McCain and Jeff Flake instead will vote for the GOP plans to destroy health care in America and to take health insurance away from hundreds of thousands of Arizonans. It is amoral and inhumane.
They will not only have to answer to their constituents, they will have to answer to their God.
UPDATE: Vice President Pence cast the tie-breaking vote that gave Republican leaders the support needed to advance to deliberations on a bill. What bill, no one knows. Pence Breaks Tie as Senate Votes to Begin Debating Obamacare Repeal. The Senate parliamentaria just made it more difficult for Tea-Publicans to pass any bill. Senate parliamentarian: More parts of ObamaCare repeal will need 60 votes and Senate ObamaCare repeal, replace plan expected to need 60 votes. That ain't happening. This leaves Tea-Publicans with their 'Skinny repeal' bill, the Senate's health-care bill of last resort:
As the Senate prepared Tuesday to take a first-step vote on ill-defined Republican plans to go after the Affordable Care Act, a new phrase entered the lexicon of the debate: "skinny repeal."
In substance, this plan would repeal just three parts of the ACA, according to several sources familiar with the approach. It would eliminate the requirement that most Americans carry health insurance as well as the requirement that employers with at least 50 full-time employees offer coverage to their workers. Both are central elements of the 2010 health-care law and its least popular aspects with the public.
The "skinny" plan also would rescind the tax on medical devices, one of several taxes the ACA created to help pay for other elements of the law.
A close variant of this surfaced two years ago in the House, as part of the GOP's strategy back then to lower federal deficits. Congressional budget analysts estimated at the time that 15 million fewer Americans would have insurance coverage "most years" as a result.
For Republicans now in the Senate, the purpose is as much tactics as policy: [the "skinny repeal" bill] would essentially be a placeholder bill. The idea would likely surface on the Senate floor as an amendment later this week if the chamber has been unable to pass a fuller demolition of the law. It would buy the Senate's GOP leaders more time because any bill they successfully push through their chamber would lead to a conference committee with the House, which this spring passed its own anti-ACA legislation.
UPDATE: John McCain's political base, the Beltway media, gave him plaudits for a "fiery" speech he gave accusing his colleagues of "not getting anything done," and saying that he would not vote for the "shell of a bill" to repeal and replace. But when it came time to actually vote, he did. McCain votes to advance ObamaCare repeal, replace after vowing to oppose:
In a fiery floor speech earlier in the day, McCain said he would oppose the legislation in its current form when it comes time for final passage.
He called the current proposal a "shell of a bill" and said the Senate Health Committee should hold hearings on healthcare legislation.
McCain then voted in favor of a procedural hurdle Tuesday evening that would have advanced the GOP's ObamaCare repeal and replace bill to a vote.
The vote to advance the proposal to a vote failed 43-57, with McCain voting yes.
The proposal was the first amendment to get a vote after senators took up the House-passed healthcare bill, which is being used as a vehicle for any Senate action, earlier Tuesday. It included proposals from Sens. Ted Cruz (R-Texas) and Rob Portman (R-Ohio).
Asked by a reporter after the vote why he voted in favor of the motion, he said: "I just thought it would be good to move the process forward, and then we'll see what happens later on."
With John McCain, his actions always speak louder than his words.