In September, Anti-shutdown activists launched a recall effort against Ducey:
A campaign to remove Gov. Doug Ducey from office over his executive order closing many businesses and requiring Arizonans to stay at home to blunt the spread of COVID-19 was launched Friday.
"Governor Ducey has committed a violation of his oath of office, ARS 38-231 by issuing an unconstitutional executive order by unequally enforcing the law in Arizona upon Arizona citizens and businesses and by failure to address citizens and businesses grievances," the recall .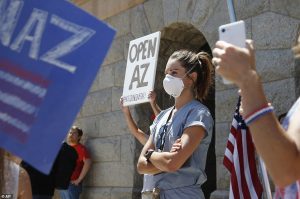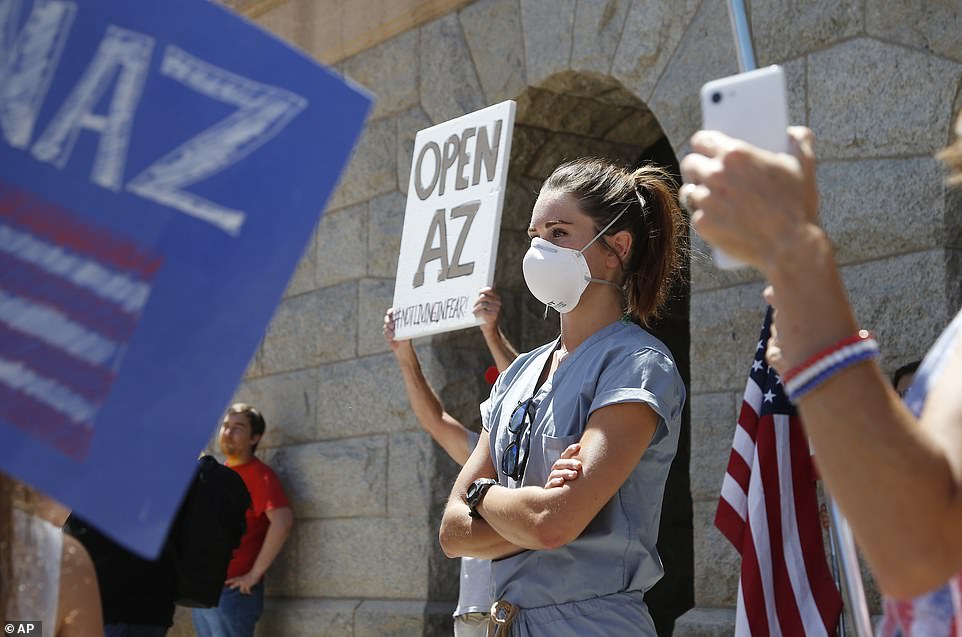 The petition was filed Friday afternoon with the Arizona Secretary of State's Office by Marko Trickovic, Steve Daniels and congressional candidate Josh Barnett. The trio have been key players in the re-open protests at Arizona's Capitol.
They will have 120 days to gather signatures to force Ducey to stand for a recall election. They must gather more than 594,000 signatures to force the election.
When Donald Trump returns to Arizona on Monday in Tucson, will he be leading his anti-mask MAGA cult members in chants of "lock him up!" and circulating petitions for the recall of Governor Ducey?
Will Trump be inciting violence against Governor Ducey, as he did against Michigan Governor Gretchen Whitmer on Saturday? Michigan Gov. Lashes Trump For Endangering Her Life After Rally 'Lock Her Up' Chant:
Michigan Gov. Gretchen Whitmer, the target of an alleged kidnapping plot by Trump-supporting militia members, called out the president after he attacked her at a rally in Muskegon, working the crowd into a frenzy and triggering a chant of "Lock her up."
"You gotta get your governor to open up your state," Trump told the crowd. "And get your schools open, get your schools open. The schools have to be open, right?" added Trump, whose own son Baron attends a school that will not fully open through the fall.
When the crowd started chanting "Lock her up," with absolutely no justification, Trump smiled and repeated the phrase "Lock her up." Then he chillingly added: "Lock 'em all up."
The Trump rally followed federal officials having released disturbing videos, including what appears to be practice for an armed assault, of members of a Michigan militia who have been charged with allegedly plotting to kidnap the state's governor. Chilling Training Videos Released Of Militia Men Charged In Michigan Gov. Kidnap Plot:
The videos, along with photos and other exhibits, were introduced into evidence at a preliminary examination in a federal district court in Grand Rapids for six men charged with conspiring to kidnap Gov. Gretchen Whitmer.
The videos presented a dramatic contrast to a defense attorney's claim in court Friday that the alleged plot to kidnap the Democratic governor was just "loose talk."
The men planned to kidnap Whitmer, whom they referred to as a "tyrant bitch," because of her restrictions on businesses and safety requirements such as face masks to help stem the spread of COVID-19, according to an FBI affidavit filed in court last week.
The apparent training video emerged as President Donald Trump continued his attacks on Whitmer at a Michigan rally Saturday. He worked the crowd into a frenzy, calling for all business restrictions to be dropped, then repeated the crowd's chant: "Lock her up" — though Whitmer has not been charged or even suspected of any crime whatsoever.
Whitmer shot back on Twitter that Trump's renewed attack on her over COVID-19 safety measures is "exactly the rhetoric that has put me, my family, and other government officials' lives in danger while we try to save the lives of our fellow Americans."
This is exactly the rhetoric that has put me, my family, and other government officials' lives in danger while we try to save the lives of our fellow Americans. It needs to stop. https://t.co/EWkNQx3Ppx

— Governor Gretchen Whitmer (@GovWhitmer) October 17, 2020
One of the videos released Friday shows a pair of men in fatigues and armed with what appear to be assault-style rifles leaping from a car and firing at an imaginary, unknown target. Other armed men in military fatigues are seen already positioned outside the car.
Other videos show individuals showing off and handling an arsenal of weapons.
In another video, indicted suspect Brandon Caserta talks into a camera about taking out "government thugs."
If this "whole thing starts to happen, I'm telling you what, dude, I'm taking out as many of those motherf**kers as I can. Every single one, dude," he says in the video. "I'm sick of being robbed and enslaved by the state … they are the fucking enemy. Period."
All six of the charged militia members are being held without bond. One of them is awaiting extradition from Delaware. Eight other men are facing terrorism-related state charges.
Tori Saylor, the governor's deputy digital director, noted that each time the president attacks Whitmer, threats against her skyrocket on social media.
I am the Governor's Deputy Digital Director. I see everything that is said about and to her online.

Every single time the President does this at a rally, the violent rhetoric towards her immediately escalates on social media.

It has to stop. It just has to. https://t.co/eupQXzGydN

— Tori Saylor (@tori_saylor) October 17, 2020
The men also discussed other violence, including grabbing several hostages, and overthrowing the state government, according to federal law enforcement authorities. Democratic Virginia Gov. Ralph Northam was also discussed as a possible kidnapping target because of his COVID-19 safety measures, according to authorities.
Arizona has turned a blind eye to these so-called "patriot" (sic) militias, which have been allowed to proliferate in this state. Does Governor Ducey really believe that these anti-government domestic terrorists haven't discussed doing to him what they wanted to do to Governor Whitmer because of his restrictions on businesses and safety requirements such as face masks to help stem the spread of COVID-19 in Arizona?
After the militia arrests, Gov. Whitmer attacked Trump for encouraging such violence with his hate speech and support of violent groups.
"When our leaders … encourage … domestic terrorists, they legitimize their actions, and they are complicit," she said.
After her criticism, Trump reiterated the militia members' tyrant theme, insisting that Whitmer "wants to be a dictator".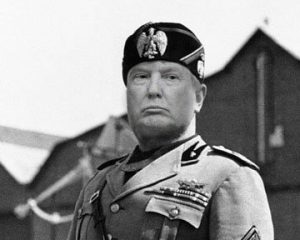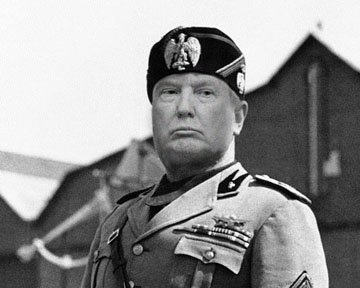 Cheeto Benito is projecting again. A totalitarian who threatens to "lock up" his political opponents, and calls on an irregular "army" of supporters, Donald Trump's MAGA red caps, his version of Italian "black shirts" and German "brown shirts" fascist militias, that is a man who has dreams of being a dictator.
Critics says Trump's support for the characterization of Whitmer as a criminal who should be "locked up" rather than the legitimately elected head of her state creates an atmosphere encouraging an open season on Democrats instating COVID-19 safety measures or on those who simply disagree with Trump.
Does Governor Ducey believe he is exempt because he is a Republican, even though he also adopted COVID-19 safety measures? These are anti-government domestic terrorists. As suspect Brandon Caserta is quoted saying above, "I'm sick of being robbed and enslaved by the state … they are the fucking enemy. Period." Are you sure that you are safe because you are a Republican, Governor Ducey? You are the embodiment of the state.
And by the way, where is Governor Ducey's public statement defending Governor Gretchen Whitmer against Trump's assault on Saturday? His silence and cowardice invites a similar assault against him. Does he not realize this?
Elizabeth Neumann, former assistant secretary of homeland security for counterterrorism and threat prevention from March 2018 to April 2020, writes at the Washington Post, The threats against Democratic governors prove Trump's rhetoric encourages violence:
The arrest of 13 people, including members of a self-described militia group who were allegedly training for civil war, plotting to kidnap Michigan Gov. Gretchen Whitmer and discussing abducting Virginia Gov. Ralph Northam, shocked many Americans. Those who have studied and combated violent extremist movements were horrified but not surprised.
In March, while serving as assistant secretary of homeland security for counterterrorism and threat prevention, I asked my team to research how pandemic mitigation efforts might exacerbate violent extremism. For decades, the Secret Service, the FBI and academic researchers have examined the backgrounds and pre-attack behaviors of mass-attack perpetrators. Some of the risk factors of violent extremism they identified are increasing nationwide: social isolation, financial stress, job loss, loss of loved ones and significant changes or uncertainty in life.
My team also found that some groups would perceive public health measures as government overreach infringing on rights and liberties, which might encourage anti-government extremists. And we observed foreign actors and domestic violent extremists spreading disinformation about the pandemic to foment discord and encourage violence.
These findings were included in the recently released 2020 Homeland Threat Assessment, which concluded: "Domestic Violent Extremists [present] the most persistent and lethal threat. … Violent extremists will continue to target individuals or institutions that represent symbols of their grievances, as well as grievances based on political affiliation or perceived policy positions. … The domestic situation surrounding the covid-19 pandemic creates an environment that could accelerate some individuals' mobilization to targeted violence or radicalization to terrorism."
This is what we see in the Michigan allegations. One of the alleged co-conspirators, Adam Fox, complained in a private Facebook group that Whitmer was a "tyrant bitch" because gyms remained closed. According to the criminal complaint against the group, "several members talked about state governments they believed were violating the U.S. Constitution, including the government of Michigan and Governor Gretchen Whitmer. Several members talked about murdering 'tyrants.'"
My former colleagues in government are doing what they can to address the problem. But there's only so much they can do. Though lockdowns were necessary public health measures that saved thousands of lives, they exacerbate risk factors and stressors that contribute to violence, and no amount of resource reallocation in the national security and law enforcement agencies can change that.
This is where leadership makes a difference. A good leader can speak to the country — especially those most susceptible to radicalization — and contextualize the national and worldwide struggle against covid-19 in a way that unites people and discourages division, anger and grievance.
In March, anticipating the effects of the lockdowns and the need for national unity, my team developed a messaging campaign to help federal, state and local leaders build resilience within communities. Although the materials were approved within DHS, they never received the required approvals from the White House Covid-19 Task Force.
Rather than bring us together, the president did the exact opposite. In April, he tweeted, "LIBERATE MINNESOTA!" and "LIBERATE MICHIGAN!" and "LIBERATE VIRGINIA, and save your great 2nd Amendment. It is under siege!"
Those words are in keeping with Trump's slow repudiation of former KKK leader David Duke in 2016, his description of "very fine people on both sides" in Charlottesville in 2017 and his invitation to the Proud Boys to "stand back and stand by" at last month's presidential debate.
Language from campaign materials and Trump's extemporaneous speeches at rallies have been used as justification for acts of violence. The president has repeatedly been confronted with this fact. He and his supporters retort that he has, eventually, denounced violence and white supremacists. But the issue is not whether he has ever condemned those ideas and people; it is that he is inconsistent and muddied in his condemnations. Extremists thrive on this mixed messaging, interpreting it as coded support.
Combined with the president's repeated efforts to undermine the legitimacy of the election and militaristic calls to "join Army for Trump's election security operation," law enforcement and counterterrorism officials have expressed concerns to me that the president's rhetoric will lead to more civil unrest and violence. A survey by YouGov and Voter Study Group and published by Politico shows that "among Americans who identify as Democrat or Republican, 1 in 3 now believe that violence could be justified to advance their parties' political goals — a substantial increase over the last three years." The authors of the Politico piece note that there are preliminary studies demonstrating "messages from [Joe] Biden or Trump denouncing all violence can reduce mass approval of violence."
If anyone still questioned whether the president's rhetoric encourages violence, the plot against Whitmer provided the answer. Regardless of his intent, the president's effect is to embolden white supremacists, violent militias and anti-government extremists. He has been warned of this numerous times, yet he persists. He knows. He just does not care. And the country, I fear, will pay the price.
It's time for you to step up and take a courageous stand against Donald Trump's threat to governors, Governor Ducey. If you fail to do so, you are just a coward lacking the character to do what is right and necessary in this dangerous moment.