I'm not sure why the news media in Arizona does such a horseshit job of reporting on the Affordable Care Act aka "ObamaCare" when there is actually some very good reporting available that would help inform the public about complex health care policy.
For example, David Leonhardt of the New York Times makes the obvious point missing from virtually all of the horseshit reporting in Arizona: "The recent spike in premiums is a problem that could be easily solved by a functioning Congress." The Simple Fix for Obamacare:
The recent spike in premiums — raising the cost of many insurance plans — is a real problem. But it's also contained to the smaller part of Obamacare's coverage expansion, and it's a problem that could be easily solved by a functioning Congress.
First, some context: The 260 million or so Americans who receive health insurance through their employer, Medicare or Medicaid (including through Obamacare's Medicaid expansion) are unaffected by the prices increases. The increases instead apply to the 10 million people who buy coverage on one of the private-insurance exchanges established by the law. Even among those 10 million, the vast majority receives government subsidies that will largely or partly cancel out the price increase.
The spike in premiums is a sign that not enough healthy people are signing up for the exchanges. Without healthy people to balance out the sick, insurance stops being insurance and becomes terribly expensive.
The basic solution is straightforward. It involves increasing the subsidies for lower-income families — while also increasing the penalties for people who refuse to sign up for health insurance. The overall cost of this fix would be modest, and a better functioning Republican Party would have no problem agreeing to a compromise. It would preserve a robust role for the private market, after all.
The more boldly liberal solution is to create a so-called public option on the exchanges — a government insurance plan anyone could buy. In a Times op-ed today, Jacob Hacker — one of the architects of the public option — makes the case for it.
Kevin Drum explains the premium increases at Mother Jones:
The federal government announced today that Obamacare premiums are set to rise 22 percent next year. Charles Gaba estimates that premiums will go up 25 percent.
* * *
As painful as this is, all that's happening is that after being underpriced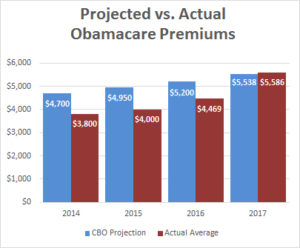 for years, Obamacare premiums are finally catching up to the original estimates from the Congressional Budget Office. A couple of months ago I suggested that premiums still had another 25 percent increase ahead, and this would likely be spread out over a couple of years. I was right about the size of the hike, but it's happening in one year instead of two. The good news is that these prices hikes truly should help to stabilize the market and prevent more insurers from abandoning Obamacare. It might even prod a few new ones to enter the market.
So that's that. Basically, this increase is painful, but was probably inevitable as insurers got more experience with the market. Subsidies and caps should shield a lot of people from the full pain of the increases, and the higher premium levels should be good for the long-term health of Obamacare. As for Republicans who plan to yell and scream about this, I have a deal for them: anyone who's serious about reducing the suffering of folks who will be hurt by higher premiums has my full support for boosting subsidy levels.
Nancy Le Tourneau at Political Animal Blog identifies the flaw that our dysfunctional Congress is not addressing. What Is/Isn't Driving the Obamacare Premium Increases:
With all that said, there is no denying the fact that we still have a serious problem with the costs of our health care. A lot of liberals tend to be singularly focused on the idea that it is health insurers who are the problem. What is often left out of that discussion is that Obamacare placed limits on their profits with the medical loss ratios.
The Affordable Care Act (ACA) includes several provisions that change the way private health insurance is regulated in an effort to provide better value to consumers and increase transparency. One such provision – the Medical Loss Ratio (or MLR) requirement – limits the portion of premium dollars health insurers may spend on administration, marketing, and profits. Under health care reform, health insurers must publicly report the portion of premium dollars spent on health care and quality improvement and other activities in each state they operate. Insurers failing to meet the applicable MLR standard must pay rebates to consumers beginning in 2012.
Insurance companies that cover individuals and small businesses are required to spend at least 80% of their premium income on health care claims and quality improvement while those that offer large group plans must spend at least 85 percent. Anything beyond that must be returned to their customers at the end of the year.
So while it is emotionally satisfying to blame these recent increases on insurers, that is not what is happening. It is beyond time that we begin to talk about the actual cost of health care rather than simply focus on the insurers.
* * *
We also know that a big driver of rising health care premiums and expenditures is the cost of prescription medications. That's where the cover article in the new issue of the Washington Monthly by Alicia Mundy ("Just The Medicine") comes in. According to her research, the president has the ability to tackle this problem without going to Congress. It all goes back to legislation passed 36 years ago – the Bayh-Dole Act – which "empowers the executive branch to get pharmaceutical companies to reduce prices on drugs invented with the help of federal research funds." You'll want to read that one!
Congress could also amend Medicare Part D and the Affordable Care Act to allow the government to negotiate the price of  medications the way that the Veterans Administration does. These non-negotiation provisions were the price that Big Pharma demanded for its support of Medicare Part D and the ACA. With the recent reports of price gouging by Big Pharma, this bargain is now void due to bad faith.
Finally, Paul Krugman in his column today Obamacare Hits a Pothole explains:
Now reform has hit a pothole: After several years of coming in far below predictions, premiums on covered plans have shot up by more than 20 percent.
So how bad is the picture?
The people who have been claiming all along that reform couldn't work, and have been wrong every step of the way, are, of course, claiming vindication. But they're wrong again. The bad news is real. But so are reform's accomplishments, which won't go away even if nothing is done to fix the problems now appearing. And technically, if not politically, those problems are quite easy to fix.
Health reform had two big goals: to cover the uninsured and to rein in the overall growth of health care costs — to "bend the curve," in the jargon of health policy wonks. Sure enough, the fraction of Americans without health insurance has declined to its lowest level in history, while health cost growth has plunged: Since Obamacare passed Congress, private insurance costs have risen less than half as fast as they did in the previous decade, and Medicare costs have risen less than a fifth as fast.
But if health costs are looking good, what's with the spike in premiums? It only applies to one piece of the health care system — the "exchanges," the insurance markets Obamacare established for people who aren't covered either by their employers or by government programs, mainly Medicare and Medicaid.
The way the exchanges were supposed to work was that both healthy and less-healthy people would sign up, providing insurers with a good mix of risks that let them offer reasonably priced policies. Broad participation was supposed to happen because the law requires everyone to have insurance — the "mandate" — or face a penalty. Buying insurance was supposed to remain affordable because the law provides subsidies for middle- and lower-income families, ensuring that health costs don't become too large a share of income.
Many insurers entered the market in the belief that the system would work as advertised. After all, conceptually similar systems work in other countries, like Switzerland; Massachusetts has had a system along the same lines since 2006 (which is why some of us call it ObamaRomneycare); and even now it's working O.K. in California, which has managed the program well.
In many states, however, not enough healthy people signed up — and now insurers are either pulling out or hiking their premiums to reflect the not-so-good risk pool. Since premiums have until now been well below projections, this only brings them back up to expected levels. But it's clearly not good news.
How many people are hurt by these premium hikes? Not as many as you may think.
If you are covered by your employer, Medicare or Medicaid, this isn't about you. Even if you buy a policy on the exchanges, you're protected if your income is low enough — $97,200 for a family of four — to make you eligible for subsidies. So we're talking about a fraction of a fraction of the population (which admittedly may still be several million people).
Oh, and bear in mind that many of those affected by the rate hikes have pre-existing conditions, which means that without Obamacare they wouldn't be insured at all.
Even if the direct effects of this year's hike aren't that big, could it mean that Obamacare is about to unravel? No. Most people on the exchanges receive subsidies, which means that the rate hikes won't induce them to drop out; people talking about a "death spiral" haven't done their homework.
So the news is bad, but its badness is limited. Still, the architects of Obamacare had hoped to create a system that would eventually cover almost everyone.
Can the current problems be fixed?
As a technical matter, the answer is clearly yes. Strengthen the mandate; expand the subsidies; close the loopholes that have allowed some insurers to bypass the exchanges; take a more active role in setting standards and reaching out to families to make them aware of their options. Some states are doing much better than others, and it wouldn't take a lot of money to expand best practices to the nation as a whole.
The trouble is that Congress would have to vote to spend that money. So unless Democrats manage to take the House (unlikely) or Republicans are willing to cooperate in the public interest (even more unlikely), the easy fix that's clearly in sight will have to wait for a while.
So, is the latest health care news disappointing? Yes. Is it catastrophic? Not at all.
The immediate task at hand, the necessary first step, is to elect a Democratic Congress this November that will work to make the policy changes to ObamaCare so that it functions as it was intended. It can be done, It is a matter of political will.
We have suffered for almost six years now under a radical less-than-less-than-do-nothing Congress that is hellbent on repealing ObamaCare rather than making the simple fixes that would allow it to function as it was intended. It is time for these GOP obstructionists to go.