The last hurdle to a final vote on Loretta Lynch for Attorney General was cleared this morning when a feeble attempt by Tea-Publicans to filibuster her nomination failed. Loretta Lynch on verge of confirmation: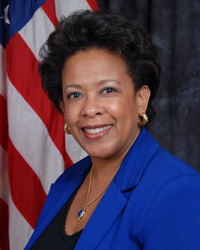 Senators on Thursday moved toward confirming Loretta Lynch as the nation's next attorney general.
In a 66 to 34 vote, senators invoked cloture on President Obama's nominee, setting up a final vote later this afternoon.
"But [Tea-Publican dead-enders] also lined up ahead of the procedural vote to urge their colleagues to block Lynch's nomination," i.e., anti-immigrant nativist Jeff Sessions, and demagogue bomb-thrower Ted Cruz, for example.
The cloture vote produced some interesting results. While Arizona's angry old man, John McCain, continues to vote against President Obama out of pure spite that that Black man in the White House denied him his rightful destiny to be president, McCain's partners in the New Three Stooges, Little Lindsey Graham (who is threatening to run for president), and "Shemp," aka Kelly Ayotte, voted for cloture. Damn Johnny, when you've lost the Stooges . . . And McNasty's own seat mate, Jeff Flake, also voted for cloture. You're out there on an island, Johnny.
GOP presidential wannabes Ted Cruz, Rand Paul, and Marco Rubio all voted against cloture, because dammit, the GOP nativist and racist base in GOP primaries demand it! Give the haters what they want, and they'll want me!
Loretta Lynch is expected to be confirmed by a final vote later today.
UPDATE: Free Eric Holder! The Senate has confirmed Loretta Lynch. Senate votes 56-43 to confirm Lynch as attorney general:
The Senate on Thursday confirmed Loretta Lynch for attorney general, clearing the way for her to become the first African-American woman to ever serve as the nation's top law enforcement official.
Senators voted 56-43 [demagogue bomb-thrower Ted Cruz did not vote] to confirm Lynch, more than 160 days after she was first nominated for the position by President Obama.
Ten Republican senators broke ranks and sided with Democrats to get Lynch over the 50-vote threshold: Kelly Ayotte (N.H.), Orrin Hatch (Utah), Lindsey Graham (S.C.), Susan Collins (Maine), Jeff Flake (Ariz.), Mark Kirk (Ill.), Rob Portman (Ohio), Thad Cochran (Miss.), Ron Johnson (Wis.) and Mitch McConnell (Ky.).
Ayotte, Kirk, Portman and Johnson are up for reelection in 2016. Texas Sen. Ted Cruz, a Republican presidential candidate who said he would oppose Lynch, missed the vote.
"Today, the Senate finally confirmed Loretta Lynch to be America's next Attorney General — and America will be better off for it," Obama said in a statement.
The president added that having Lynch in office "ensures that we are better positioned to keep our communities safe, keep our nation secure, and ensure that every American experiences justice under the law."
Attorney General Eric Holder, who has remained in office while the confirmation process played out, said he was "pleased" that the Senate had approved his successor.
"I am confident that Loretta will be an outstanding attorney general, a dedicated guardian of the Constitution, and a devoted champion of all those whom the law protects and empowers," Holder said.
Lynch received one of the closest votes in recent memory for an attorney general nominee. Conservative groups had been pressuring Republicans to oppose her over Obama's executive actions on immigration, among other things.
It's unclear when Lynch will be sworn in to replace Holder.
I am sure Eric Holder and his wife are already packing their bags for a long delayed vacation.