The GOP's alleged boy genius and Ayn Rand fanboy, Rep. Paul Ryan, the "zombie eyed granny-starver" from Wisconsin, is taking over as the House Ways and Means Committee Chair in January.
The Flimflam Man of the GOP, as Paul Krugman dismissively calls him, is a true believer in the entirely disproved and discredited faith based supply-side "trickle down" GOP economics that George H.W. Bush back in the day correctly dismissed as "voo-doo economics."
Ryan intends to double-down on "voo-doo economics" by using a lie to sell his destructive budget to the American people. This lie is something called "dynamic scoring." Greg Sargent recently explained, GOP to double down on 'voodoo' economics?
For some time now, liberal writers have warned that a full GOP takeover of Congress will lead to a return of "voodoo" economics. The basic idea is that Republicans might use their clout to prevail upon budget scorekeepers to use "dynamic scoring," which takes into account the macro-economic payoff in revenues in judging the impact of a tax proposal.
After dropping hints in this direction, Rep. Paul Ryan, the new chairman of the House Ways and Means Committee, has now basically confirmed that this is the game plan.
Ryan's goal is to slash high end taxes and to balance the budget in 10 years. He says he'll make up the lost revenues by closing some loopholes, but "dynamic scoring" is also a crucial piece of this puzzle. Liberals warn that "dynamic scoring" should only be used in limited ways, because its accuracy is very uncertain, but conservatives like it because it allows them to claim tax cuts will produce more revenue from economic growth, reducing the need for the hard choices required to make up that revenue in the plan itself.
Paul Krugman recently explained that this supply-side economics claim — that "cutting taxes on high incomes would lead to spectacular economic growth, so that tax cuts would pay for themselves" — goes back 35 years, and a Republican takeover of Congress might infuse the same old "voodoo into supposedly neutral analysis." Or, as Jonathan Cohn put it, instituting dynamic scoring would basically be an "attempt to rig the budget game" to "make Republican-supported tax cuts seem a lot less costly."
Ryan's confirmation comes at the end of this interview with Lori Montgomery:
Ryan has said it would be easier to hit that target if the Congressional Budget Office used a process called "dynamic scoring" to measure broad effects on the economy when judging tax legislation. While CBO already uses dynamic scoring on a limited basis, Ryan said Wednesday he will have additional recommendations in the new Congress "for making sure we take these things into consideration."
The key here is Ryan's vow to "make sure" that dynamic scoring is used. And if this moves forward, it will provoke a fight with Democrats that will reignite the argument over Republican economic doctrine. In a preview of how Dems will frame their side of the argument, a senior House Democratic aide tells me:
"At a time when Republicans are trying to rebrand themselves, highlight their concern about middle class economic anxiety and show they have a poverty agenda, they are doubling down on an economic philosophy that has dominated their agenda for 30 years. Decades after the Reagan tax cuts, they are doubling down on trickle down economics. At a time when the deficit has been halved, Republicans are ready to blow it up again to pay for huge tax cuts, while masking over what they are doing."
David Atkins adds at the Political Animal Blog, Dynamic fantasy scoring coming to a budget near you:
I wrote back in early October about the Republican desire to use "dynamic scoring" in the budget process: it's basically fantasy-based budgeting that assumes that tax cuts will generate massive revenues through economic growth that pays for the cost of the tax cuts.
We know, of course, that tax cuts do not in fact create jobs or lead to economic growth. Any budgetary scoring that assumes any variables for higher economic growth and revenue based on a corporate tax cut is operating on conservative ideological pixie dust.
Nevertheless Republicans seem determined to go through with it to help them pass "tax reform":
"I believe the expanded and sensible use of dynamic analysis can, if done correctly, be an important tool to help us achieve our goals," he said. Republicans have committed to an overhaul that would eliminate some tax breaks and reduce the corporate tax rate to 25% from 35% without increasing the budget deficit. Using standard congressional scoring, Republicans would have to cut a host of tax breaks coveted by businesses to accomplish the goal. Dynamic scoring could alter that equation.
"At the end of the day, it may mean that you don't have to eliminate as many loopholes as you might have thought you had to," said Scott Hodge, president of the nonpartisan Tax Foundation.
America has a corporate tax problem: our official corporate tax rate is higher than that of most other industrialized democracies, but the number of loopholes and giveaways in the tax code means that the effective rate is far lower. If we had a functioning Congress we would get rid of the worst loopholes and subsidies (say, for Wall Street and oil companies) while lowering the official rate—thus putting medium and small-sized corporations on better footing and generating revenue at the same time.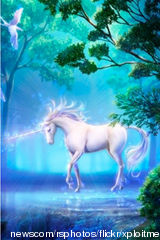 But, of course, that would be hard work and it would anger major conservative constituencies. Republicans would prefer to simply cut the corporate rate without touching the loopholes at all. But there's the pesky problem that doing so would dramatically increase the deficit, about which Republicans have been spending the last six years crying wolf.
The easiest way to "solve" that problem is to use fantasy budgeting to pretend that a corporate tax cut will magically generate huge economic growth, making the cuts revenue neutral.
They won't, of course, but since when has the GOP cared about being tethered to reality? If they get a tax cut using dynamic scoring today and the deficit predictably skyrockets, they can always just blame "liberal spending" and come back saying that government needs to tighten its belt.
The only wrinkle in the "starve the beast" conspiracy these days is that many of their less savvy tea party congressmembers and constituents actually have been led to believe that the deficit is a real problem, rather than a bugbear to bring up whenever a Democrat is president in order to stymie their agenda. So now they need to starve the beast without looking like that's what they're doing, even to their own members.
This is what angers me the most about Paul Ryan: the GOP's Flim-Flam Man is a shameless liar and huckster, and has no moral or ethical concern for the consequences of his actions.
While Paul Ryan likes to cite his Catholic faith, he is an Ayn Rand fanboy who subscribes to her objectivist ethics. It is no wonder Pope Francis singled out "trickle down" economics as heresy. Pope Francis denounces 'trickle-down' economic theories in sharp criticism of inequality (Nov. 26, 2013):
In a paper outlining a philosophy that he says will guide his papacy, Pope Francis decries an "idolatry of money" and warns it would lead to "a new tyranny."
On Tuesday, he showed a willingness to use tough language in attacking what he views as the excesses of capitalism. Using a phrase with special resonance in the United States, he strongly criticized an economic theory — often affiliated with conservatives — that discourages taxation and regulation.
"Some people continue to defend trickle-down theories which assume that economic growth, encouraged by a free market, will inevitably succeed in bringing about greater justice and inclusiveness in the world," Francis wrote in the papal statement. "This opinion, which has never been confirmed by the facts, expresses a crude and naive trust in the goodness of those wielding economic power and in the sacra­lized workings of the prevailing economic system."
"Meanwhile," he added, "the excluded are still waiting."
Although Francis has previously raised concerns about the growing gap between the wealthy and the poor, the direct reference to "trickle-down" economics in the English translation of his statement is striking.
* * *
The pope's statements — especially if they continue — could impact U.S. politics. Several potential contenders for the presidency in 2016 are economic conservatives who are also Catholic, and liberal Catholic groups have in the past taken aim at what they view as the overly stingy policies of Republicans who have little regard for the role of government in redistributing income.
Rep. Paul Ryan (R-Wis.), a recent proponent of those policies and a devout Catholic, has said before that he tries to uphold Catholic teaching "as best I can" and believes his policies match Catholic teaching because they emphasize small institutions close to the people — for example, churches — over the role of state or federal government. A spokesman for Ryan declined to comment Tuesday on the pope's statement.
Oh, but he did. Who Is More Fallible on Economics: Paul Ryan or Pope Francis? (December 26, 2013):
In an interview with the Milwaukee Journal-Sentinel — somewhat amusingly focused on Ryan's support for a casino in the state — Ryan offered his response. "The guy is from Argentina, they haven't had real capitalism in Argentina. They have crony capitalism in Argentina. They don't have a true free enterprise system."
In other words, as Ayn Rand would have said, "What the hell does the Pope know about capitalism?" Nice.
Remember, this failed vice presidential nominee in 2012 is going to run for president in 2016. The fact that he is a shameless liar and huckster, and has no moral or ethical concern for the consequences of his actions are serious character flaws the media should illuminate.