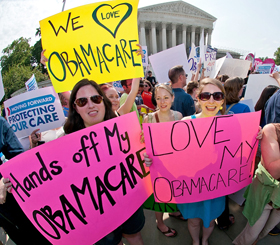 Donald Trump has done everything in his power to sabotage the Affordable Care Act aka "Obamacare" out of pure spite and hatred for Barack Obama, without any regard for Americans who will be harmed by his actions.
Last month, the Trump administration announced that it would abruptly halt important Obamacare payments, leaving only two likely explanations: incompetence or sabotage. Trump's latest move on Obamacare is incompetent — or sabotage:
The Centers for Medicare and Medicaid Services (CMS) stunned the health-care world on July 7, revealing that it would stop collecting and paying out money under the Affordable Care Act's risk-adjustment program. The program helps level out costs among insurers participating in Obamacare marketplaces. Those with inordinately healthy — and inexpensive — customers pay to compensate those with unusually sick — and costly — customers. Without such a program, insurance companies would compete to attract only healthy customers by narrowing benefits and finding other ways to discriminate against people who need care. Insurers who were unsuccessful in deterring sick people from signing up would have to raise premiums, leading to the loss of healthier customers and a downward financial spiral. With the program in place, on the other hand, the insurers in a given market are part of a big, effective insurance pool whose risks are spread across all.
As you might imagine, Health Insurers Warn of Market Turmoil as Trump Suspends Billions in Payments:
Many insurers that enroll large numbers of unhealthy people depend on the "risk adjustment" payments, which are intended to reduce the incentives for insurers to seek out healthy consumers and shun those with chronic illnesses and other pre-existing conditions.
"Any action to stop disbursements under the risk adjustment program will significantly increase 2019 premiums for millions of individuals and small-business owners, and could result in far fewer health plan choices," said Justine G. Handelman, a senior vice president of the Blue Cross and Blue Shield Association. "It will undermine Americans' access to affordable care, particularly for those who need medical care the most."
Supporters of the Affordable Care Act said the move was the latest example of the Trump White House's efforts to undermine the health law.
"The Trump administration just keeps pushing their destructive repeal-and-sabotage agenda, no matter the cost to the American people," said Brad Woodhouse, the director of Protect Our Care, an advocacy group that supports the health law. "Following through with this latest act of sabotage could raise rates for all consumers even more."
Some insurers expressed alarm at the administration's decision, which comes just as insurance companies are developing premiums for 2019 and states are reviewing proposed rates.
"We are very discouraged by the new market disruption brought about by the decision to freeze risk adjustment payments," said Matt Eyles, the president and chief executive of America's Health Insurance Plans, a trade group for insurers.
After health insurers protested the disruption of the health insurance markets, the Trump Administration, in Reversal, Will Resume Risk Payments to Health Insurers:
The Trump administration, in an abrupt reversal, said that it would restart a program that pays billions of dollars to insurers to stabilize health insurance markets under the Affordable Care Act.
The administration said Tuesday that it would restore the program because otherwise health plans could become insolvent or withdraw from the market, causing chaos for consumers.
In adopting a new rule, the administration essentially accepted the arguments of critics, including consumer groups, health insurance companies and Democrats in Congress, who said that suspending the payments would cause turmoil in insurance markets.
Then there was the so-called "association health plans," a key plank in Trump's strategy to tear down Obamacare. He even announced the rules at the 75th anniversary of the National Federation of Independent Business last month, claiming the group's members will save "massive amounts of money" and have better care if they join forces to offer coverage to workers. Trump promised them better, cheaper health care. It's not happening.
But the NFIB, which vigorously promoted association health plans for two decades, now says it won't set one up, describing the new Trump rules as unworkable. And the NFIB isn't the only one: Several of the nationwide trade groups that cheered Trump's new insurance rules told POLITICO they're still trying to figure out how to take advantage of them and whether the effort is even worth it.
That could signal there's minimal early interest in an initiative the administration says will help lower health care costs — and one that Trump himself has prematurely hailed as a wild success. Trump falsely claimed during rallies in recent weeks that "millions" are signing up, though the new health plans can't be sold until Sept. 1.
Behind the scenes, the NFIB had already been souring on the idea before Trump's announcement, concluding that establishing an association health plan would be too complex and not worth the effort. The NFIB now says it's abandoned any idea of setting up a national plan for its hundreds of thousands of members.
Following up this policy fiasco, 11 States sued the Trump administration over expansion of skimpy group insurance plans:
The lawsuit, led by New York Attorney General Barbara Underwood (D) and Massachusetts Attorney General Maura Healey (D), alleges that the Department of Labor violated the Administrative Procedures Act when it wrote a rule expanding access to association health plans.
In the complaint, the attorneys general allege the rule "upends a decades-old understanding of a foundational employee benefits law for the purpose of exempting a significant portion of the health insurance market from the Affordable Care Act's consumer protections."
The rule "would undo critical federal consumer protections and unduly expand access to AHPs without sufficient justification or consideration of the consequences," the attorneys general said.
Democrats strongly oppose the rule as allowing for "junk" insurance that will not meet people's needs and that will cause premiums to rise for those remaining in ObamaCare plans, once some healthier people are siphoned off into the new plans.
The complaint alleges the final rule "increases the risk of fraud and harm to consumers, requires states to redirect significant enforcement resources to curb those risks, and jeopardizes state efforts to protect their residents through stronger regulation."
Aside from New York and Massachusetts, the other states signing onto the lawsuit are California, Delaware, Kentucky, Maryland, New Jersey, Oregon, Pennsylvania, the District of Columbia, Virginia and Washington.
The Trump administration is also eliminating most of the funding for grass-roots groups, known as navigators, that help Americans get Affordable Care Act insurance and will for the first time urge these groups to promote health insurance plans that bypass the law's consumer protections and required benefits. Administration slashes grants to help Americans get Affordable Care Act coverage.
The new reduction of help for navigators, announced by the Centers for Medicare and Medicaid Services (CMS), fits within a pattern of moves by the administration to weaken the sweeping health-care law, which President Trump has vowed to demolish.
Since Congress was unable to pass such legislation, Trump and his aides have been taking steps to weaken the law through administrative maneuvers.
The Trump administration issued new insurance rules on Wednesday to encourage more Americans to buy inexpensive, skimpy health plans originally designed for short-term use. Trump administration widens availability of skimpy, short-term health plans:
The policies will be available for 12 months at a time, up from a current limit of three, and customers will be able to renew them for additional years. The short-term plans do not have to cover preexisting conditions and certain kinds of health care that the Affordable Care Act requires.
The new rules are the second tool the administration has ­devised lately to foster low-price insurance that circumvents the ACA's coverage requirements and consumer protections.
In issuing the latest rules with a media blitz, administration officials characterized them as a major step toward fulfilling the president's promise to widen insurance choices.
* * *
In the months since the idea surfaced, it has elicited a wall of opposition from the health insurance industry, hospitals, doctors and patient advocacy groups. All have warned that consumers with bare-bones plans would be stranded when they need care — and that the defection of healthy customers from ACA market­places would drive up prices for those who remain.
Topher Spiro, vice president for health policy at the liberal Center for American Progress, derided the health plans as "junk insurance" and "the Trump University equivalent of health insurance."
* * *
Making it easier to buy health plans that avoid the law's protections is part of a strategy by Trump and his aides of relying on executive powers to undercut aspects of the ACA, whose demolition has been one of Trump's central goals since his 2016 campaign.
This unrelenting lawless attempt by Trump to gut the Affordable Care Act by executive orders has led to yet another lawsuit this week filed in Maryland federal court by the cities of Baltimore, Chicago, Cincinnati and Columbus, Ohio. Trump's undermining of Obamacare violates the Constitution, new lawsuit charges:
After congressional Republicans repeatedly failed last year to repeal the Affordable Care Act, President Donald Trump promised to "let Obamacare implode" on its own.
A new lawsuit being filed Thursday argues that Trump's efforts to make good on that promise violate the U.S. Constitution.
Trump has "waged a relentless effort to use executive action alone to undermine and, ultimately, eliminate the law," the complaint charges, according to a draft obtained by NBC News. The lawsuit is being filed in Maryland federal court by the cities of Baltimore, Chicago, Cincinnati and Columbus, Ohio.
Since Trump's first executive order directing federal agencies to claw back as much of the Affordable Care Act as possible, his directives have increased health coverage costs and depressed enrollment, the complainants say.
Specifically, the suit argues that Trump is violating Article II of the Constitution, requiring the president to "take care that the laws be faithfully executed."
"There's a clear case of premeditated destruction of the Affordable Care Act," said Zach Klein, Columbus city attorney.
This includes making it easier for individuals and trade groups to purchase coverage outside the law's insurance markets; threatening to eliminate cost-sharing reduction payments; cutting funding for "navigators," or those who help individuals enroll in the program; and using federal funds Congress dedicated to implementing the law toward making videos criticizing it.
* * *
During a call-in appearance on Rush Limbaugh's radio show Wednesday, Trump took credit for all but ending the Affordable Care Act.
"I have just about ended Obamacare. We have great health care," he said. "We have a lot of great things happening right now. New programs are coming out."
The suit also relies on a list of Trump's tweets indicating his intent to unravel the law, according to a lawyer involved in the case.
Constitutional scholars have long debated the extent to which the chief executive must "faithfully" execute U.S. laws under Article II — from Franklin Roosevelt's objections to legislative veto provisions and Harry Truman's seizure of steel mills.
Citing the same "take care" clause, Republicans took issue with President Barack Obama's executive orders on immigration as well as his delayed implementation of the health law.
This case stands apart from all others, says Abbe Gluck, a Yale University law professor and expert on Article II, because it's not about the extent to which Trump is "faithfully" implementing a law. Rather Trump has been frank that he is sabotaging the law, she said.
"That's what makes this case novel, first of its kind and really important," Gluck said. "No scholar or court has ever said the president can use his discretion to implement a statute to purposely destroy it."
"If there's ever going to be a violation of the 'take care' clause, this is it," she said.
If successful, the suit would strike down aspects of a Trump rule designed to undercut insurance markets; render a judgment he's violating his constitutional obligation to enforce the statute; and issue an injunction that he implement the law faithfully.
The suit also cites Trump scaling back oversight of insurance issuers, cutting open enrollment in half, urging a federal court to throw out Obamacare's protections for pre-existing conditions and undermining the individual mandate [something Congress did in its GOP tax scam bill]. See, Trump's DOJ labels the Affordable Care Act unconstitutional, placing healthcare for 133 million at risk:
In what may be the Trump administration's most dishonest and cowardly attack yet on the Affordable Care Act, the Department of Justice asserted that key provisions of the law are unconstitutional and refused to defend it against a legal challenge brought by 20 red states.

The move, disclosed in a federal court filing, left healthcare and legal experts aghast. The administration's argument takes aim at the ACA's protections for Americans with preexisting medical conditions, who are guaranteed access to health insurance at standard premium rates by the law.

Three DOJ attorneys who had been working on the case withdrew the day before the filing in what was widely assumed in the legal community to be a protest against the agency's position.

The Justice Department's abandonment of the ACA leaves the defense of the law in the hands of 16 state attorneys general, including California's Xavier Becerra, whom the court granted standing on May 16 to intervene in the case. They responded promptly to the filing late Thursday by calling the government's position "profoundly undemocratic" and asserting that its attack on the ACA's constitutionality would "cause catastrophic harm to tens of millions of Americans."

What concerned legal experts even more was the administration's refusal to defend the law against what's widely viewed as a hopelessly frivolous legal claim. The government's refusal to defend the law "represents an enormous blow to the integrity of the Justice Department," wrote Nicholas Bagley of the University of Michigan law school.

"The laws that Congress passes and the President signs are the laws of the land," Bagley wrote. "They aren't negotiable; they're not up for further debate. If the Justice Department can just throw in the towel whenever a law is challenged in court, it can effectively pick and choose which laws should remain on the books. That's as flagrant a violation of the President's constitutional duty to take care that the laws are faithfully executed as you can imagine."
Despite Trump's lawless attempts to gut the Affordable Care Act on his own, he can't kill "Obamacare" no matter how hard he tries. Trump's losing fight against Obamacare:
[D]espite the administration's unrelenting efforts to sideline Obamacare, more insurers are signing up to sell 2019 coverage, and premium increases will be the lowest in years.
"The rate shocks have kind of run their course," said Chris Sloan, a director with consulting firm Avalere Health. "The administration has basically done everything it can around this market. … They kind of shot all their bullets."
The markets' resiliency to these efforts has turned out to be a surprise — if a welcome one — for Democrats on Capitol Hill, who are trying to convert Obamacare's newfound popularity into electoral success in November.
"They're going to keep launching attacks," Sen. Chris Van Hollen (D-Md.), chair of the Democratic Senatorial Campaign Committee, said of the Trump administration. "They're determined to take away coverage."
Public support for Obamacare has skyrocketed since congressional Republicans made ill-fated repeal attempts last year. The Trump administration itself has struggled to land a clear knockout blow, despite advancing a series of policies designed to create new competition outside the Obamacare markets and siphon off healthier, low-cost enrollees.
"I think the law has proven to be more resilient than both its opponents and proponents had anticipated," said Sen. Brian Schatz (D-Hawaii). "And that's an economic observation as well as a political one."
* * *
[T]here are no signs the Trump administration's latest moves would scare any insurers away from the Affordable Care Act markets. Obamacare enrollment among subsidized customers is actually up by 6 percent this year, demonstrating the strength of the health care law's financial assistance.
See, More Americans pay for ACA health plans, despite Trump administration moves to undercut law.
"We don't believe they will have a big impact on our ACA population," Tami Hibbitts, vice president of individual markets at Michigan's Priority Health, said of short-term plans. "We see more people who were going uncovered before perhaps picking up a short-term plan."
More than a dozen states are seeing an increase in insurer competition in at least some counties. That includes the tech-focused startup Oscar Health, which is expanding into three new states while enlarging its footprint in three others. Another insurance startup, Bright Health, is entering Arizona and Tennessee for the first time. And two of the largest players in the exchanges — Centene and Molina Healthcare — are entering additional markets.
The boosted competition is a stark reversal from last year, when dozens of counties were at risk of not having a single insurer willing to sell Obamacare coverage.
There are promising signs across the country that Obamacare rate hikes for the 2019 enrollment season won't approach the eye-popping increases of the past two years, though rates won't be finalized until the fall. Enrollment reopens Nov. 1, days before the midterm elections.
For example, one year after Tennessee's market seemed on the verge of collapse, BlueCross BlueShield of Tennessee plans to decrease rates by 10 percent and Cigna wants to lower rates by 5 percent. In Minnesota, all four of the state's insurers are looking to lower premiums. And in several other states — including the key political battlegrounds of Indiana, Nevada, Michigan and Pennsylvania — proposed rate increases are 5 percent or less.
"The market is starting to stabilize," said Nate Clark, CEO of Minnesota's marketplace. "Insurers are figuring out how to make money."
* * *
Democratic pollster Celinda Lake doesn't believe the Obamacare markets' surprising performance will neutralize the issue as a campaign cudgel, pointing out that Democrats enjoy a huge advantage — 16 points, according to a Pew Research Center poll — over Republicans on health care issues.
"Almost every candidate we have is running on health care," Lake said. "It's a lot simpler than it used to be. We just basically argue that you shouldn't be taking away health care from people."
While Democrats continue to savage Republicans for rate hikes, they are also highlighting what many see as an existential threat to Obamacare and a potential election-year gift: the Trump administration's argument for tossing out popular protections for pre-existing conditions in a new anti-Obamacare lawsuit.
"That's the No. 1: the protections for pre-existing conditions," said Sen. Claire McCaskill (D-Mo.), whose opponent, Josh Hawley, is one of 19 state attorneys general backing the lawsuit. "They couldn't prevail in Congress, so they're taking the activist role and trying to use the courts to do what Congress refuses to do."
A majority of Americans support the continuation of the Affordable Care Act and disapprove of President Trump's handling of health care, according to an Axios/SurveyMonkey poll released Tuesday.