The number of Americans seeking unemployment benefits rose last week by the most in two months, to 898,000, a historically high number and evidence that layoffs remain a hindrance to the economy's recovery from the pandemic recession. For context, the previous record for weekly unemployment claims was 695,000 set in 1982 — a record that has now been shattered for 30 consecutive weeks in 2020. US jobless claims rise to 898,000 with layoffs still high:
Thursday's report from the Labor Department coincides with other recent data that have signaled a slowdown in hiring. The economy is still roughly 10.7 million jobs short of recovering all the 22 million jobs that were lost when the pandemic struck in early spring.
* * *
The job search website Indeed said its job postings were unchanged last week, remaining about 17% below last year's levels. Many employers still aren't confident enough in their businesses or in their view of the economy to ramp up hiring. Job postings had rebounded steadily over the summer, but the gains have slowed in the past two months.
"Further recovery looks to have stalled out," said AnnElizabeth Konkel, an economist at Indeed. "Holiday hiring is sluggish, and many businesses need to make significant changes to ride out the colder months."
* * *
A report Thursday from Moody's Analytics, a forecasting firm, and Morning Consult, a polling outfit, found that millions of people remain dependent on government aid. Roughly half of respondents in a survey last month said they were still using their $1,200 stimulus checks, which the government distributed in April and May, to pay for expenses. About 15% said they were relying on unemployment benefits.
More than 40% of the unemployed are also relying on financial help from relatives or friends. And 12 million households say they aren't sure they will be able to keep making their mortgage payments.
The government's report Thursday, showing that initial requests for jobless aid rose 53,000 last week, also said the number of people who are continuing to receive benefits dropped 1.2 million to 10 million. That decline signals that many of the unemployed are being recalled to their old jobs. But it also means that potentially even more people have used up their regular state benefits — which usually expire after six months — and have transitioned to extended benefit programs that last an additional three months.
Indeed, the number of people receiving extended benefits in late September, the latest data available, jumped 800,000 to 2.8 million. The government also said 373,000 people applied for jobless aid under a separate program that made the self-employed [PUA], contractors and gig workers eligible for unemployment benefits for the first time.
The New York Times adds, 8 Million Have Slipped Into Poverty Since May as Federal Aid Has Dried Up:
The number of poor people has grown by eight million since May, according to researchers at Columbia University, after falling by four million at the pandemic's start as a result of a $2 trillion emergency package known as the Cares Act.
Using a different definition of poverty, researchers from the University of Chicago and Notre Dame found that poverty has grown by six million people in the past three months, with circumstances worsening most for Black people and children.
* * *
At its peak in May, the aid kept more than 18 million people from poverty, the Columbia researchers found. But by September, that number had fallen to about four million.
"The Cares Act was unusually successful, but now it's gone, and a lot more people are poor," said Zachary Parolin, an author of the Columbia analysis.
Nearly all jobless benefit recipients are now receiving only regular state unemployment payments because a federal weekly supplement of $300 has ended in nearly all states. A $600-a-week federal benefit expired over the summer.
The end of federal aid for the unemployed will likely force many of the jobless to sharply cut their spending, thereby weakening the economy. The full impact may have been delayed, though, by the fact that most of the federal aid was saved or was used to pare debt, according to research by the Federal Reserve Bank of New York.
* * *
The end of the federal payments has also underscored the dramatically uneven nature of unemployment benefits across states. In Arizona, for example, the maximum weekly payment is only $240, while in neighboring California it's $450. In Florida and Tennessee, the maximum is just $275. In New Jersey, the top weekly benefit is $713.
Nationwide, on average, unemployment benefits replace about 33% of what recipients earned at their previous job. That is down from 36% in 2009.
"It is a steady downward trend," said Andrew Stettner, a senior fellow at the Century Foundation. "The formulas have gradually gotten more stingy."
RNC Chair Ronna McDaniel recently argued via Twitter, "There's no denying it: [Donald Trump] is the JOBS President!" Wow, this chick is seriously deranged; maybe it's the COVID-19 medications she is talking.
Steve Benen explains On jobs, Trump's record is not what he thinks he it is (excerpt):
[F]or the president to believe 2019 was "the best year we've ever had" is bizarre. According to the Bureau of Labor Statistics, 2.13 million jobs were created in the United States last year, which isn't a bad total.
But it's not an amazing total, either. That tally was a drop from the jobs created in 2018 and it was lower than any year from Barack Obama's second term. In fact, job growth in 2019 was the third worst of the last decade.
In other words, after Trump had been in office for a while, and he had economic policies in place that he wanted, domestic job growth still lagged.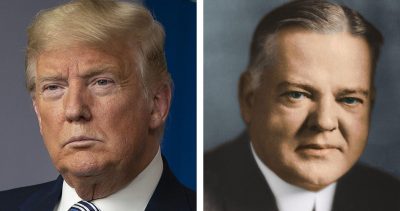 Indeed, for all of the Republican's chest-thumping, the truth remains that fewer jobs were created during Trump's first three years than during Obama's last three years, and the incumbent president has never even tried to explain why job growth slowed after he took office — even before the coronavirus pandemic. What's more, no individual year from Trump's tenure has produced job growth that matches the best years from Obama's second term.
Complicating matters further, Joe Biden noted this week that Trump is on track to be the first president since Hoover to leave office with fewer jobs than when he came into office — a claim that has the benefit of being true.
Nevertheless, Trump on the stump likes to claim that Joe Biden would bring about a depression and destroy the economy that he claims to have built – oblivious to the fact that it was his own grossly negligent mismanagement of the coronavirus pandemic that destroyed the economy and created depression-level unemployment. Project much?
Wall Street forecasters do not agree with "Dear Leader."
Mark Zandi and Bernard Yaros of Moody's Analytics says that Joe Biden's economic agenda would spur more growth than Trump's. Economy Would Do Better Under Biden Than Trump: Moody's:
Using an economic model the authors say is similar to those deployed by the Federal Reserve and the Congressional Budget Office, Zandi and Yaros estimated the impact of the candidate's proposed policies, including changes to the tax code, infrastructure spending and health care access. The strongest growth occurs in a scenario in which Biden is able to pass his agenda through a Congress controlled by his party:
"Largely because of Biden's substantially more expansive fiscal policies, the economy would return to full employment more quickly coming out of the pandemic than under Trump—in the second half of 2022 under Biden compared with the first half of 2024 under Trump. Biden's reversal of Trump's policies on foreign trade and immigration would also contribute to stronger economic growth, so that by the end of their terms in 2024, real GDP would be $960 billion, or 4.5%, larger under Biden than Trump. This translates into 7.4 million more jobs under Biden than Trump."
However, much depends on whether the election results in divided control of Congress. Zandi and Yaros considered four possible election outcomes, including clean sweeps (full control of the White House and both chambers of Congress by either party) and scenarios that involve divided government (Biden wins but the Senate stays in Republican hands, Trump wins but the House stays in Democratic hands). The strongest economic results are seen in the Democratic clean sweep scenario, which the authors give a 20% chance of occurring.
* * *
Other notable findings from the analysis:
Biden's policies favor the middle class: "Lower- and middle-income households benefit more from Biden's policies than Trump's. Biden ramps up government spending on education, healthcare and other social programs, the benefits of which largely go to those in the bottom half of the income distribution. Meanwhile, he meaningfully increases taxes on the well-to-do, financial institutions and businesses to help pay for it."
While Trump's favor the rich: "Trump largely does the reverse. He makes permanent the temporary tax cuts he implemented in his first term. The benefits largely go to higher-income households and businesses, while government spending is scaled back on healthcare and a range of social programs, the benefits of which go mainly to those with lesser incomes and wealth."
Bigger deficits under Biden: "Biden's policies will result in substantially larger federal budget deficits than Trump's, particularly during their terms as president. Biden's policies cost $2.5 trillion during his time as president on a static basis, while Trump's add only a few hundred billion dollars."
But the economic cost will be low: "Negative economic fallout from Biden's larger near-term deficits is mitigated significantly. The reason: With the economy far from full employment and inflation moribund when Biden takes office, the Federal Reserve's vows on employment and inflation mean it will keep interest rates very low for much of the next presidential term."
And the debt-to-GDP ratio would be similar after 10 years: "[T]he stronger economic growth supported by Biden's policies generates more tax revenue and less government spending. The results are dynamic budget costs of closer to $2 trillion during his term. The stronger growth and increase in GDP also mean that by the end of the decade, Biden's and Trump's policies result in a similar 130% publicly traded federal government debt-to-GDP ratio. This compares with 108% when they take office."
Even the conservative American Enterprise Institute finds that Joe Biden's tax plan does what he says it will do. Biden's Tax Plan Would Raise Trillions, With Little Effect on Growth:
A newly updated analysis from the conservative American Enterprise Institute finds that Joe Biden's tax plan would raise roughly $2.8 trillion over 10 years, while reducing economic growth by a modest 0.16% [a negligible effect projected over 10 years].
Biden has proposed raising taxes on corporations and the wealthy to pay for increased spending on a wide variety of public programs. The tax hikes include raising the corporate tax rate; reversing some elements of the 2017 Republican tax cuts for households earning more than $400,000 per year; and taxing capital gains and dividends as ordinary income for taxpayers who report more than $1 million in income.
Who pays more: Overall, Biden's tax plan would make the U.S. tax system more progressive, AEI's Kyle Pomerleau and Grant Seiter say.
Businesses would see the biggest effects. "Most of the new revenue in Biden's tax plan would come from increased business taxes ($1.9 trillion)," they write. "The largest source of new business revenue and the largest source of new revenue in the entire plan is the proposal to raise the corporate tax rate from 21 percent to 28 percent ($1 trillion between 2021 and 2030)."
On the individual side, the tax hikes would fall almost entirely on the wealthy. "In 2021, Biden's tax proposals would increase the tax burden on the top 5 percent of households and reduce the tax burden on the bottom 95 percent of households," the report says. The top 1% would see their incomes reduced by 14.2%, while taxpayers in the bottom 94% of the distribution would see after-tax incomes climb by between 0.5% and 11.3%, with those in the bottom decile seeing the largest increase.
After 10 years, all households would pay slightly higher taxes, although this outcome is produced by assumptions AEI makes about corporations' ability to pass tax hikes along to workers and consumers — assumptions that are contested by the Biden campaign and some tax experts.
Higher GDP in the long run: The AEI analysis finds that GDP would be slightly smaller after 10 years relative to the baseline, though that conclusion is due in large part to the assumption built into the model that higher taxes reduce labor supply and capital stock in the economy. Even so, in the second decade, Biden's plan produces slightly higher GDP relative to the baseline, the analysts said, "because the increased tax revenue decreases the trajectory of US debt, which means more household savings can be used for private capital accumulation and less has to be used to service the debt interest."
Spending plans not included: In addition to tax hikes, Biden has proposed huge increases in spending on a wide variety of social programs, but those aren't included in the AEI analysis. However, it's the combination of the two — a big fiscal boost from increased social spending backed by higher taxes on businesses and the wealthy – that have led many economists, including analysts at Moody's and Goldman Sachs, to conclude that Biden's plans would provide more economic growth than the grab-bag of proposals from the Trump campaign. "Largely because of Biden's substantially more expansive fiscal policies, the economy would return to full employment more quickly coming out of the pandemic than under Trump," analysts at Moody's wrote last month.
No support for President Trump's wild claims: Writing about the AEI report Wednesday, Tory Newmyer of The Washington Post noted that, "President Trump says Joe Biden's tax plan would bring about a depression and destroy the country. Independent studies have found no support for that claim. And the latest, an updated examination of the Biden proposal from the right-leaning American Enterprise Institute, should drive a stake through it."
as I have explained before, Democrats Have Always Been Better For The Economy … Always.
For best results, you need to vote to give Democrats control of the House, Senate, and White House.