Update to Just in time for the new year: a North Korean nuclear crisis.
The Washington Post reports, North Korea launches two projectiles in Thanksgiving message to Trump:
North Korea fired two projectiles on Thursday, using the start of the Thanksgiving holiday in the United States to telegraph its frustration over Washington's refusal to grant sanctions relief.
The short-range projectiles were launched from Ryonpo on the North's east coast around 5 p.m. local time, South Korea's Joint Chiefs of Staff said. They added that the projectiles, presumed to have been fired from a super-large multiple rocket launcher, traveled a distance of about 235 miles and reached an altitude of 60 miles.
"This type of act from North Korea does not help efforts to alleviate tensions on the Korean Peninsula," the JCS said.
Japanese Prime Minister Shinzo Abe described Pyongyang's actions as a threat to the region and the world.
"We will remain in close contact with the United States, South Korea and the international community to monitor the situation. We will increase our vigilance to preserve the safety and assets of the Japanese people," he told reporters.
The launch continues a more aggressive posture by North Korea over recent months as talks with Washington hit a stalemate. Pyongyang has warned that its patience is running thin, and has given the United States until the end of the year to change its "hostile" policy and salvage the dialogue process.
Last month, North Korea test-fired what it said was a new "super-large" multiple rocket launcher. And earlier this week, North Korea said its troops carried out artillery drills near its disputed sea border with South Korea.
Thursday's launches appeared timed to coincide with the Thanksgiving break and the two-year anniversary of Pyongyang's test of an intercontinental ballistic missile known as the Hwasong-15, emphasizing the message to President Trump, said Rachel Minyoung Lee, senior analyst at North Korea-focused website NK Pro.
"All in all, I think North Korea may be on a path toward more militaristic actions until the end of the year," she said. The regime had not issued official pronouncements on the United States since Nov. 19 and appeared to be letting its weapons do the talking, Lee added.
Pyongyang has threatened to resume long-range missile and nuclear tests, which leader Kim Jong Un agreed to freeze after he met with Trump in Singapore last year. Relations deteriorated after a follow-up summit in February ended without an agreement on nuclear disarmament in exchange for sanctions relief.
Pyongyang has conducted more than a dozen shorter-range ballistic missile tests since April, though Donald Trump has repeatedly played down their significance. "He [Kim] sends me such beautiful love letters."
Bloomberg News adds, Kim Jong Un Bolsters Nuclear Threat to U.S. as Trump Talks Stall: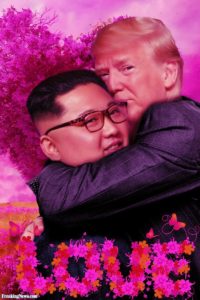 It's been about two years since Kim Jong-Un launched a missile capable of hitting the entire U.S., declared his nuclear weapons program "complete" and halted all ICBM tests.
In that time, the North Korean leader has also become an even bigger threat to America.
While Donald Trump stages photo-ops for his dictator bromance, his boyfriend:
Kim has been busy churning out fissile material for bombs and developing new missile technology that could make the next big launch of an intercontinental ballistic missile even more concerning to Pentagon military planners.
A series of shorter-range missile launches in recent months have improved North Korea's ability to make solid-fuel ballistic missiles that are easier to move, hide and fire than many of its liquid-fuel versions. That makes it more likely he's on course toward developing an ICBM that uses solid-propellant technology, potentially giving the U.S. less warning of an imminent strike anywhere from California to New York.
'Sense of Urgency'
Trump has brushed off North Korea's missile tests, which Japan and others say violate United Nations Security Council resolutions, signaling to Kim that he can continue developing his weapons program as long as he doesn't fire off another ICBM. But that position may soon cost the U.S. president: Kim is threatening to up the stakes if Trump doesn't meet a year-end deadline to ease up on sanctions choking his country's economy.
"Fundamentally, they've realized creating a sense of urgency on the U.S. side is a good negotiating tactic," said Mintaro Oba, a former American diplomat who worked on Korean Peninsula issues. "They think they can get the most out of Washington right now by heightening pressure and suggesting things could get worse in 2020."
Cooperation between the U.S. and South Korea is being tested by a Trump demand for the long-time ally to pay about five times more from next year to host U.S. troops.
Is Trump Getting Ready to Sell Out South Korea and Japan? The president has long thought Tokyo and Seoul should do without U.S. troops and bases, and maybe get their own nukes. Now he's squeezing them in that direction.
Meanwhile, North Korea has delivered blunt statements recently that have referenced Trump's campaign appearances and point to another ICBM test.
"We, without being given anything, gave things the U.S. president can brag about but the U.S. side has not yet taken any corresponding step," a spokesman for the State Affairs Commission headed by Kim said earlier this month. He added that the U.S. will face a "greater threat" if it does nothing.
* * *
Seconds and Minutes
The tests included a new, nuclear-capable, hypersonic KN-23 missile that can strike all of South Korea, including U.S. forces stationed south of Seoul within two minutes of launch and the southern city of Busan in less than four minutes. It also showed off a range of its solid-fuel rockets in October with a new ballistic Pukguksong-3 missile designed to be fired from a submarine. From land, it could hit almost all of Japan.
"If you launch one or many of these at South Korea, you have between seconds and minutes to decide if this is a conventional attack, a nuclear attack or some other WMD payload," said Melissa Hanham, deputy director of the Open Nuclear Network, a weapons expert specializing in the analysis of satellite imagery.
The risk for the Pentagon, she said, is that North Korea could use these weapons to launch a multi-faceted attack hitting American military assets in Japan and South Korea to impede a response while it also targets the U.S. mainland with ICBMs, which could carry multiple warheads in the payload.
"It's a strategy that doesn't put all of its eggs in one basket," Hanham said.
Still, North Korea's weapons program still has some major questions. Some of the biggest are whether it has developed a re-entry vehicle to deliver a warhead, as well as its ability to target specific locations such as the White House or Empire State Building. Many weapons experts see North Korea as technologically developed enough to master these challenges.
Kim also must think about Russia and China, two countries in position to help him with veto power at the Security Council, that wouldn't appreciate another ICBM test. And ultimately it could further hurt Kim's goal of boosting the economy if he starts raising tensions once again.
"The challenge is that North Korea is the geopolitical equivalent of the boy who cried wolf," said Oba, the former U.S. diplomat. "It has raised tensions so often, in such a restrained, calculated way, that any longtime North Korea observer has to wonder how serious Pyongyang really is when it has also demonstrated a real interest in sanctions relief and diplomacy with the United States."
Kim Jong-un, North Korea's leader, has said that the United States has until the end of the year to make a new proposal to create a breakthrough in stalled negotiations on denuclearizing the Korean Peninsula. Time Is Running Out for Trump's North Korean Diplomacy, Analysts Say:
The looming deadline — which North Korea has issued repeated warnings about — carries the implicit threat that the country could return to its alarming behavior of the past by ending its self-imposed moratorium on nuclear tests and launching long-range missiles capable of hitting American cities.
"Today, we sit on top of a live volcano," said Robert L. Carlin, a former nuclear negotiator at the State Department and longtime North Korea observer, describing a rapidly deteriorating situation on the peninsula during a lecture this month at Yonsei University in Seoul, the South Korean capital. "We don't have a lot of time to back away."
In the past month, North Korea has warned that the Trump administration should not even "dream of" discussing denuclearization without first ending its "hostile" policies, including smothering economic sanctions. It swore "shocking punishment" if Washington were to ignore the year-end deadline.
Senior American diplomats do not appear to share that urgency. To them, it's just posturing.
And if Kim Jong-un calls you bluff, then what geniuses?
When Washington has addressed the January deadline, it has called it an "artificial" time limit. And that leaves analysts fearing the outbreak of another crisis on the Korean Peninsula.
North Korea has not been explicit about what might happen after Dec. 31, except that Mr. Kim has warned of finding a "new way" if Washington persists with sanctions and tries to force an unpalatable denuclearization deal.
---
Mr. Kim's "new way" could mean resuming tests of nuclear devices and intercontinental ballistic missiles, or ICBMs, analysts say. Mr. Trump has often bragged about the testing moratorium, citing it as his biggest achievement in his on-off diplomacy with Mr. Kim. Recently, the United States and South Korea decided to postpone a joint air force exercise that has alarmed the North.
If North Korea launches another long-range missile, it will set off more United Nations sanctions. It would also invite harsh reaction from Washington, perhaps even a return to the type of "fire and fury" threats Mr. Trump once used as the United States and North Korea appeared to be hurtling to the brink of war.
With its increasingly strident demands in recent weeks, North Korea is playing a delicate game in denying itself an escape hatch from Mr. Kim's year-end deadline. And it comes as Washington is consumed by the impeachment hearings, which limits Mr. Trump's room for diplomacy with the North.
That combination makes the situation volatile, escalating the risk that either side could miscalculate, officials and analysts worry.
We will have to wait for Kim Jong-un's New Year's greeting to America. He may have his own fireworks to welcome the new year.