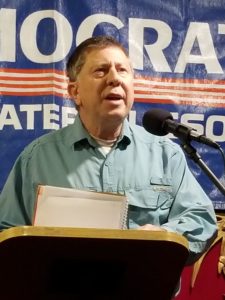 University of Arizona history professor David N. Gibbs described how deeply the billionaire Koch brothers have infected the University and Tucson high schools with millions of dollars for right-wing propaganda.
The Charles Koch Foundation made a $1.8 million grant to the University of Arizona's "Freedom Center," which is a conservative think tank designed to turn students into lobbyists. It produced a bogus economics textbook that was recently abandoned by Tucson high schools.
The Freedom Center also got a $2.9 million grant from the Templeton Foundation, a part of the Koch network that seeks to corrupt the discussion of science in the interests of religion.
"This is a center that should not be on a university campus," Gibbs said at a meeting of Democrats of Greater Tucson. "I am surprised that the Philosophy Department is affiliated with something so dodgy and naive about how this will affect their reputation."
Hiring right-wing faculty
The Freedom Center just spread its tentacles to a spin-off in the University's "Department of Political Economy and Moral Science," staffed with key personnel from the center. The purpose is to "hire faculty in economics without the approval of the University's Economics Department," Gibbs said.
The Freedom center has used the Koch money "to hire four right-wing faulty, making the Philosophy Department a hotbed of right-wing thinking," Gibbs said.
"The Koch family not only wants to be able to use money without regulation and taxes, it wants it to be viewed as moral. What better way to do that than by affiliating with a university. That's the objective, to establish a moral basis," Gibbs said.

"One viewpoint is that the Kochs are trying to buy influence outside of the political process in a predatory fashion, and put an imprimatur of morality on it," he said.
He is a member of Kochs Off Campus! — a nonpartisan group of Tucson residents, UA faculty and students concerned about the undue influence of right-wing money on public education, and public subsidies for right-wing institutions. "In no way do we attack libertarianism or academic freedom," he said. "We are attempting to eject the politically-connected money from the campus."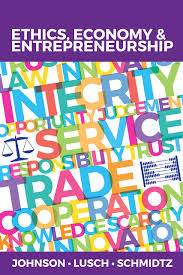 Bogus textbook
A prime example of the Freedom Center's output is a bogus economics textbook that was mysteriously planted in Tucson high schools. "It was inserted into the local curriculum without the permission of the Tucson school board. There is no explanation as to how they were able to do this," he said.
The self-published book is a product of Sagent Labs in Tucson. Gibbs said state records show that Sagent is managed by author Cathleen Johnson of the Freedom Center. Gibbs said she is married to co-author and Freedom Center director David Schmidtz.
"In the normal process, a textbook would be peer-reviewed. Most academics would consider this irregular," Gibbs said. "This is an ideologically-oriented textbook."
"The textbook is a fairy tale view of entrepreneurship. This is simply not a mainstream, consensus view of economics," he said, identifying numerous flaws in the text:
No discussion of wealth concentration.
No mention of inherited wealth.
No mention of effective state management of the economy.
No mention that most entrepreneurs fail.
"The most efficient way to distribute propaganda is to the very young," Gibbs said of the textbook. "The textbook is a warped view of economics."
Koch-Funded Prof Back Again with Lecture Against Public Schools
Freedom Center faculty member Jonny Anomaly will present an anti-public school lecture at a Koch-funded University of Arizona class in Tucson. "Public Goods and Education" is scheduled for Thursday, January 25 at 12:30 pm in the Maloney Room, Social Science Building 224, on the UofA Campus in Tucson.
---
David Gibbs replies to Tom Christiano
Professor Christiano alleges that my speech contained a factual error – though on reflection it is clear that there is no error at all. He notes that "contrary to the statement you quote [from Gibbs], the four new hires at the Freedom Center are not all right wingers, indeed not even most of them are." In making this statement, Professor Christiano must be referring to tenured and tenure-track hires, and does not consider the three right-wing libertarians who were hired as non-tenure track personnel. Note too that my original quote referenced "faculty," not tenured or tenure-track faculty. When one takes this into account, my claim that the Center hired four right-wingers is completely accurate (and on reflection, I believe that actual figure is more likely five).
Beyond this, Professor Christiano's comment presents a defense of the Freedom Center that is half-hearted and filled with caveats. If read carefully, it is clear that he confirms some of the key points alleged in my speech.
Let me add that I have long known Professor Christiano to be mensch, as well as an accomplished scholar. However, he is also a longtime member of the Freedom Center, and this affiliation should be taken into account when reading his comment.