Last week the Save Our Schools referendum for school "vouchers on steroids" bill, SB 1431, survived its first hurdle with the Secretary of State's office. Referendum on school voucher survives first hurdle: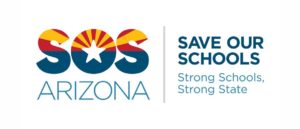 The referendum to kill expansion of Arizona's school voucher program survived its first hurdle despite efforts of the lawyers who don't want it on the ballot.
State Elections Director Eric Spencer concluded there are more than enough signatures on petitions calling for a 2018 vote, even after he disqualified some of them. That sets the stage for county recorders to do their own verification.
Spencer rejected efforts by attorneys of pro-voucher supporters to strike even more names from the more than 110,000 submitted to call for the referendum on the new law.
* * *
In doing the initial screening, Spencer's office discarded 216 petition sheets because the required sworn affidavit of the circulator was unsigned or otherwise incomplete. Others were disqualified over problems like not having the required notary seal or the failure to have attached a copy of the measure being referred.
And more than 1,900 individual signatures were disqualified for things like missing information.
But Spencer said some of the complaints by those who want an expanded voucher program have no basis.
For example, attorney Kory Langhofer argued that Spencer should not count anyone whose signature looks like their printed name. Langhofer, who represents Americans For Prosperity, a group funded by the Koch Brothers [and the American Federation for Children] who support vouchers, argued that a signature must be significantly distinguishable from a printed name to be considered a true "signature."
Spencer rejected that argument.
"Many Arizonans use a signature that substantially mirrors their printed name," he wrote to Langhofer in response. "As long as the petition signature matches the elector's voter registration record, it is irrelevant how much that signature varies from the signer's printed name for purposes of our review."
Spencer also rebuffed Langhofer's contention that signers must include both a city or town as well as a zip code. He said one or the other is sufficient to check the signer's identity.
And he said there's nothing wrong with someone using "ditto marks" to show that information about an address or date is the same as the person who signed above.
* * *
Spencer concluded petitions with more than 108,000 signatures survived the first test, far more than the 75,321 that ultimately need to be found valid.
The next step is for county recorders to do a name-by-name check of a random sample that Spencer has prepared for each. But given how many signatures above the minimum cleared the first hurdle, the recorders need to find that only 69.6 percent of their samples are valid. (See below for an update).
In some cases, he said, there is no legal basis for the objections. And, in others, he told the lawyers that if they want to pursue their claims they need to do it before a judge – something vouchers supporters already have started with a lawsuit in Maricopa County Superior Court.
And now comes the second lawsuit, also without a legal basis for the objections. 2nd suit filed to thwart voucher-expansion referendum:
School-choice groups filed a second lawsuit in Maricopa County Superior Court on August 24 in an attempt to block an opposing referendum campaign.
State Elections Director Eric Spencer has already determined more than 108,000 of the roughly 111,000 signatures submitted by Save Our Schools Arizona have survived the first round of scrutiny, surpassing the minimum required to refer school voucher expansion legislation to the 2018 general election ballot.
However, Timothy La Sota and Kory Langhofer, attorneys representing the interests of school choice advocates, claim thousands more should have been disqualified for various hand-writing inconsistencies and deficiencies.
The suit, filed on behalf of a coalition now including the Goldwater Institute, La Sota and Langhofer alleged numerous violations, including a variety of handwriting irregularities, the use of ditto marks in address fields, incomplete or inconsistent dates, failure to properly register paid circulators and reference to the nonexistent "fifty-third session of the Legislature."
Technically, the legislation in question, SB1431, was approved during the first regular session of the 53rd Legislature. Mistakenly referring to the session constitutes a violation under strict compliance, according to the suit, and so, the error should render all petitions invalid.
This is a hyper-technical argument for strict compliance. The actual test is whether any voters would have been confused or mislead by the omission of "first regular session." Since there has only been one session of the 53rd Legislature and these petitions were both signed and will be verified before the next legislative session begins in January, there is no basis to argue that voters were confused or mislead by the omission of "first regular session." There has only been one session.
The latest lawsuit adds to allegations that circulators misrepresented their paid or volunteer status, submitted incomplete or false circulator affidavits and collected signatures before they were registered.
La Sota and Langhofer also allege that circulators or someone other than the petition signer filled in other required items, like addresses and signature dates.
In a letter he sent to Arizona Secretary of State Michele Reagan and Attorney General Mark Brnovich last week, La Sota made similar allegations of "what appears to be petition signature fraud."
Citing photos from SOS Arizona volunteers' social media accounts, which were attached to the letter, La Sota said boxes marked "paid circulator" and "volunteer" were not checked on three petitions before signatures were added to those sheets.
State statute dictates that the correct box must be checked before the petitions are circulated, or the petitions will be disqualified.
La Sota also attached scanned images of the petition sheets that were made available in an online database after being submitted to the Secretary of State's Office, in which the boxes appear to be checked. La Sota took that to be evidence that the petitions were falsified to indicate they had been checked prior to circulation.
"Who doctored the petition sheets?" La Sota wrote, calling for a grand jury if necessary. "Did someone systematically go through and falsify additional petition sheets… and if so, who did this and how many were falsified?"
Seriously, Dude? Facebook posts are your "evidence" to make baseless allegations of criminal misconduct to smear volunteers who collected petition signatures? You would have to establish knowledge, intent and actual misconduct to prove your claim. And if you can't, I would encourage those you  have falsely accused of criminal misconduct to sue you for defamation.  Do not accept this unethical conduct from shyster lawyers.
SOS spokeswoman Dawn Penich-Thacker said she considers the suit to be "more of the same." She said it is challenging the integrity of the signatures and the volunteers who collected them.
"We're not surprised," she said. "It is remarkable how much energy and money they're willing to invest in basically disbarring a vote."
According to the SOS Arizona website, the rates are so far in the group's favor: 82 percent were verified in Mohave County, 89 percent in Gila County, 92 percent in Pinal County and 100 percent in Graham County.
Everyone is waiting to see what happens with the roughly 3,900 signatures being analyzed by Maricopa County, Penich-Thacker said, but "it's not like we had a different process from one county to another."
Whatever the Maricopa County Superior Court decides in this lawsuit will undoubtedly be appealed all the way up to the Arizona Supreme Court (where Justice Clint Bolick, who formerly led the Goldwater Institute, should be required to recuse himself from consideration of this case).