Congress returns from its August recess on Monday, a month marked by a series of horrific mass shootings.
Despite calls from Democrats to call the Senate back into session to act on a package of bills already passed by the House to address America's gun violence epidemic, neither President Trump nor Senate Majority Leader "Massacre" Mitch McConnell would issue a call to the Senate to return to Washington. No amount of deaths could move them from inaction.
Donald Trump continues to make vague noises that Republicans in Congress are working with Democrats on "something terrific" that he can sign. Trump has yet to identify any specifics of what he is actually willing to sign (he must first check with lobbyist Wayne LaPierre of the NRA). And "Massacre" Mitch McConnell says that he will not bring any bill to the floor of the Senate that he is not assured the president will sign. McConnell remains noncommittal on gun control after Texas mass shooting:
Senate Majority Leader Mitch McConnell remained noncommittal Tuesday about bringing new gun safety legislation to a vote, instead putting the onus on the White House to first decide what it would support.
The Kentucky Republican was asked during an interview with conservative radio host Hugh Hewitt specifically about a House-passed bill to expand background checks on firearm sales, which has stalled in Congress since the aftermath of the Sandy Hook Elementary School massacre in Newtown, Conn.
"Well, we're in discussions about what to do on the gun issue in the wake of these horrendous shootings," McConnell said. "I said several weeks ago if the president took a position on a bill so that we knew we'd actually be making a law, I'd be happy to put it on the floor."
Just to be clear, McConnell is abdicating the constitutional powers of the Senate to his "Dear Leader." He is effectively saying "I will pass no legislation unless Dear Leader has given his blessing." This is why the Senate has become the graveyard of legislation, and this pathetic creature has taken to calling himself "the grim reaper." This is not how an independent legislative body and coequal branch of government is supposed to operate.
Trump, on Sunday, told reporters that the latest mass shooting "really hasn't changed anything" regarding the discussion among lawmakers about gun policy.
McConnell's reticence to take a stance on the issue earned him the nickname "Massacre Mitch" in the summer as Democrats grew increasingly frustrated with his refusal to assure Senate action.
"Time's up, @SenateMajLdr," Sen. Elizabeth Warren (D-Mass.) tweeted after Saturday's Texas shooting. "Let's vote on gun safety legislation NOW. Every day you wait, more tragedies happen. Do something, Senator McConnell. America is done waiting for you."
The House, which passed its background checks bill in a 240-190 vote earlier in the year, is planning to take up additional gun control bills in the fall. The House Judiciary Committee had scheduled to debate the bills this week but postponed its meeting due to Hurricane Dorian.
The Washington Post editorialized, How many more names will be added to the list before Mitch McConnell acts on guns?
Add [another] seven individuals, randomly slaughtered Saturday by a shooter in the West Texas cities of Midland and Odessa, to the toll of those lost to America's gun insanity. And then pose this question: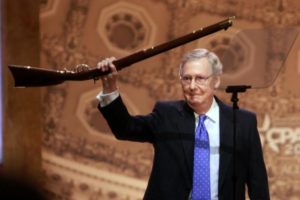 What if there was a mass shooting in the United States not once or twice or four or six times monthly, but every single day, a big one, the kind that electrifies social media and squats for days on Page 1 — would that be enough to move Senate Majority Leader Mitch McConnell from his insistent inertia on gun safety? Would any volume of bloodshed convince the Kentucky Republican that Congress faces a moral imperative to act? Thirty-eight people were slain in three such shootings in August — in Dayton, Ohio, and El Paso, as well as West Texas — and still Senate Republicans and President Trump refuse to act.
The list below, far from comprehensive, is tragic, in part, because it is so far from inevitable. No, no single law would end gun violence. But there are reasonable, obvious measures that would help.
For example: Ban the sale of military-grade assault weapons. Unneeded by civilians, they are a blight on the nation, their ready availability a national disgrace. Eliminating them would slow the growth of this list. It would save lives.
The Post then provides a list of the names of the victims from the largest mass shootings in the U.S. since Columbine High School.
Americans should make Monday "Massacre Mitch Day" and demand that the Senate "do something!" to address America's gun violence epidemic. McConnell can start by scheduling a vote on the House bills already passed that "the grim reaper" has refused to bring up for a vote.
Do it before the next mass shooting which, all too predictably, will occur in a matter of days or weeks.
Call your senators and demand action now.