This morning the Washington Post reported, Spooked by discharge petition, GOP leaders scramble to kill House immigration rebellion: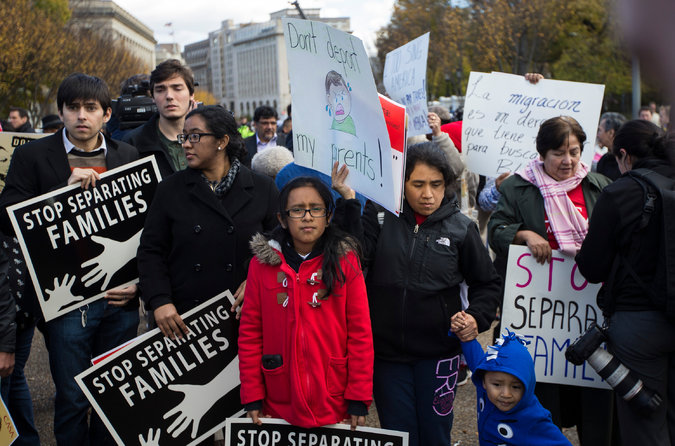 House Republican leaders made a full-court press Wednesday to forestall a GOP immigration rebellion that they fear could derail their legislative agenda and throw their effort to hold the majority in doubt.
The effort began in a closed-door morning meeting where Majority Leader Kevin McCarthy (R-Calif.) warned that a freewheeling immigration debate could have sharp political consequences. McCarthy to GOP: DACA vote could cost us the House. It continued in the evening, when the leaders of a petition effort that would sidestep were summoned to a room with House Speaker Paul D. Ryan (R-Wis.), McCarthy and three other top leaders.
Their message, according to attendees, was that efforts were underway at the highest levels, including with the White House, to get immigration legislation on the House floor before the midterm elections.
Politico adds, "Two additional Republicans, John Katko of New York and David Trott of Michigan, signed on after McCarthy's scolding, leaving the group just four signatures shy of their goal."
"Clearly we have had a positive impact on our leadership and on this institution because this issue is being taken seriously, and people are thinking through how something can be achieved," said Rep. Carlos Curbelo (R-Fla.), who filed the "discharge petition" that would set up votes on a series of immigration bills.
The House leaders presented no firm plan for action at the meeting, and the discharge petition effort will continue, Curbelo and others said afterward.
And then there are the radical white nationalists of the GOP House Freedom Caucus who demand mass deportations and Trump's "big beautiful wall" on the Mexican border.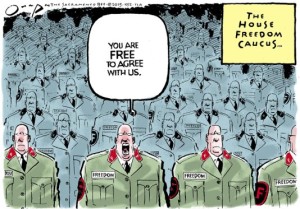 Members of the House Freedom Caucus are threatening to hold up passage of a massive farm bill this week unless leaders schedule a vote on a conservative immigration bill co-authored by Judiciary Committee Chairman Bob Goodlatte (R-Va.) and Homeland Security Committee Chairman Michael McCaul (R-Tex.). Some lawmakers believe that bringing that bill to the floor would block the discharge effort.
"I do believe that there is growing pressure on the leadership to put some immigration bill on the floor and have a real debate," said Rep. Mark Meadows (R-N.C.), the Freedom Caucus chairman, saying he had some sympathy for the moderates: "We do agree on the fact that we need to have a real debate, have a real vote, and figure out where everybody is on immigration."
Today these GOP radicals followed through on their threat to hold up passage of the farm bill by staging a revolt against their party leadership. House rejects farm bill as conservatives revolt:
House conservatives tanked a GOP farm bill on Friday over an intraparty feud over immigration, delivering a stunning blow to Republican leaders as they try to find a path forward on immigration.
In a 198-213 vote, GOP conservatives essentially joined Democrats in rejecting the measure, which would have introduced tougher work requirements for the Supplemental Nutrition Assistance Program (SNAP) that were a priority for the "zombie-eyed granny starver from the state of Wisconsin," House Speaker Paul Ryan.
* * *
Ryan, McCarthy and Majority Whip Steve Scalise (R-La.) huddled with House Freedom Caucus Chairman Mark Meadows (R-N.C.) and Reps. Jim Jordan (R-Ohio) and Scott Perry (R-Pa.) earlier as lawmakers voted on amendments to the bill.
Leadership made an offer to the Freedom Caucus that they could pick any date they wanted in June for a floor vote on a hard-line immigration bill crafted by Judiciary Committee Chairman Bob Goodlatte (R-Va.), according to a source familiar with the discussion.
In the end it, it wasn't enough. Meadows said his members needed more of a commitment from leadership on the Goodlatte bill.
"It was not fully clear," Meadows said of the offer from leadership.
* * *
Patrick McHenry, chief deputy whip, took a shot at the Republicans who voted against the bill.
"We had enough members that were willing to vote for the farm bill, that liked the farm bill, but a small group that wanted to extract some direct pledge on immigration that we could not simply fulfill under their time frame," he said.
"Which is really a great disappointment that they would vote against a policy that they profess to support in order to get something immediate that was not in our legislative capacity."
A total of 30 Republicans voted against the bill. The GOP dissenters were largely a mix of Freedom Caucus members and moderates [opposed to the stricter work requirements for the SNAP program].
* * *
After the failed vote, a frustrated Rep. Dennis Ross (R-Fla.) left the chamber warning that now more Republican members would sign a discharge petition intended to force votes on a series of immigration measures, including some likely to be backed by Democrats.
Republican immigration reformers said Friday's defeat of the GOP farm bill will generate more support for the upstart effort to force House action on "Dreamer" legislation. Farm bill revolt could fuel Dreamer push:
Rep. Jeff Denham (R-Calif.), a leading voice in the effort to revive the Deferred Action for Childhood Arrivals (DACA) program, said the conservatives who opposed the farm bill essentially reneged on an agreement with GOP leaders to lend their farm bill support in return for promised action next month on a conservative immigration proposal.
The bill's failure, some Republicans predicted, will cause a backlash against the Freedom Caucus agitators by compelling more GOP lawmakers to endorse a procedural gambit, known as a discharge petition, that would force floor votes on four separate DACA bills against the wishes of Republican leaders.
The Freedom Caucus opposes the discharge petition and has sought ways to sink it.
Denham said caucus members' actions on Friday will instead make his lobbying effort easier.
"Given the breaking of the agreement that was made today, you're going to see more Republicans that are frustrated and angry enough to sign on to something that they've never signed on to before," Denham said after the farm bill failed.
Rep. Dennis Ross (R-Fla.), a senior member of the GOP whip team, agreed.
He said Republican leaders had, in fact, delivered a warning to recalcitrant lawmakers in the lead up to Friday's vote: Oppose the farm bill, they said, and the discharge petition will gain steam.
"Don't be surprised if there's a discharge petition that comes out as a result of this, because I think there are a lot of members on my side of the aisle concerned that they are not relevant anymore," a visibly frustrated Ross said after the vote.
"I think you're going to see some members on the Republican side who are more inclined to do a discharge petition in order to at least get something done."
Four (possibly five) more Republicans, along with all Democrats in the House, are needed to get to 218 and force a vote on the discharge petition.
Curbelo said he's hoping two Democratic holdouts will change course and sign the petition, but predicted their support ultimately won't be necessary to reach the 218 mark.
"We're not too worried about that, because we think we'll get more than 25 [Republicans]," Curbelo said.
* * *
Although the Goodlatte bill lacks the support to pass the House, conservatives want an opportunity to vote on it, perhaps with amendments. The legislation adopts a hard-line approach to immigration reform, boosting interior enforcement and reducing even legal immigration.
"We need to figure out whether we can [pass] Goodlatte as is, or amend it," Meadows said Thursday. "If that doesn't work than we know that we have to go with some other option."
* * *
Denham, who said he's agitated with fellow Republicans who "asked for a concession, got the concession, and then took down [the farm bill] anyways."
"They had asked for a date certain [to consider the Goodlatte bill], and they gave a date certain. … It was good enough until about 10 minutes before the vote," Denham said, adding that the agreement is now off.
"If you break an agreement I assume you no longer get what you agreed to. They had gotten their vote that they had asked for, and we gave them a date. Now they've changed their minds. So I would expect that agreement to be null and void, at this point."
Congress is only a handful of votes away from approving a discharge petition for the first time in years, and to force a "queen of the hill" rule on DACA which will allow the four pending bills to be debated and voted on, and the bill that passes goes to the Senate.
It's time to turn up the heat on House members this weekend. Call and email those House members who have not yet signed on to the discharge petition.