A federal judge in Washington, D.C. refused Tuesday to throw out criminal charges brought by special counsel Robert Mueller against former Trump campaign chairman Paul Manafort. Judge rejects Manafort claim that Mueller overreaching in probe: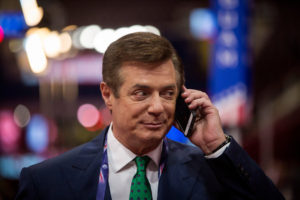 Judge Amy Berman Jackson said the indictment "falls squarely within that portion of the authority granted to the Special Counsel that Manafort finds unobjectionable," namely the order to investigate any links coordination between the Russian government and individuals associated with the campaign.
"Manafort was, at one time, not merely 'associated with,' but the chairman of, the Presidential campaign, and his work on behalf of the Russia-backed Ukrainian political party and connections to other Russian figures are matters of public record. It was logical and appropriate for investigators tasked with the investigation of 'any links' between the Russian government and individuals associated with the campaign to direct their attention to him," the judge wrote.
Manafort had argued that Deputy Attorney General Rod Rosenstein improperly gave Mueller authority to investigate "any matters that arose or may arise directly from" the investigation of collusion with Russia. His lawyers said that violated Justice Department regulations which specify that a special counsel is appointed to investigate a specific matter.
What Rosenstein gave Mueller, Manafort's lawyers said, amounted to "a blank check to be filled in after the fact."
Jackson's decision rejecting that claim also said the special counsel rules are for the internal management of the Justice Department and do not create any right to sue. Even if they did establish such a right, she said, Mueller didn't violate them.
Judge Jackson has set a trial date in this case to begin September 17. Judge sets Sept. 17 trial date for Manafort on Mueller charges.
Mueller filed similar criminal charges in Alexandria, Virginia, and on May 4, Manafort's lawyers urged Federal District Court Judge T.S. Ellis to toss them out, too. Ellis appeared to be somewhat receptive to their argument, taunting members of Mueller's team.
"You don't really care about Mr. Manafort's bank fraud. Well, the government does. You really care about what information Mr. Manafort can give you that would reflect on Mr. Trump or lead to his prosecution or impeachment or whatever. That's what you're really interested in," he said.

Judge Ellis' speculation about the prosecution's motives were unprofessional conduct from the bench. Nevertheless, Politico reports Mueller hands judge full memo detailing Russia probe scope:
Special counsel Robert Mueller has provided a federal judge with an unredacted version of the Justice Department memo laying out the scope of his investigation and the potential crimes he's authorized to pursue.
However, the memo — long sought after by President Donald Trump's allies on Capitol Hill, who regularly accuse Mueller of overstepping his bounds — remains classified and not public, leaving its details hidden.
The document was filed as an "unredacted memorandum" under seal with the U.S. District Court's Eastern District of Virginia, where Mueller is expected to try former Trump campaign chairman Paul Manafort on bank fraud charges.
Mueller's decision to share the classified document comes two weeks after the judge, T.S. Ellis, demanded to see the full scope memo, authored by Deputy Attorney General Rod Rosenstein. Earlier this month, Ellis called for the document during a hearing on Manafort's attempt to toss out some of the charges against him.
* * *
Mueller initially filed a heavily redacted version of the memo showing that Rosenstein had authorized him to pursue allegations connected to Manafort's work on behalf of a pro-Russia party in Ukraine, which preceded the 2016 election. The public portions also showed Mueller had the green light to look into any involvement in Russia's 2016 election meddling.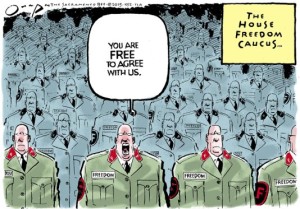 Trump's staunchest allies on Capitol Hill have since then demanded that the Justice Department provide an unredacted version of the memo to Congress, despite longstanding precedent prohibiting DOJ from sharing records from an ongoing investigation.
On Wednesday, Reps. Mark Meadows (R-N.C.), Jim Jordan (R-Ohio) and Ron DeSantis (R-Fla.) [of the GOP House Freedom Caucus] called for Trump to override the Justice Department and order the release of the memo to Congress.
Meadows said the Mueller team's decision to share the scope memo with Ellis bolsters his call to provide the document to Congress.
"You can't share it with the judiciary and the Executive Branch and not share it with congress," he told reporters on Capitol Hill. "I think it strengthens our case.
Meadows argument is total bullshit. Congress is not entitled to know the scope of an ongoing criminal investigation by the Department of Justice under long-standing DOJ Rules. Meadows and his fellow GOP House Freedom Caucus members are only interested in the memorandum because it provides a roadmap to the Special Counsel's investigation, and would allow them to further engage as accessories in a conspiracy to obstruct justice in coordination with the Trump administration. GOP House Freedom Caucus members are accessories to a conspiracy for obstruction of justice.
These co-conspirator GOP congressman, in coordination with Donald Trump, are pursuing a new conspiracy theory: 'Bigger than Watergate': Trump joins push by allies to expose role of an FBI source:
President Trump's allies are waging an increasingly aggressive campaign to undercut the Russia investigation by exposing the role of a top-secret FBI source. The effort reached new heights Thursday as Trump alleged that an informant had improperly spied on his 2016 campaign and predicted that the ensuing scandal would be "bigger than Watergate!"
* * *
The Washington Post first reported earlier this month that an FBI informant and top-secret, longtime intelligence source had provided information early in the FBI investigation of connections between Russia and the Trump campaign.
A New York Times story published Wednesday about the beginnings of the Russia probe reported that at least one government informant met several times with two former Trump campaign advisers, Carter Page and George Papadopoulos.
* * *
The extraordinary push begun by a cadre of Trump boosters on Capitol Hill now has champions across the GOP and throughout conservative media — and, as of Thursday, the first anniversary of Robert S. Mueller III's appointment as special counsel, bears the imprimatur of the president.
The dispute pits Trump and the Republican chairman of the House Intelligence Committee against the Justice Department and intelligence agencies, whose leaders warn that publicly identifying the confidential source would put lives in danger and imperil other operations.
The stakes are so high that the FBI has been working over the past two weeks to mitigate the potential damage if the source's identity is revealed, according to several people familiar with the matter. The bureau is taking steps to protect other live investigations that the person has worked on and is trying to lessen any danger to associates if the informant's identity becomes known, said these people, who spoke on the condition of anonymity to discuss sensitive intelligence operations.
Trump reacted on Twitter on Thursday to recent news reports that there was a top-secret source providing intelligence to the FBI as it began its investigation into Russia's interference in the election process.
"Wow, word seems to be coming out that the Obama FBI 'SPIED ON THE TRUMP CAMPAIGN WITH AN EMBEDDED INFORMANT,' " Trump tweeted.He added, "If so, this is bigger than Watergate!"
Oh, it's bigger than Watergate alright, but not for the reason the Twitter-troll-in-chief believes. We have a president and his political party which actively conspired with the Russian government to win an election, and is now engaged in a conspiracy to obstruct justice to prevent anyone from ever being brought to justice.
If Judge Ellis restricts himself to the DOJ authorization memorandum for the Special Counsel investigation, he will reach the same conclusion as Judge Jackson and rule against Manafort as well, and allow the case in his court to proceed as scheduled. Judge Ellis has already set a trial date to begin July 10. Manafort trial set to begin July 10.
Finally, it was disclosed yesterday that Manafort's former son-in-law has plead guilty and has been a cooperating witness with the Special Counsel's investigation since January. Exclusive: Manafort's former son-in-law cuts plea deal, to cooperate with government – sources:
The former son-in-law of Paul Manafort, the one-time chairman of President Donald Trump's campaign, has cut a plea deal with the Justice Department that requires him to cooperate with other criminal probes, two people with knowledge of the matter said.
The guilty plea agreement, which is under seal and has not been previously reported, could add to the legal pressure on Manafort, who is facing two indictments brought by Special Counsel Robert Mueller in his probe of alleged Russian meddling in the 2016 presidential election.
Manafort has been indicted in federal courts in Washington and Virginia with charges ranging from tax evasion to bank fraud and has pleaded not guilty to the charges.
Jeffrey Yohai, a former business partner of Manafort, was divorced from Manafort's daughter last August.
Yohai has not been specifically told how he will be called on to cooperate as part of his plea agreement, but the two people familiar with the matter say they consider it a possibility that he will be asked to assist with Mueller's prosecution of Manafort.
Legal experts have said that Mueller wants to keep applying pressure on Manafort to plead guilty and assist prosecutors with their probe.
* * *
Andrew Brown, a federal prosecutor in Los Angeles, had been overseeing an investigation into Yohai's real estate and bank dealings in California and New York several months before Mueller was appointed to his post in May 2017.
Yohai's agreement, which was concluded early this year, included him pleading guilty to misusing construction loan funds and to a count related to a bank account overdraft.
While the deal was cut with Brown's office, the federal government "can ask for help at any time," said one of the people familiar with the matter.
Manafort's former business partner, Rick Gates, also plead guilty and is a cooperating witness in the Special Counsel's investigation and his case against Paul Manafort.
The noose is tightening around Manafort's neck. It may be only a matter of time before he cuts a plea deal with the Special Counsel as well.