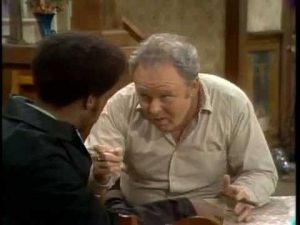 It has been almost 50 years since this classic episode of All In The Family when Archie Bunker learns that a black family, the Jeffersons, have bought the house next door in his Queens, New York neighborhood. Lionel Moves Into the Neighborhood (season 1, episode 8, originally aired on March 2, 1971). This was at the height of the phenomenon known as white flight from racially mixed cities to racially homogeneous suburbs.
The discriminatory practice of "redlining" – the system of discriminatory lending in government-backed mortgages, reflecting local race-based criteria in their underwriting practices and reinforcing residential segregation in American cities – continued until 1968, when the Fair Housing Act banned racial discrimination in housing (in theory, if not in actual practice). Redlining was banned 50 years ago. It's still hurting minorities today.
Donald Trump lived in a more toney part of Queens, in Jamaica Estates, where he lived until age 13. (Not even Archie Bunker would have been welcomed as a neighbor in Donald Trump's affluent neighborhood).
Fred Trump and his son Donald Trump were investigated by the FBI in the 1970's for racial discrimination in Trump Management, Inc. apartment buildings. FBI releases files on Trump apartments' race discrimination probe in '70s (excerpt):
The records, posted on the FBI's Freedom of Information Act website, include a 1974 interview with a former doorman at a Trump building in Brooklyn.
A supervisor "told me that if a black person came to 2650 Ocean Parkway and inquired about an apartment for rent, and he, that is [redacted] was not there at the time, that I should tell him that the rent was twice as much as it really was, in order that he could not afford the apartment," the ex-doorman said.
Many of the accounts of discrimination appear to have originated with the National Urban League, which relayed the information to the Justice Department's Civil Rights Division. Some of those complaints are barely legible, and many of the records are heavily redacted.
In October 1973, the Civil Rights Division filed a lawsuit against Trump Management Company, Donald Trump and his father Fred Trump, alleging that African-Americans and Puerto Ricans were systematically excluded from apartments. The Trumps responded with a $100 million countersuit accusing the government of defamation.
Donald Trump denied any racial discrimination, but said his managers tried to weed out certain kinds of tenants. "What we didn't do was rent to welfare cases, white or black," Trump wrote in a 1987 book.
The Trumps and their company entered into a consent decree settling the litigation in 1975. The agreement contained no admission of wrongdoing, but required the Trump firm to institute a series of safeguards to make sure apartments were rented without regard to race, color, religion, sex or national origin.
Almost 50 years later, Donald Trump is falling back on his old racist ways in his campaign. Trump plays on fears in play for the suburbs:
President Donald Trump this week sent a message to "The Suburban Housewives of America," and in a single tweet summed up his strategy for shoring up support in communities critical to his reelection chances: Scare them.
"Biden will destroy your neighborhood and your American Dream. I will preserve it, and make it even better!" he wrote.
This old real estate guy is still practicing "redlining," telling voters he will keep blacks out of their neighborhood to protect their property values. Apparently Trump thinks it is still 1971 when he and his father could racially discriminate against tenants.
It's a strategy with deep roots in presidential politics, racist overtones and some record of success. But even some GOP strategists and Republican voters note it doesn't account for the rapid demographic changes in the suburbs and may be misreading the top concerns of voters he's trying to retain.
In fact, "white flight" has been reversed today by affluent whites moving back into the cities, a phenomenon known as gentrification, forcing minorities in the cities to move out to the suburbs. The overall effect has been to create a racially mixed urban center. The 1971 world that Donald Trump still believes exists in his own mind doesn't exist any longer.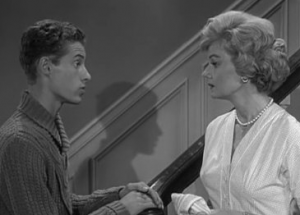 And Trump's views on women seem to have been fixed in time by reruns of Leave It To Beaver, when June Cleaver was a stay-at-home mom and "housewife" who wore pearls while cleaning the house and cooking dinner for her husband and her boys.
Trump probably imagined himself as Eddie Haskel: "My, but you look stunning today Mrs. Cleaver."
How many women today would even refer to herself as a "housewife"? There are not many June Cleavers in this world any longer.
"Trump's use of the term "Suburban Housewives" in his tweet was mocked by many of his critics as being anachronistic and out of step with how couples run their households today as opposed to 40 years ago."
The Washington Post adds, Trump tries to win over 'Suburban Housewives' with repeal of anti-segregation housing rule:
President Trump moved Thursday to repeal a fair housing rule that he claimed would lead to "destruction" of the country's suburbs, continuing an aggressive push that coincides with his campaign's attempt to paint Democrats as angry mobs on the brink of upturning peaceful, mostly white neighborhoods.
Trump had telegraphed the Housing and Urban Development Department's move against the Obama-administration rule in recent tweets and comments that made thinly veiled appeals to a key electoral constituency that has drifted away from him over the past four years: suburban white voters.
Trump's warped mind informs him "I'm white and I'm a racist, therefore, all whites must be racists like me." He cannot conceive that a large number of whites, quite possibly a majority of whites, do not share his deeply racist views. He is from a bygone era.
"The Suburban Housewives of America must read this article," Trump wrote Thursday on Twitter, linking to a New York Post op-ed by former New York lieutenant governor Betsy McCaughey that argued that Biden would ruin the country's bedroom communities.
"Biden will destroy your neighborhood and your American Dream. I will preserve it, and make it even better!" Trump said in his tweet.
Political strategists say the overt appeals to racial fear and white grievance are politically precarious at a time when much of the country is trying to reckon with issues such as systemic racism and discrimination.
"There seems to be a complete lack of understanding why he's been getting drubbed in the suburbs," said Brendan Buck, who was a top aide to Republican officials including Rep. Paul D. Ryan (R-Wis.) when Ryan was House speaker. "Educated suburban voters are not interested in — and are actually repelled by — his fearmongering and these racial dog whistles."
Republicans lost control of the House in 2018 as millions of suburban voters repulsed by Trump abandoned the party to vote for Democrats, a trend Trump's reelection campaign has sought to combat ahead of November by painting Trump's opponents as extremists.
That strategy has recently shifted to focus on housing, the latest issue on which Trump has seized as he tries to define Biden as a threat to "the American way of life."
But by promising to defend suburbia and restore a bygone era of suburban homogeneity, Trump may be on a futile mission to recapture the support of longtime Republican voters who say his presidency has driven them away from the party, said Amy Walter, national editor of the Cook Political Report.
Amid a deadly pandemic that has decimated the economy and in the wake of mass protests for racial justice, those voters are not likely to be moved by Trump's promises to defend the suburbs from outsiders, said Walter, whose organization has shifted its predictions for several suburban congressional races toward Democrats in recent weeks.
"These voters have all but closed the door on Donald Trump," she said. "His response to covid-19 and to the George Floyd protests really pushed them over to the other side. And he's not going to win back those suburbs of Houston, Dallas, Philadelphia or Orange County that Republicans lost in 2018."
The Affirmatively Furthering Fair Housing rule that Trump moved to eliminate Thursday was proposed by President Barack Obama in 2015 in a bid to combat housing discrimination and segregation by requiring cities and towns to scrutinize their housing patterns for racial bias, publicly report the results and set goals for reducing segregation.
Conservatives slammed the rule as federal overreach, and the Trump administration largely halted its implementation.
The president thrust the largely dormant issue back into the headlines in recent days as he pushed a "law and order" message that critics say is reminiscent of the appeals to racial fear that were embraced by 1960s presidential candidates Richard M. Nixon and George Wallace.
During a "tele-town hall" aimed at Wisconsin voters this month, Trump said that Democrats could "eliminate single-family zoning, bringing who knows [blacks! Mexicans!] into your suburbs, so your communities will be unsafe and your housing values will go down."
At a recent White House event, he said: "People have worked all their lives to get into a community, and now they're going to watch it go to hell."
Shaun Donovan, Obama's first HUD secretary, who is running for mayor of New York City, said Trump's approach to housing is part of "a very racist appeal" in the months before November.
"Like so many things with Trump, he really is bringing racism to the surface in a way that nobody would," he said.
Defending the Obama-era rule, Donovan said that for decades there were efforts to implement a provision in the 1968 Fair Housing Act that specifically used the phrase "affirmatively further fair housing" to mean that communities receiving federal dollars from HUD had to do more than just refrain from discriminating. They had to take steps to promote integrated neighborhoods, he said.
"The goal wasn't just racial integration. It wasn't enough to say we need to create diverse neighborhoods. We needed to create neighborhoods of opportunity — to really focus it for the first time on race and opportunity," he said. "Part of this is, if you build more affordable housing in good neighborhoods, that means the suburbs have to open up."
Although the AFFH rule has not been implemented in the past three years, some conservatives have seized on Biden's recently released policy platform in which he pledges to enforce it and other measures. In some cases, they have made direct references to the political benefit Trump could reap by actively opposing the rule.
A June 30 National Review article headlined "Biden and Dems Are Set to Abolish the Suburbs" circulated among Trump's allies in recent weeks as they tried to make their case to suburban swing voters.
The article's author, Stanley Kurtz, a conservative scholar at the Ethics and Public Policy Center, wrote that a presidential focus on suburban housing policy "just might be enough to tip the scales this November."
The New York Post op-ed Trump cited in his tweet Thursday also referred to the potential electoral benefits of making suburban housing policy "a key issue in the election."
Do you see the problem here? Wealthy white people who live in gated communities, and who live in the Epistemic closure of the 'conservative misinformation feedback loop' media bubble.
McCaughey, who was New York's lieutenant governor in the late 1990s, slammed the Obama-era housing rule because it encouraged towns to make it easier for "for low-income minorities to choose suburban living."
Clutch your pearls, Betsy: "OMG! Black people moved in next door." She is the female version of Archie Bunker.
Polling indicates that suburban voters, particularly women, largely disapprove of Trump's performance in office. Many who voted for him in 2016 have soured on his presidency and have become key targets for Biden.
There's little evidence that repealing a five-year-old housing policy will do much to improve Trump's standing in suburbia, said Walter, who also said the president appeared to be running a base-focused campaign from "a very different time period."
* * *
Biden's campaign slammed Trump as pursuing divisive policies to "distract" from his "catastrophic, failed response to the pandemic."
"Turning Americans against each other with total lies is unacceptable for a commander in chief at any time, but it's especially heinous to do so in a moment of worsening crisis," Biden campaign spokesman Andrew Bates said in a statement.