The Arizona Mirror recently reported, There wouldn't have been a #StopTheSteal campaign in Arizona without Mark Finchem:
The lead organizer of the Jan. 6 rally in Washington, D.C., that turned into a deadly coup attempt based on the false idea that Donald Trump failed to win a second term as president because of massive voter fraud said Arizona's #StopTheSteal movement started with one man: Mark Finchem.
"Arizona started with one man, State Representative Mark Finchem," Alexander said to an interviewer posted by Church Militant on Jan. 10. "I'm very confident that the Stop The Steal movement has taken over Arizona."
It appears that the link between the Arizona GOP and Ali Alexander/Stop The Steal is connected all the way down to its most fundamental levels.

Ali Alexander claims that up to 50 Arizona GOP are involved in Stop The Steal in some way.pic.twitter.com/hn30GnM3mR

— Quarantined Life (@Real_QL) January 13, 2021
Finchem frequently spouted misinformation about the 2020 elections, much of which was flagged by Twitter as being incorrect, and was the driving force in Arizona for an event at a Phoenix hotel in late November. At that event, Trump's lead attorney, Rudy Giuliani, and other pro-Trump figures gathered with state GOP lawmakers and the president's supporters to discuss baseless theories that Joe Biden won Arizona's election by fraud.
In the same video clip, Alexander claims that only nine prominent Arizona Republicans were involved in the movement before that meeting, but that the number had swelled to 50 afterward.
Finchem was present at the Jan. 6 rally and marched to the Capitol, and he praised the rioters on Twitter.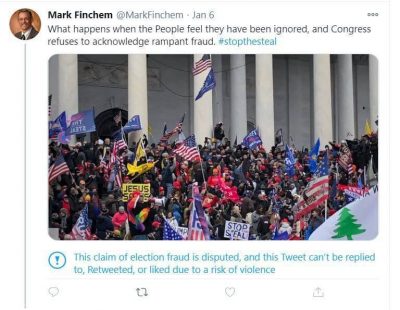 Finchem deleted his twitter account after the Capitol insurrection, but the Arizona Mirror was able to obtain copies of his tweets going to 2012.
* * *
Alexander, a right-wing personality and former felon, started the "Stop the Steal" movement. In a since deleted video, he said the Jan. 6 rally was planned with Arizona Republican Congressmen Paul Gosar and Andy Biggs, as well as Alabama Rep. Mo Brooks. Biggs has since denied the allegations.
More: Congressman Andy Biggs Coordinated Efforts With Mark Finchem Before Capitol Riot.
Text messages show that Congressman Andy Biggs was apparently coordinating with Finchem to gather signatures from Arizona lawmakers who endorsed a slate of fake electors from the state as part of the broader effort to overturn the 2020 election results. It's unknown if that's the same group of fakers who were caught in December sending a letter to the National Archives in Washington D.C. that fraudulently claimed Arizona's electors cast their votes for Trump. The real 11 electors cast their votes a week later for Biden, in accordance with the wishes of a majority of Arizona voters.

Biggs' communication with Finchem sheds more light on his involvement in the events of January 6 and the "Stop the Steal" movement by Trump supporters. Alexander named Biggs in a video as one of several Republican lawmakers who "schemed up" a plan of "putting maximum pressure on Congress" as members voted to certify the winner of the presidential election. Biggs has denied knowing Alexander or having any involvement in planning the riot at the Capitol.

The new information about Biggs comes from a series of text messages released on Tuesday by Finchem, a Republican who represents Legislative District 11 in the Arizona House of Representatives.
But Arizona lawmakers Biggs and Gosar seem to not be the only lawmakers with a connection to the man who is now allegedly in hiding after the events of Jan. 6.
On December 11, Finchem tweeted at Alexander about the Jan. 6 event.
"@ali I'll be there! #stopthesteal #jerichomarch," Finchem wrote.
* * *
In the time leading up to Jan. 6, Finchem also tweeted at Alexander and others about his desire to convert his colleagues over to the "#StopTheSteal" movement.
"The 'protests not events', as @ali puts it, that #stopthesteal has thrown around the U.S., but particularly here in Arizona, has empowered me to fight for Trump and convert my colleagues," Finchem said on Dec. 20 before thanking Coudrey and Brandon Straka, who has been arrested for his connections to the Jan. 6 riot.
The Republican legislator also promoted the hashtag prominently on his Twitter, with tweets featuring it often garnering hundreds of retweets and thousands of likes.
"With the People dug in demanding a forensic audit, and the establishment asserting its oligarchy-based power, a lot of establishment types are now outing themselves. If you don't stand for the Constitution and your oath, we've already lost our republic. #stopthesteal," he wrote on Dec. 9.
In total, Finchem used the hashtag 62 times from Nov. 19 to Jan. 6. After the violence of Jan. 6, Finchem stopped using the hashtag.
has since said that he was in D.C. "to deliver an evidence book and letter to Vice President (Mike) Pence" to persuade him to delay presiding over the certification of the presidential election. He said he was scheduled to speak at a press conference on the Capitol steps while Congress was certifying the election, but was delayed in arriving because he attended Trump's speech at the Ellipse and joined the march to the Capitol "at the rear of the crowd."
Finchem was at the Capitol when Trump supporters engaged in a violent coup attempt, in the hopes of stopping Congress from certifying Joe Biden's election victory, that left five people dead, including a Capitol police officer. On his Twitter page, Finchem posted a photo he took of the Capitol after rioters and protesters had breached the inner areas of the Capitol grounds.
"What happens when the People feel they have been ignored, and Congress refuses to acknowledge rampant fraud," he wrote, praising the rioters.
Finchem has … said that he did not get within 500 yards of the building, and was unaware the Capitol was breached until later that day.
The Phoenix New Times adds, Mark Finchem Planned Jan. 6 D.C. Visit With Right-Wing Activist Ali Alexander:
Republican Arizona Representative Mark Finchem released text messages on Tuesday that show him coordinating with Ali Alexander, a prominent conservative activist who helped organize the infamous January 6 rally at the U.S. Capitol that became a deadly riot, about Finchem's appearance at the event and the broader effort to overturn the 2020 election results.
[Prior to the release of the text messages, Finchem had refused to release personal phone records related to January 6 after New Times and the Arizona Republic filed public records seeking the documents. A letter authored by Kolodin argued that the records are not subject to public records laws and cited the "threat of criminal prosecution" as a rationale for refusing to release the documents.]
The texts discussed Finchem and Alexander coordinating on messaging and travel plans related to "Stop the Steal" rallies in Arizona and in Washington D.C. Other texts discussed how to help Texas Attorney General Ken Paxton's December lawsuit to try and overturn the election results.
Alexander has come under scrutiny for his prominent role in promoting the Republican effort to overturn the 2020 presidential election results and the rally that led to the storming of the U.S. Capitol — as well as his ties to other Arizona elected officials. He claimed in a video that he "schemed up" the plan to use public protest to pressure congress during Congress's certification of the electoral college votes with Arizona Republican Congressmen Paul Gosar and Andy Biggs. Biggs has denied any involvement with him. Alexander was in Phoenix on December 19 for a "Stop the Steal" rally, according to news reports, and in a recent interview, he said the "Stop the Steal" movement in Arizona "started with" Finchem.
An attorney representing Finchem, Alexander Kolodin, sent text messages to New Times on February 16 that show Finchem communicating with a person he said is Ali Alexander on January 5 and 6.
Finchem was in Washington, D.C. on January 6 and posted a picture of the protesters on the steps of the Capitol with a sympathetic caption. However, he has claimed publicly that he was there to give a speech at the "Stop the Steal" rally and blamed the riot on baseless conspiracy theories that anti-fascist activists caused the violence.
On January 5, Finchem texted a group thread that featured Alexander and another conservative activist, Michael Coudrey, saying that he would not land at Ronald Reagan Washington National Airport until later that afternoon. Alexander responded, "ok."
In another series of text messages that are undated but appear to precede January 6, Finchem thanks Alexander for "covering his hotel room" and claims that he is working on an "amicus brief" that would be signed by Arizona legislators in support of Paxton's lawsuit.
"We are preparing an Amicus Brief right now where a number of Arizona legislators are signing on in support of AG Paxton," Finchem wrote. "This is not ready for release yet but I want to make sure it is on your radar so we can light up the social media universe."
"Got it," Alexander replied. "We are working with three attorney generals and a couple of state legislators. Let us know where you go and if you hit a dead end, let us know and we'll get something wiggled out for y'all.
On the morning of January 6, the day of the riot, Alexander sent Finchem directions on how to navigate the rally.
"Go to the front of the line, tell them that you are in the blue section VIP," Alexander wrote. "State representative with the Stop the Steal Coalition."
Finchem later asked the thread to confirm that he was still expected to give a speech at the Capitol.
"You still have me speaking at the capitol?" Finchem wrote.
Alexander responded, "Yes."
Other text messages show Coudrey telling Finchem to get to the Capitol and Finchem saying that he got "swept up" by the crowd and that he is riding a golf cart towards the building.
Then, Coudrey writes in the thread, "They are storming the capital, I don't think it's safe."
Another message from Finchem appears below Coudrey's text about the riot, though it is undelivered: "I am on the side of the Capitol facing the Supreme Court, is that the right side?"
Their correspondence wasn't limited to discussions regarding Finchem's appearance at the January 6 rally. Finchem and Alexander exchanged messages over the course of December 2020 about tweets, various "Stop the Steal" rallies, news developments, and strategy.
For instance, on December 7, Alexander asked if Finchem could be in D.C. the following weekend for a speaking event and rally. Three days later, on December 10, Finchem texted Alexander, "Now may not be the time but I think you wanted to sit down and talk about strategic messaging. I'll be available tomorrow after 4:00."
Alexander replied, "Let's try to do some thing, I'm under a lot of pressure because we have a couple hundred thousand people coming in and I'm trying to keep 50 speakers organized ;)"
On December 13, Alexander texted Finchem, "Travel home safe my friend." Finchem responded by thanking him for the "opportunity" and telling him to "let him know" if there was anything else he could do to "help" Alexander and his "team."
"I'll be in Arizona before too long," Alexander replied.
Other texts dated December 17 show Finchem and Alexander coordinating regarding a rally at the Arizona Capitol. Finchem wrote that he would be tied up in Tucson during the event but could "race up the I-10" to get there.
On December 22, Finchem sent a lengthy test to Alexander discussing his thoughts on Alexander's messaging.
"It occurs to me that every story needs a victim, a villain, and a hero. You've done a good job of defining the victim (the people) and the reluctant hero (me), but have we defined the right villain?" Finchem wrote, going on to reference Governor Doug Ducey and the Maricopa County Board of Supervisors.
In another series of text messages — the date of this exchange is unclear — Alexander asks Finchem to come to D.C. for the "historic" January 6 rally. They also exchanged ideas about tweets.
"Is there a call for a 7 million march on the Capitol? Nothing says support like millions of people blocking streets so Congress is forced to pay attention," Finchem wrote. "Tweet just went out."
"Got cha," Alexander writes back.
Finchem poses another idea for a tweet, a shot at journalist Keith Olbermann, prompting Alexander to urge him to "let that other tweet breathe for an hour."
"But yes great tweet! Hah," Alexander adds.
Finchem has been fiercely criticized by Democratic legislators for his involvement in the events of January 6.
On January 13, local Democrats called on the FBI and U.S. Department of Justice to investigate the role of local elected officials — including Finchem — in causing the violence at the Capitol. Last week, House Democrats called for Finchem to be expelled because he "participated in, encouraged and incited the events of Jan. 6″ and was complicit in "insurrection and rebellion."
Despite being fingered by Ali Alexander as the instigator of Arizona's #StopTheSteal movement, and helping plan the January 6 rally in Washington D.C., which turned into a seditious insurrection with the storming of the Capitol, "facing dozens of ethics complaints over his conduct, Finchem was eventually cleared of any wrongdoing by the Republican chair of the ethics committee in the Arizona House of Representatives, according to the Arizona Republic ." This was done without reviewing any of this Email evidence.
I guess it helps that 50 Republican legislators are involved in Arizona's #StopTheSteal movement. If they were to find that Rep. Finchem violated legislative ethics, wouldn't they have to find themselves guilty as well? They don't want any evidence of their own complicity to be exposed. "Nothing to see here, move along." Mark Finchem cleared of 82 ethics complaints related to the Jan. 6 riot.
After getting a free pass from his fellow GQP #StopTheSteal co-conspirators in the legislature, this piece of shit seditious insurrectionist has filed an ethics complaint against all Democrats over FBI referral:
Oro Valley Republican Mark Finchem filed an ethics complaint against every Democratic member of the Arizona legislature Tuesday for a letter they sent last month asking the Department of Justice and FBI to investigate his and other lawmakers' alleged roles in the Jan. 6 insurrection at the U.S. Capitol.
State Rep. César Chávez, D-Phoenix, filed an ethics complaint about the tweet, arguing that it showed Finchem participated in the insurrection. In the following four weeks, the committee received 81 more complaints. Those ethics complaints were all dismissed last week.
Finchem opens up his ethics complaint with a quote from famed director Miloš Forman about the Communist Party, comparing his Democratic colleagues and the former USSR. He went on to accuse them all of conspiring against him with the media and breaking federal law in the process. [Always with the insane conspiracy theories.]
"Each of the above-named House and Senate members have conspired, maliciously and in bad faith, to have me (and others) punished for exercising my First Amendment right to peaceably assemble and contest the legitimacy of the recent Presidential election," the complaint says.
Finchem contends that the letter sent by House and Senate Democrats was issued under false pretenses as it was not an "official act of the legislature" but used letterhead bearing the Arizona state seal.
Finchem also goes into detail about what happened on Jan. 6 and on Tuesday he partially released cell phone records he had been refusing to release> related to the riots.
Finchem has said he became aware that his planned speech was cancelled at 1:55 p.m. eastern time, and said that he could not "see any activity associated with the breach of the Capitol" while he was there after marching with the crowd from an earlier speech by President Donald Trump. He said he did not learn that the Capitol was breached until 5 p.m.
* * *
Finchem's complaint alleges that House and Senate democrats violated federal law by making a false report and is asking the House and Senate Ethics committees to investigate.
"Now, more than ever, we witness the consequences of not holding our elected officials accountable for inciting people based on lies and conspiracies," Rep. Athena Salman, D-Tempe, said to the Mirror about Finchem.
Salman, who spearheaded a resolution that called for Finchem's expulsion from the legislature for his alleged role in the Jan. 6 insurrection at the U.S. Capitol, his ties to extremist groups and for spreading misinformation about the election, said the complaint hasn't changed her opinion.
"My stance hasn't changed, the member should be expelled," Salman said, adding that the expulsion effort has stalled and efforts like a recall will likely be the only option for constituents who may take issue with Finchem's actions.
However, Salman said the Democratic caucus is still working with "all tools available" to "hold Finchem accountable" but admitted they are fighting against the GOP controlled majority which will likely stifle any efforts.
You will know just how corrupt and out of control the GQP Caucus if they dismiss the ethics complaints against Rep. Finchem, because they too are part of Arizona's #StopTheSteal movement, and then find that Democrats violated legislative ethics in retaliation for having filed complaints about Mark Finchem and his role in the January 6 MAGA insurrection.
Rep. Finchem is a proud member of far-right organizations identified by the FBI as domestic terrorist organizations, including the Oath Keepers, From Charlottesville to Oath Keepers, Rep. Mark Finchem Is a Fringe Lawmaker, and the Coalition of Western States (COWS), a group that supported the infamous Ammon Bundy armed occupation of the Malheur National Wildlife Refuge in Oregon in 2016. Rep. Mark Finchem Worked With Anti-Government Extremists, Emails Show. This alone should be enough to disqualify him from serving in the legislature.
Prosecutors filed the first significant conspiracy charges in the US Capitol attack, alleging that three members of the so-called Oath Keepers, an extremist militant group, planned and coordinated ahead of the January 6 assault. Members of extremist Oath Keepers group planned attack on US Capitol, prosecutors say.
You can bet that the FBI will be looking at Rep. Finchem's ties to this domestic terrorist organization.