Above image: The Fall of Rome.
I made the point in an earlier post that The problem is we cannot impeach the Republican Party along with their 'Dear Leader' (excerpt):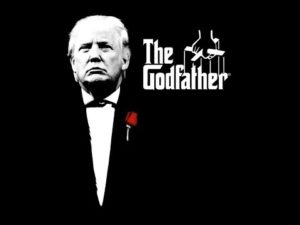 As I have argued, "What we have right now is the entire Republican Party in lock-step with the Trump crime family. It is acting as a criminal enterprise, using the control of government to undermine the Department of Justice, the Congress and the rule of law to prevent the fair administration of justice and to prevent holding anyone accountable."
Republicans in Congress are co-conspirators and accessories aiding and abetting the Trump crime family in the obstruction of justice. They are equally culpable at law for their own misconduct.
Trump's extended "crime family," Republicans in Congress, sit on congressional committees where they can engage in obstruction of Congress on his behalf, and they would sit on the "jury" in the Senate in any impeachment trial.
What Trump's extended "crime family" in the Senate would do is engage in Jury Nullification, the jury's knowing and deliberate rejection of the evidence or refusal to apply the law.
Unlike in court proceedings, there is no jury selection process or voire dire of potential jury members in the Senate. These co-conspirators and accessories who are aiding and abetting the Trump crime family, sitting on the jury, would acquit the president in any impeachment trial because they would also be acquitting their own equally culpable criminal misconduct. "We're all good."
The long-term consequences of this is that it will create a precedent for all future presidents to engage in similar criminal misconduct without incurring any consequences. It would render the impeachment process a feckless constitutional remedy against a president who engages in criminal misconduct because members of his own political party simply do not care about the facts, the evidence, or the rule of law, and are willing co-conspirators and accessories to obstruction of justice. Tribal loyalty to one's own political party rules the day — and the rule of law will have been destroyed.
One has to wonder if this is not the actual goal of authoritarian Republicans — to destroy the rule of law, our constitutional government, and our long-cherished democratic institutions, norms and values — and replace it with a lawless authoritarian kleptocracy, like Russia.
The Hill reports today, Senate GOP vows to quickly quash any impeachment charges: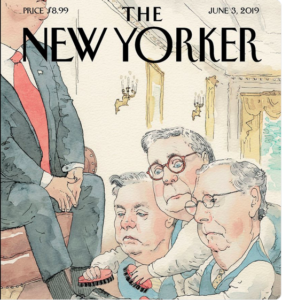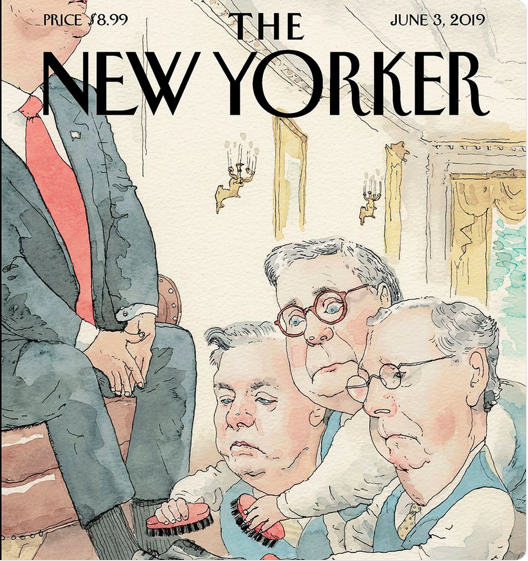 GOP senators say that if the House passes articles of impeachment against President Trump they will quickly quash them in the Senate, where Majority Leader Mitch McConnell (R-Ky.) has broad authority to set the parameters of a trial.
While McConnell is required to act on articles of impeachment, which require 67 votes — or a two-thirds majority — to convict the president, he and his Republican colleagues have the power to set the rules and ensure the briefest of trials.
"I think it would be disposed of very quickly," said Senate Judiciary Committee Chairman Lindsey Graham (R-S.C.).
"If it's based on the Mueller report, or anything like that, it would be quickly disposed of," he added.
Sen. John Cornyn (R-Texas), an adviser to McConnell's leadership team, said "nothing" would come of impeachment articles passed by the House.
Given the Senate GOP firewall, Cornyn, who's also a member of the Judiciary Committee, said he doubts that Democrats will commence the impeachment process.
"It would be defeated. That's why all they want to do is talk about it," he said. "They know what the outcome would be."
Republicans hold a 53-47 majority in the chamber, and Vice President Pence would cast the tie-breaking vote if necessary.
Senate Republicans say that an impeachment trial would be given the bare minimum amount of floor time.
"Why on earth would we give a platform to something that I judge as a purely political exercise?" said Sen. Thom Tillis (R-N.C.), another member of the Judiciary Committee. "We have to perform our constitutional duty, but if people think that we're going to try and create a theater that could give you the perception that this is a matter that rises to the level of Watergate, that's nonsense."
Tillis said he would support McConnell bringing the impeachment process to a quick close, and that any kind of extended trial would be "rewarding what I view as bad behavior on the part of the House."
No, senator, it would be rewarding the criminal behavior of our crime boss president and his administration, and Republicans in Congress who are co-conspirators and accessories aiding and abetting the Trump crime family in the obstruction of justice. They are equally culpable at law for their own misconduct.
Any impeachment proceeding must be framed in terms of not just impeaching the president, but of impeaching the entire Republican Party in the court of public opinion. They are all culpable.
McConnell would have broad authority to determine how a Senate trial would play out. He could stifle the arguments of Democratic prosecutors from the House as long as he's backed up by his fellow GOP senators.
Supreme Court Chief Justice John Roberts would preside over a Senate trial, but he would be constrained by the rules and traditions of the Senate, where the majority leader sets the schedule and has the right of first recognition.
Under the Senate manual's rules for impeachment trials, the presiding officer — likely Roberts — would rule on all questions of evidence, but any senator could ask for a formal vote to appeal a decision. Under the Senate rules, it takes a majority to sustain or overrule a ruling from the presiding officer.
Democrats would need to persuade at least four Republicans to break with McConnell in order to bring in any witnesses or exhibits he decides to block.
That would mean winning over moderates like Sens. Lisa Murkowski (Alaska) and Susan Collins (Maine) or vulnerable senators in swing states, namely Sens. Cory Gardner (Colo.) and Martha McSally (Ariz.).
Murkowski told The Hill on Thursday that she hasn't given much thought as to how a Senate trial might play out.
Democrats, however, are skeptical they would get much, if any, Republican support to overrule McConnell.
"There are 47 Democrats. On a good day, even when the president is at his most outrageous level, only three Republican senators will publicly say so," said Senate Democratic Whip Dick Durbin (Ill.).
Republicans are engaged in a plot to destroy American constitutional democracy (excerpt):
I posited the question the other day, "One has to wonder if this is not the actual goal of authoritarian Republicans — to destroy the rule of law, our constitutional government, and our long-cherished democratic institutions, norms and values — and replace it with a lawless authoritarian kleptocracy, like Russia."
We now know that the answer to this question is a definitive "yes." Donald Trump is using his pal Vladimir Putin's playbook, "The how to guide to becoming an autocratic despot."
President Trump took extraordinary steps on Thursday to give his incredibly corrupt Attorney General William P. Barr sweeping new authorities to conduct a review into how the 2016 Trump campaign's ties to Russia were investigated, significantly escalating the administration's efforts to "investigate the investigators" and potentially prosecute those who investigated his campaign's multiple and repeated contacts with Russian operatives in the 2016 campaign.
As I said the other day, President Trump having his attorney general investigate for prosecution federal law enforcement officials who investigated his campaign, and his political opponents — his "enemies list" — on "trumped" up charges of "treason" has 'crossed the Rubicon' to authoritarianism (excerpt):
Attorney David R. Lurie explains at The Daily Beast, Trump's Public Enemies List Is an Impeachable Offense (excerpt):
Long before becoming president, Donald Trump called for the jailing of his adversaries. Aided by Attorney General William Barr, he may now actually be training the full force of federal law enforcement against his enemies, real or perceived. Unlike Richard Nixon, who acted in secret, Trump is corrupting the justice system openly and publicly.

The seriousness of such a presidential abuse of power, and its potential for undermining the constitutional order, could well surpass any of the crimes detailed in the Mueller Report. Indeed, the Congress long ago recognized that such misconduct can merit impeachment.

* * *

It's reminiscent of Nixon's secret scheme to "use the available federal machinery to screw our political enemies," as then-White House Counsel John Dean put it, by manipulating "grant availability, federal contract, litigation, prosecution, etc." Nixon directed the IRS provide potentially damaging information against some of his enemies. Although the agency's commissioner refused Nixon's demand, the scheme became part of the impeachment case against Nixon, which accused him of illegally endeavoring "to obtain [information] from the Internal Revenue Service, in violation of the constitutional rights of citizens."

While much of Nixon's scheme was forestalled, Trump appears poised to effectuate his.
We have an amoral and lawless president who is protected by an amoral and lawless political party completely in thrall to authoritarianism and the personality cult of Donald Trump. The barbarians are at the gate seeking to end the great American experiment in democracy. Republicans threaten the survival of the Republic.
Thom Hartmann, building on my Roman Empire theme, explains this is How Republics Die:
The American republic could die, just like Rome.
Wavering for some time on the verge of becoming a complete oligarchy, America is on the verge of flipping from a democratic republic to a strongman or autocratic form of government, something that's happened to dozens of democracies in the past few decades, but never before here. It's possible we won't recover from it.
The death of a republic is different from the death of a nation; Rome was a nation for nearly 2,000 years, but its period of being a republic was only around 300 years long. For the rest, it was a brutal empire with a small but wealthy and corrupt ruling class and a thin patina of democracy-for-show.
Trump is openly defying the norms and laws of our republic, while calling for the imprisonment of both his political enemies and members of the very law enforcement agencies that might hold him to account. And he's only able to do it because billionaires like Rupert Murdoch, with Fox News, and the billionaires Republicans depend on to fund their re-elections are providing him with cover.
Already, it is evident there are similarities between the end of the Roman Republic and America today when it comes to political theater. In the Roman Republic, the question of what was "real" or "fake" was decided by the people and common sense until the republic began to splinter in the first century BCE. Once the political/power cracks appeared, truth and lies became a constant matter of debate. Today we have a reality-show president who has told over 10,000 lies, many uncritically repeated daily by the media and others aggressively defended by politicians owned by the same billionaires who support Trump. Trump is constantly at war with the truth and "fake news."
Republics die when the price of losing political struggles becomes higher than individual politicians are willing to pay, so they just roll over in favor of the interests of whoever is most powerful. Republics die when compromise is seen as betrayal, and a single principled vote, position or statement is enough to cause donors and party to turn their back and end a political career, or even end a person's ability to earn a living.
In Rome, after the republican phase ended in the first century BCE with the assassination of Julius Caesar, it often meant physical death; in America today it means political and economic death, but the dagger at the heart of what the founding fathers called our "republican form of government" is no less sharp.
A republic falters because it ceases to be functional and democratic — meeting the needs of the people and being governed by the people — when behind-the-scenes plutocrats, warlords, or corporations achieve near total — and nearly invisible — political/financial dominance over the visible political process.
This failure of governance and plutocratic takeover is followed by threats of overwhelming political destruction, and, in the final stages, violence often takes over.
Following a lengthy analysis, Hartmann concludes:
But now there's a man in the White House so craven in his lust for personal wealth and power, and so owned by fossil-fuel interests, bigots, and religious fanatics that he's willing to exploit that weakness in our Constitution to take an ax to the roots of our tree of liberty.
He is our nation's Augustus Caesar, the killer of a republic and the herald of a corrupt and collapsing empire.
He's willing to break laws in public and dare Congress to hold him responsible, while starting an "investigation" into those concerned about a foreign power breaking our election laws to make him president. He openly praises thugs and killers, both foreign and domestic, and delights in pardoning war criminals.
America will not "bounce back" from the Trump presidency when it ends, and may lose all ability to recover at all if that presidency lasts six rather than two more years.
If Republicans in the Senate are too cowardly to repudiate the petro-billionaires who threaten to fund their primary opponents, we will continue on the rapid downward slide Rome experienced in the first century BCE.
And if Democrats don't take strong, immediate, and decisive action to curb GOP excesses, we may well never again have a chance to return to our democratic-republican roots.
Democrats "getting a spine" isn't just good politics; it may be the last hope to salvage our republic and preserve our constitutional form of government.