POLITICO Tiger Beat on The Potomac reports, Sanders to join Clinton for New Hampshire rally on Tuesday (spoiler alert: endorsement):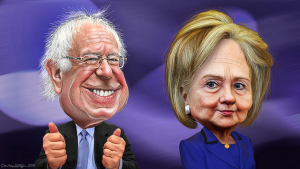 Bernie Sanders will join Hillary Clinton on Tuesday for a rally in New Hampshire, Clinton's campaign announced Monday.
Sanders will campaign with Clinton at a high school in Portsmouth, New Hampshire, at 11 a.m. Tuesday, less than two weeks before the party's convention begins in Philadelphia.
The Vermont senator's campaign announced his participation minutes after the Clinton team's email hit inboxes, with both announcements sharing the same language that the two former primary rivals will "discuss their commitment to building an America that is stronger together and an economy that works for everyone, not just those at the top."
The joint appearance comes after the Vermont senator scored several victories on the Democratic platform over the weekend in Orlando, Florida.
UPDATE: The Congressional Progressive Caucus political action committee endorsed Clinton this morning.
And cue the crazy in three, two, one … Bernie Sanders Is About To Endorse Hillary Clinton, So of Course He's Now an Enemy of the #BernieOrBust Crowd (by Chez Panzienza):
I've written a hell of a lot about Bernie Sanders this election season. But the very first thing I wrote about him was ten long months ago and it had to do with what anyone who pays close attention to politics would have understood was a certainty about his campaign: that if he in fact won, his fanatical base would quickly turn against him. The reason? Because running for government is different than actually governing, with the latter requiring little things like nuance and compromise, qualities Sanders's most ardent supporters consider anathema to their mission statement. Sanders would have a choice as president: be a strident ideologue and get absolutely nothing done as he faced down an obstructionist Congress, or be willing to bend and see himself burned in effigy and declared an "enemy of the revolution" by the very people who used to worship him.
Well, as I said from the very beginning, Bernie Sanders isn't going to win the presidency. He isn't even going to win the nomination. But that doesn't mean those rabid "Berniecrat" disciples won't get the chance to fulfill their political destiny. Because it looks very much like this coming week will see the endorsement of Clinton by Sanders — and the mere thought of that is already opening up the floodgates and unleashing the vengeful wrath of the Sanders faithful upon Sanders himself. The good folks at Forward Progressives have done the heavy lifting for us, compiling a giant pile of bitter, angry commentary from Sanders's Facebook page, all from the juvenile #BernieOrBust and #NeverHillary hashtag warriors and all aimed, for a change, directly at their former object of exaltation. To put it simply, Bernie Sanders is now, in their eyes, an establishment shill, a traitor, a neo-liberal — you know, all those things any and every supporter of Hillary Clinton have been castigated as over most of the past year. (Cue the chants of "One of us! One of us!")
[I am not going to post the crazy Facebook comments here. You have seen similar posted in the comments to this blog.]
According to Forward Progressives — and you can go look for yourself if you feel so inclined — there are literally dozens and dozens more of these kinds of comments on Sanders's Facebook page. All because Bernie Sanders turned out to be a relatively rational politician who understands that getting a good portion of what he wants via a Clinton presidency is a hell of a lot better than getting nothing and watching the world burn under Donald Trump. Because he's not a magical progressive unicorn who'd sooner kneel on the steps of the Capitol and ritually self-immolate rather than compromise with the dreaded establishment for the greater good, he's now the enemy of the very people who made him a God. The dream dies hard, doesn't it?
The thing to remember here is that the #BernieOrBust crowd always represented only a handful of people when compared with the electorate entire. They're loud and obnoxious online but despite their incessant whining about how desperately they need to be "won over" by Clinton and her allies, they were never going to make a difference come election day anyway.
Hell, a good portion of them never showed up for Sanders at the primaries in the first place so it was always a guarantee they'd be sitting out the general vote unless a giant carrot on a stick compelled them to get off their dead asses. They may still be making noise but the reality is that, according to a new Pew poll, 85% of Sanders supporters have stated that they'll vote for Clinton in November. That's far more than the number of Clinton supporters who moved over to Obama in 2008. Most Sanders supporters may not love Clinton, but they're not legitimately insane.
Either way, I've said it before but it apparently bears repeating: None of this matters anyway because it's all over. Sanders lost. Clinton won. And now Sanders is (hopefully) going to do what he should have done weeks ago: concede and endorse his opponent. The Democrats will unite in the name of stomping Donald Trump's dick in the dirt and hopefully that outcome is exactly the one we'll see. As for the #BernieOrBust kids? Well, rather than actually trying to effect change on a smaller scale across the country — and minus a single, unifying messianic figure — they'll go back to doing whatever it was they did before they suddenly developed an obsession with national politics.
It's time to grow up, get over it, and get a life. Put on your big boy or big girl pants and get to work on winning this election.