The Arizona Republic reports that, as expected, Jon Kyl will resign from the Senate on Dec. 31, setting up another appointment to John McCain's seat: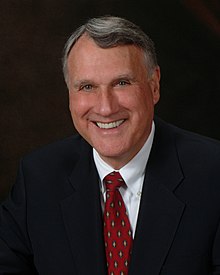 U.S. Sen. Jon Kyl will resign from the U.S. Senate on Dec. 31, The Arizona Republic has confirmed, setting up a second appointment by Gov. Doug Ducey to the seat once occupied by the late John McCain.
Ducey is required under law to name another Republican to the seat. A replacement to the Senate seat "will be announced in the near future," according to the Governor's Office.
Kyl wrote a letter dated Dec. 12 to Ducey, informing him of his resignation. The letter was hand-delivered to the Governor's Office late Thursday afternoon.
"Thank you for appointing me to the U.S. Senate to fill the vacancy created by John McCain's death," Kyl wrote. "It has been an honor and a privilege to again serve the people of Arizona.
"When I accepted your appointment, I agreed to complete the work of the 115th Congress and then reevaluate continuing to serve. I have concluded that it would be best if I resign so that your new appointee can begin the new term with all other Senators in January 2019 and can serve a full two (potentially four) years. Therefore, I will resign from the U.S. Senate effective 11:59 p.m. EST December 31, 2018."
Kyl succeeded McCain to the seat in September, after McCain's Aug. 25 death, with the understanding that he would serve at least until the end of the year and possibly until 2020, when the seat was on the ballot again. It became clear in recent weeks, as Kyl was hesitant to discuss his future in the Senate, that he would be leaving.
In a statement, Ducey praised Kyl's second stint on Capitol Hill, saying he served with "integrity and statesmanship" as the nation faced important issues.
"Senator Kyl didn't need to return to the Senate," Ducey said in a statement. "His legacy as one of Arizona's most influential and important political figures was already without question. But he did return, and I remain deeply grateful for his willingness to step up and serve again when Arizona needed him. I wish him and his family all the best."
It is unclear if Kyl intends to return to joined the high-powered Washington, D.C., law firm Covington & Burling. As senior adviser, he helped clients on issues including taxes, health care, defense, national security and intellectual property.
The governor and his aides have been tight-lipped about who may be under consideration to replace Kyl.
There is intense interest from Senate Majority Leader Mitch McConnell, R-Kentucky, for Ducey to appoint outgoing Rep. Martha McSally, the Republican who lost to Democratic Rep. Kyrsten Sinema for Arizona's other U.S. Senate seat. Sinema will be sworn into office Jan. 3.
Republican donors spent millions of dollars McSally's election effort and likely want to see that investment pay dividends. Ducey and McSally met recently, but it is unclear if there was discussion about a Senate appointment.
CNN reports that Arizona Gov. Doug Ducey likely to pick Martha McSally to replace Sen. Jon Kyl, sources say:
Arizona Gov. Doug Ducey is expected to make an announcement as early as this weekend on who will replace Sen. Jon Kyl, sources familiar with the conversations in Arizona told CNN.
According to sources, the Republican governor's likely choice is GOP Rep. Martha McSally, who lost her bid for Arizona's other Senate seat during the 2018 election.
Whoever Ducey picks as a replacement will be able to serve until 2020, when there will be a special election to fill the remaining two years of McCain's term.
Earlier today, however, the Washington Post reported, For Arizona governor, McSally's star dims as possible choice for Senate seat:
Arizona Gov. Doug Ducey has lost enthusiasm for appointing Rep. Martha McSally, a fellow Republican, to the Senate in recent weeks even as Republican leaders in Washington have championed her.
Ducey has made no firm decision and McSally, who narrowly lost this year's Senate race, remains a finalist to fill the seat that John McCain held for decades, a seat that may soon open up. But her stock has fallen in the eyes of the governor, according to two people familiar with his thinking, as Ducey approaches one of the most significant decisions of his political career.
There are several reasons McSally's chances have faded, according to the people who spoke on the condition of anonymity to freely discuss private conversations. One is a post-election memo her campaign strategists provided to The Washington Post last month, which attributed her defeat in November to external factors. Among them: strong Democratic fundraising, a geographic disadvantage and voter hostility toward President Trump.
The memo sparked outrage inside Ducey's circle and among broader swaths of influential Republicans, who felt her team did not own up to its strategic mistakes and was trying to deflect blame for her loss to Democratic Rep. Kyrsten Sinema.
There are also concerns about McSally's standing among Republican donors.
"There is momentum building for an anybody-but-McSally appointment among the Arizona donor community," said Dan Eberhart, an Arizona-based oil industry executive and donor to McSally's campaign this year.
* * *
One factor working in McSally's favor is the lack of obvious alternatives who could quickly begin campaigning for a special election in 2020. Another Republican under serious consideration is Kirk Adams, Ducey's outgoing chief of staff. Adams has never run for statewide office. His last day on the job will be Friday.
Ducey believes the 2020 election could be more challenging for Republicans than it was in 2018, the people who are familiar with his thinking said, and he wants to ensure that whoever he appoints will be well-positioned to hit the ground running and wage a competitive campaign to retain the seat.
The governor and his closest allies are not yet convinced McSally is that person. A Ducey spokesman did not immediately respond to a request for comment.
The Arizona Republic discusses the known contenders. Here is just a brief summary:
The governor and some of his closest aides are not talking. Outgoing U.S. Rep. Martha McSally and former Ducey chief of staff Kirk Adams are two potential appointees drawing intense speculation in political circles in Washington and in Arizona.
Others are mentioned, including highly regarded state Treasurer and former chief of staff to Brewer, Eileen Klein. She served on Ducey's transition team in 2014 after his first gubernatorial win. Before Ducey appointed her as treasurer, Klein was president of the Arizona Board of Regents.
Apparently not under consideration is failed congressional candidate and former President/CEO of the Tucson Hispanic Chamber of Commerce, Lea Marquez Peterson, despite being a Ducey loyalist.
John McCain's daughter, Meghan McCain, whom The Arizona Republic is constantly promoting in press reports, also does not appear to be under consideration. Ben Domenech, publisher of conservative web magazine The Federalist and husband of Meghan McCain, tweeted Friday that McSally would be an "unwise choice."
Roll Call adds prior speculation about Maricopa County Attorney Bill Montgomery.
Montgomery might be able to ward off other GOP primary challengers, the strategist said. His record as a county attorney, conservative credentials and military experience could keep challengers at bay.
"I just don't think there's any appetite for Martha [McSally]," the GOP strategist said of the 2nd District congresswoman and recently defeated GOP Senate nominee.
Earlier this month, a Lawsuit was filed against Doug Ducey, Jon Kyl over future of John McCain's Senate seat:
Lawyers in Chicago and Arizona have launched a long-shot legal bid to let Arizona voters, not Gov. Doug Ducey, decide next year who will hold the Senate seat once held by John McCain.
Michael Kielsky, an attorney at Udall Shumway, former chairman of the Arizona Libertarian Party and frequent candidate for public office, brought the suit on behalf of a coalition of five Libertarian, independent, Republican and Democratic voters.
Their lawsuit against Ducey and Kyl was filed Wednesday in U.S. District Court in Phoenix.
The lawsuit argues that Ducey violated the Constitution's 17th Amendment by not calling for an election to be held as soon as practicable after the McCain vacancy occurred. Ducey did issue a writ of election within days of McCain's death, scheduling it to be held in 2020, said Eric Spencer, elections director for the Arizona secretary of state.
The lawsuit seeks an order from the court to direct the governor to call a special election to fill the seat to be held within six months.
The complaint claims that an appointee cannot serve for a lengthy time in lieu of someone elected by voters and by keeping in office a "'temporary' appointee far beyond the period within which an orderly election could be held, the defendant Governor has deprived plaintiffs and other citizens of their right to vote under the Seventeenth Amendment to determine who shall represent the people in the Senate."
Arizona State University constitutional law professor Paul Bender cast the lawsuit as a long-shot bid, since the 17th Amendment expressly allows state legislatures to empower the governor to name replacements to serve until voters fill the vacancy by election "as the Legislature may direct."
Legal requirement
If a senator dies, Arizona law requires the governor to appoint a successor who is a member of the same political party as the senator who held the seat. If the vacancy occurs within 150 days of the next regular primary election date, the appointee serves until vacancy is filled at the second regular general election held after the vacancy occurs.
Because the McCain vacancy occurred within 150 days of the November 2018 primary election, the governor's appointee would be allowed to serve until 2020, Bender said.
"The governor doesn't have to call an immediate election," Bender said.
"The Constitution says clearly that the Legislature in the state can let the governor make a temporary appointment, which will last as long as the Legislature wants it to last. And that here would be until 2020."
In an email, gubernatorial spokesman Patrick Ptak said, "This is a frivolous lawsuit. The governor executed the laws as required."
Spencer, who reviewed the complaint, said the lawsuit ignores the governor's writ establishing an election in 2020.
"Then they'll be left with the only other argument, which is, can the Legislature get away with prescribing that date being so far into the future, roughly 25 months away from when Sen. McCain passed away."
The Arizona Capitol Times (subscription required) adds:
Michael Kielsky said that leaving the seat with an appointee until 2020 is unreasonable, and a judge will decide if the suit is frivolous.
"As with a lot of constitutional provisions, we have to apply a reasonable standard… (An election in) March would be reasonable, May would be OK, but two years is unreasonable," he said.
He noted that a lawsuit challenging the appointment to the U.S. Senate seat in Illinois that former President Obama vacated in 2009 was successful on similar grounds.
* * *
The suit argues that the law violates the 17th Amendment, which granted voters direct elections of U.S. Senators. That amendment states that in the event of a Senate vacancy, the state governor shall issue writs of election to fill such vacancies, "Provided, that the legislature of any State may empower the executive thereof to make temporary appointments until the people fill the vacancies by election as the legislature may direct."
But the suit argues that the state Legislature has no authority to mandate that a temporary appointee serve in lieu of a Senator directly elected by the people, "beyond any period necessary to hold an orderly election."
The suit argues that by keeping in office a "temporary" appointee far beyond the period within which an orderly election could be held, Ducey has deprived plaintiffs and other citizens of their right to vote under the 17th Amendment and to determine who shall represent the people in the Senate.
As a result of the state law, "citizens of Arizona will be deprived of elected representation in the Senate for over twenty eight months, and will suffer irreparable injury from such a lengthy loss of elected representation in the United States Senate," the suit argues.
While some states dictate that U.S. Senate vacancies must be filled by special election, most states employ similar delays in filling a vacancy that occurs shortly before a scheduled election, though most use shorter timelines than Arizona, according to the National Conference on State Legislatures.
Governor Ducey is likely to make an appointment before this lawsuit can be heard.
---
Support volunteer citizen journalism at the Blog for Arizona with a donation today. Your secure contribution keeps the Blog online and sustains a free press in Arizona.
---