After NBC News reporter Manuel Quinones' "Photo shows GOP Sen. Hawley, who led effort to contest vote, greeting protesters" went viral on Wednesday,
Sen. Hawley's home state newspaper the Kansas City Star editorialized, Assault on democracy: Sen. Josh Hawley has blood on his hands in Capitol coup attempt:
No one other than President Donald Trump himself is more responsible for Wednesday's coup attempt at the U.S. Capitol than one Joshua David Hawley, the 41-year-old junior senator from Missouri, who put out a fundraising appeal while the siege was underway.
This, Sen. Hawley, is what law-breaking and destruction look like. This is not a protest, but a riot. One woman who was apparently part of the pro-Trump mob was fatally shot by Capitol Police as lawmakers took cover. Some of those whose actions Trump encouraged and later condoned brought along their Confederate flags.
And no longer can it be asked, as George Will did recently of Hawley, "Has there ever been such a high ratio of ambition to accomplishment?" Hawley's actions in the last week had such impact that he deserves an impressive share of the blame for the blood that's been shed.
Hawley was first to say that he would oppose the certification of Joe Biden's Electoral College win. That action, motivated by ambition, set off much that followed — the rush of his fellow presidential aspirant Texas Sen. Ted Cruz and other members of the Sedition Caucus to put a show of loyalty to the president above all else.
After mayhem broke out, Hawley put out this uncharacteristically brief statement: "Thank you to the brave law enforcement officials who have put their lives on the line. The violence must end, those who attacked police and broke the law must be prosecuted, and Congress must get back to work and finish its job." So modest, Senator, failing to note your key role in inspiring one of the most heartbreaking days in modern American history. We lost something precious on Wednesday, as condolence notes to our democracy from our friends around the world recognize.
Among those Hawley got to emulate him was Kansas Sen. Roger Marshall, whose very first act as a member of the world's greatest deliberative body was to sell out his country by attempting to overturn the outcome of a legitimate election.
This revolt is the result, and if you didn't know this is where we've been headed from the start, it's because you didn't want to know.
"The Frankenstein just tore down the doors to the palace," U.S. Rep. Emanuel Cleaver, a Democrat from Missouri, told The Star. Which happened because, as he said, "One-third of the nation has bought into a bald-faced lie, and they are living in a fact-free America."
"I'm currently safe and sheltering in place while we wait to receive further instruction from Capitol Police," tweeted U.S. Rep. Sharice Davids, a Democrat from Kansas. "Today is a dark day for our country. It's unacceptable that we have a President who has repeatedly condoned and even encouraged this despicable behavior. It must stop."
We'll say again what Davids is too polite to say: Trump did not manage this madness on his own. Far from it.
Then there is House Minority Leader Kevin McCarthy (R-CA), leader of the Sedition Party in the House, the majority of whom voted for sedition on Wednesday. The Washington Post reported in 2017 that Republicans were always well aware of the threat of Donald Trump:
[I]n a private conversation on Capitol Hill with his fellow GOP leaders, [McCarthy asserted] that Trump could be the beneficiary of payments from Russian President Vladimir Putin.
"There's two people I think Putin pays: Rohrabacher and Trump," McCarthy (R-Calif.) said, according to a recording of the June 15, 2016, exchange, which was listened to and verified by The Washington Post. Rep. Dana Rohrabacher is a Californian Republican known in Congress as a fervent defender of Putin and Russia.
House Speaker Paul D. Ryan (R-Wis.) immediately interjected, stopping the conversation from further exploring McCarthy's assertion, and swore the Republicans present to secrecy.
Ryan instructed his Republican lieutenants to keep the conversation private, saying: "No leaks. . . . This is how we know we're a real family here."
The Sacramento Bee has a message for the morally bankrupt Kevin McCarthy and his Sedition Party in this editorial opinion, The coup failed, but Republicans must face prosecution for seditious U.S. Capitol attack:
The crime of sedition is a felony punishable by up to 20 years in prison. The Merriam-Webster Dictionary defines sedition as "incitement of resistance to or insurrection against lawful authority."
The American public got a good illustration of sedition in action today when hundreds of angry Trump supporters rioted at the United States Capitol, smashing windows and invading the building in an attempt to overthrow our democracy. Outraged because they lost a fair and free election, Trump's supporters derailed the congressional ceremony to finalize President-elect Joe Biden's Electoral College victory in the 2020 election.
Their violent attack on the heart of our government forced our elected leaders to evacuate the U.S. Capitol as police struggled to regain control of the situation. Anyone who took part in this astonishing attempt to subvert the will of the American voters should be arrested, charged and prosecuted to the fullest extent of the law. People should go to prison for this — and for a very long time.
Of course, the ringleaders of this coup attempt weren't the people crashing through the Capitol's windows. Many of them are sitting members of Congress who were in the building giving anti-democracy speeches as their supporters launched a treasonous insurrection. The main ringleader of this seditious and treasonous conspiracy — President Donald Trump — was sitting in the White House.
"We love you, you're very special," said Trump in a video message in which he once again made false claims about the election.
These leaders must also be held accountable for their shameful efforts to overthrow our government and install a Trump dictatorship. These elected officials, Republicans all, have repeatedly betrayed their oaths of office and demonstrated an utter lack of loyalty to this nation and its people. Their seditious and treasonous behavior, which directly resulted in an attempt to violently overthrow the American government on Jan. 6, 2021, must never be forgotten.
Especially guilty of fomenting sedition are several prominent California congressmen. Chief among them: House Minority Leader Kevin McCarthy, R-Bakersfield, a soulless anti-democracy conspirator who would be glad to see this nation fall so that his political ambitions might live. He is joined by the following traitors to democracy who engaged in direct attempts to overthrow the results of the 2020 election:
Doug LaMalfa, R-Richvale
Tom McClintock, R-Elk Grove
Ken Calvert, R-Corona
Mike Garcia, R-Santa Clarita
McCarthy, LaMalfa, McClintock and Calvert all supported a Texas lawsuit to overturn Biden's victory. Garcia announced plans to vote against the certification of Biden's victory. All of their actions were designed to create the violent coup attempt that unfolded at the U.S. Capitol on Wednesday.
Their attempt to overthrow our democracy will fail — this time. But this is only the beginning of a new movement to overthrow the legitimacy of our political system and install an authoritarian government. If the despicable actions of these leaders and their violent shock troops go unpunished, they will try again. And next time they might succeed at destroying democracy and the rule of law.
Regardless of whether you are a Democrat or a Republican, a liberal or a conservative, we must all agree on one thing: the results of our elections are sacred and essential to the freedom we hold dear as Americans. Trump lost a fair and free election, even losing in Republican states like Arizona and Georgia. Voters across the nation, and in traditionally conservative states, have handed Trump's Republican Party a stinging repudiation.
In this country, losing political parties must win arguments and win elections to win power. The Republican Party is clearly losing its ability to win by the rules, and some of its leaders have made it clear that they are open to winning through violence and overthrow.
President Biden, House Speaker Nancy Pelosi and soon-to-be Senate Majority Leader Chuck Schumer must recognize the seriousness of the threat and resist any attempt to move forward and pretend this didn't happen. The Republican Party launched an attack "on the citadel of liberty," said Biden on Wednesday.
These Republican leaders failed in their coup attempt. Now they and their supporters must be held accountable to the fullest extent of the law.
As Thomas Friedman wrote the other day, Never Forget the Names of These Republicans Attempting a Coup:
If I were the editor of this newspaper, I'd print all of their pictures on a full page, under the headline: "Never Forget These Faces: These Lawmakers Had a Choice Between Loyalty to Our Constitution and to Trump, and They Chose Trump."
The New York Times made an effort to follow Friedman's advice with this piece, The 147 Republicans Who Voted To Overturn Election Results: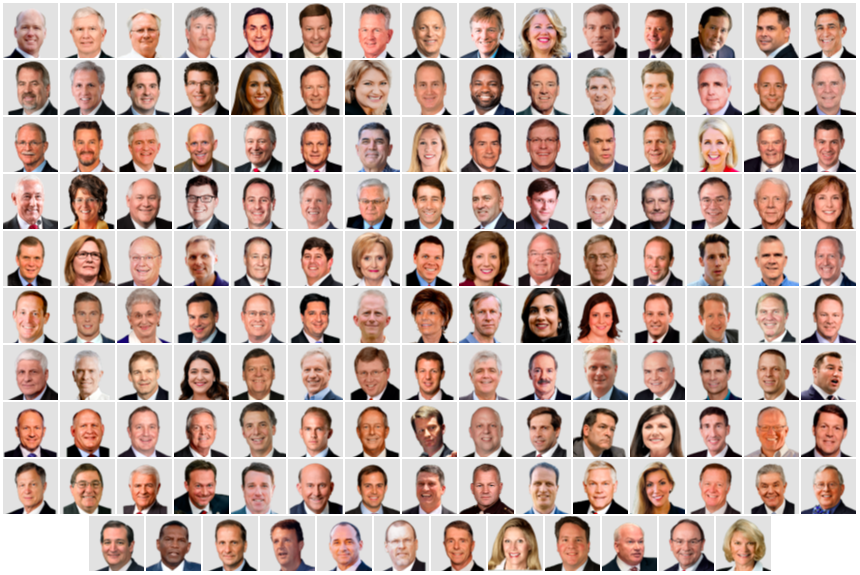 You will note that all four Arizona Republican members of Congress participated in this seditious act: Reps. Andy Biggs, Paul Gosar, Debbie Lesko and David Schweikert (top row). All four should face expulsion from Congress and disqualification from ever serving in political office ever again. Invoke the 14th Amendment, Section 3.