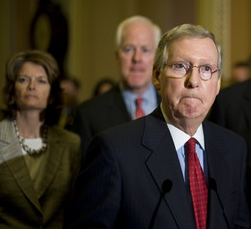 The Septuagenarian Ninja Turtle, Mitch McConnell, has lost control of his Tea-Publican Caucus again. He is a leader not to be feared, or even respected apparently. Ted Cruz calls Mitch McConnell a liar on the Senate floor.
The Turtle Man had to cave to his Tea-Publican crazy caucus and scheduled a rare Sunday session today so that they can vote to repeal the Affordable Care Act aka ObamaCare yet again, and to give Ted "Calgary" Cruz another chance to call McConnell a liar and to preen before the C-Span cameras in a prelude to the GOP presidential primary debate on August 6.
All of this may imperil the passage of the Highway bill, for which there is no agreement between the Senate which produced a a six year funding bill, Senate Moves Forward on 6-Year Highway, Transit Bill, and the House which could only agree to a short-term extension of funding, and flatly rejects the Senate version and its proposed add-ons. House GOP, Dems voice strong opposition to Senate Highway bill. Federal highway funding will expire on July 31.
U.S. News & World Report reports, Sunday in the Senate: Health care and lending bank on agenda:
It's a rare Sunday session for senators, and on the agenda are efforts to repeal President Barack Obama's health care law and reviving the federal Export-Import Bank.
Both are amendments to a must-pass highway bill that the Senate is trying to complete ahead of a July 31 deadline. If Congress doesn't act by then, states will lose money for highway and transit projects in the middle of summer construction season.
Republicans have voted numerous times to repeal all or part of Obama's health law, and their latest effort is not expected to attract the 60 votes needed to move forward. But Senate Majority Leader Mitch McConnell, R-Ky., said he was bringing it to a vote as a sweetener for Republicans, who also will have to vote on renewing the Export-Import Bank.
The little-known federal agency makes and guarantees loans to help foreign customers buy U.S. goods. The bank has become a rallying cry for conservatives, who oppose it as corporate welfare. But the bank commands the votes to prevail in the Senate, thanks to support from Democrats and some Republicans whose states are home to large employers such as Boeing and Caterpillar that sell worldwide. McConnell committed several weeks ago to allowing the bank to come to a vote on the highway bill.
"Ex-Im shouldn't be the only vote we take on this bill, and under the compromise I just filed, it won't be," McConnell said Friday as he set up the votes. "First, it allows a vote on an amendment to reauthorize the Ex-Im Bank, something nearly every Democrat wants. Second, it allows a vote on an amendment that would repeal Obamacare, something nearly every Republican wants, and something we will continue to fight for."
"That's a much fairer way forward," said McConnell.
But McConnell's move drew an extraordinary denunciation from fellow Republican Sen. Ted Cruz of Texas, a presidential candidate. Cruz dismissed the health care vote as a meaningless "show vote" and accused McConnell of lying to him in denying that the leader had made a deal to bring the Export-Import Bank to a vote.
Cruz's inflammatory comments on the Senate floor Friday, which McConnell ignored, suggested that bank opponents will not go down without a fight.
Even if supporters prevail in adding the bank to the highway bill in the Senate, the legislation faces an uncertain future in the House, where there's strong opposition to the bank as well as to the underlying highway measure.
The Senate's version of the highway bill, which is on track to pass later in the week, sets policy and authorizes transportation programs for six years.
The House has passed a five-month extension of transportation programs without the Export-Import Bank attached, and House leaders of both parties are reluctant to take up the Senate's version.
 Keep in mind what is really important to these yahoos: Congress is entering its final days of legislative work before its annual August recess. None of the 12 appropriations bills are completed, and there are numerous other important legislative matters hanging fire, but Congress wants to take a month-long recess and come back in September when it can engage in manufactured crises and threaten a government shutdown.
Here's a novel  idea: cancel the August recess and do your damn job!
GOP leadership has sworn that there will not be a government shutdown on their watch, after having shut down the government several times themselves in recent years. Speaker Boehner acknowledged on Thursday that the House and Senate were headed toward funding the government through a continuing resolution. Boehner Admits CR Is Fate of Appropriations (Video).
But given the fact that the Turtle Man and and the TanMan, Weeper of the House John Boener, have repeatedly demonstrated that they cannot control their Tea-Publican crazy caucus, there is little reason to believe that they can manage these manufactured crises and prevent a government shut-down in September.
UPDATE: So how did the Sunday session turn out?
Senate's ObamaCare repeal effort falls short:
The Senate on Sunday rejected a GOP-led amendment to repeal ObamaCare that fell several votes short of a 60-vote threshold to advance.
The largely symbolic vote, which was attached to a three-year highway funding bill, marked the Senate's first attempt to repeal ObamaCare since Republicans took control of the chamber in January.
The measure had been certain to fail, lacking support from any Democrats. The final vote was 49-43 along party lines, with eight senators not voting.
Several Republican senators blasted it as a "show vote" that was intended to appease conservatives angry about a planned vote to reauthorize the Export-Import Bank.
Over objections from conservatives, the Senate voted 67-26 to end debate on a measure to add language reauthorizing the bank's charter to federal highway spending legislation. A vote to formally add the language to the highway bill will come later this week.
The measure extending the bank's charter for five years was offered by Sen. Mark Kirk (Ill.), one of the most vulnerable Senate Republicans up for reelection next year.
The vote split Senate Republicans.
All of the 26 no votes came from the GOP, while 24 Republicans voted to move forward with reauthorizing the bank.
No Democrats voted agains the bank. Democratic presidential candidate Sen. Bernie Sanders (I-Vt.) opposes the bank but missed Sunday's vote to campaign.
* * *
House conservatives oppose reauthorizing the bank and House Republicans have also raised objections to the five-year highway spending bill, meaning the legislation faces an uncertain future in the House.
Bonus Points: Senate blocks Cruz push to tie Iran deal to highway bill:
On Friday Cruz, who is running for president, was blocked from offering an amendment to the highway bill that would have prevented President Obama from lifting some sanctions until Iran supports Israel and releases Americans currently held in the country.
But because McConnell had "filled the tree," a procedural move that blocks further amendments, Cruz's maneuver was ruled "not in order."
Republicans suggested ahead of Sunday's vote that while they were opposed to the Iran nuclear deal, Cruz's effort would effectively throw out the Senate's rulebook if successful.
* * *
Senators originally moved for a roll call vote, but Cruz wasn't able to get a "sufficient second," requiring the support of 10 other senators.
* * *
Senators, by a voice vote, upheld the ruling of the Senate chair.
Extra Bonus Points: Senate blocks Lee's vote to defund Planned Parenthood:
Sen. Mike Lee (R-Utah) was rebuked by his Senate colleagues on Sunday as he tried to force a vote on defunding Planned Parenthood.
Lee had tried to attach an amendment eliminating all federal funds for Planned Parenthood to the vote on Congress's must-pass highway legislation.
The amendment was rejected by the chair of the Senate, who called it out of order because it was not germane to the highway bill.
Senate Majority Leader Mitch McConnell (R-Ky.) decided last week that he would only allow two amendments to the bill – a repeal of ObamaCare and a reauthorization of the Export-Import bank – while blocking all others in a procedure known as "filling the tree."
Lee attempted to override the decision, but couldn't get the support of 10 other senators.
Teabaggers Ted Cruz and Mike Lee had a really bad day.