Special Counsel Robert Mueller is scheduled to testify publicly before Congress on July 17. Republicans in Congress want to distract the public by focusing their attacks on "investigating the investigators" who investigated the Trump campaign's contacts with Russia-linked operatives — not the Russian interference in the 2016 campaign. (As long as it inures to their benefit, Republicans don't care).
It should be noted that the Trump administration has already systematically fired or forced into retirement every intelligence agent and FBI agent who was initially involved in the investigation, in a retaliatory slow-motion Saturday night massacre. In many cases, the Trump administration coordinated with their propagandists at FOX News aka Trump TV to smear these investigators with wild conspiracy theories in an effort to discredit them and to tarnish their professional careers. This is the real conspiracy to obstruct justice.
Republicans have been plotting with their conservative media entertainment complex for years to spin the conspiracy theory of a "deep state coup" against Donald Trump to prevent him from becoming president, or to take him down afterward if he did.
Under this conspiracy theory, the 272 contacts between Trump's team and Russia-linked operatives, including at least 38 meetings, were not sufficient to have warranted anyone in the intelligence community or the FBI to "spy on" (surveil) the Trump campaign for suspicious activity with a hostile foreign government.
As Donald Trump told George Stephanopoulos last month, "there isn't anything wrong with listening," taking information from a hostile foreign power, and Trump did not and would not alert the FBI in 2020. (As long as it inures to his benefit, Trump does not care). So much for his duty to defend the country against attacks from a hostile foreign power.
To bolster their attacks on "investigating the investigators," Republicans in Congress ordered a DOJ inspector general report that was supposed to have been released sometime in June, and Attorney General William "Coverup" Barr has ordered his own "review" of the intelligence community into the origins of the Russia investigation (all he has to do is actually read the Mueller Report).
As Greg Sargent of the Washington Post reports, Trump's co-conspirators and accessories to obstruction of justice have run into a snag in their evil plans. William Barr's shilling for Trump may have just hit a snag:
President Trump's allies accessories have invested a great deal in an ongoing examination of the origins of the Russia investigation that is currently being conducted by the Justice Department's inspector general, Michael Horowitz. The idea is that this internal examination will finally reveal that law enforcement acted corruptly by undertaking surveillance of a Trump campaign adviser as part of its investigation into a foreign attack on our political system.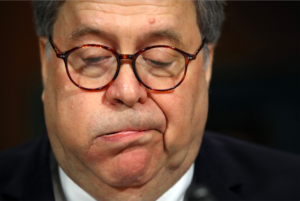 Trump's attorney general, William P. Barr, also appears heavily invested in that narrative. He has lent credibility to the idea that law enforcement engaged in "spying" on the Trump campaign, thus insinuating that this surveillance was done to derail Trump's candidacy. Barr, too, is examining the genesis of that probe.
But this whole narrative may have taken a new hit.
Reuters reports that lawyers working with the Justice Department inspector general have interviewed former British spy Christopher Steele. He is a longtime target of Trump's allies, who claim the Steele dossier (which alleged collusion and made other lurid claims) improperly served as the foundation for the original Russia-related FBI investigation — primarily via its use to justify an application to surveil former Trump adviser Carter Page.
But as Post fact checker Salvador Rizzo has shown, that whole narrative is wildly exaggerated and largely false in multiple ways.
Trump allies accessories have also used the Steele dossier to undermine the Russia investigation's credibility by claiming that the Hillary Clinton campaign paid for that research and used it to engineer an FBI investigation of Trump's campaign, which is also basically pure nonsense on every level.
Still, the original surveillance application on Page appears to be a critical focus of the Justice Department's inspector general.
But, intriguingly, Reuters reports that one source familiar with the interview of Steele says that the lawyers working with the inspector general found Steele to be surprisingly credible:
One of the two sources said Horowitz's investigators appear to have found Steele's information sufficiently credible to have to extend the investigation. Its completion date is now unclear.
The Reuters story doesn't give us enough information to really understand what this means. But Politico's Natasha Bertrand followed up with some good reporting, bringing us additional details from sources familiar with the interview:
The extensive, two-day interview … delved into Steele's extensive work on Russian interference efforts globally, his intelligence-collection methods and his findings about Trump campaign adviser Carter Page, who the FBI ultimately surveilled. …
The interview was contentious at first, the sources added, but investigators ultimately found Steele's testimony credible and even surprising. The takeaway has irked some U.S. officials interviewed as part of the probe — they argue that it shouldn't have taken a foreign national to convince the inspector general that the FBI acted properly in 2016.
… The extensive interview with Steele, and the investigators' sense that he offered new and important information, may dampen expectations among the president's allies who've claimed that Steele's sensational dossier was used improperly by the bureau to "spy" on the campaign.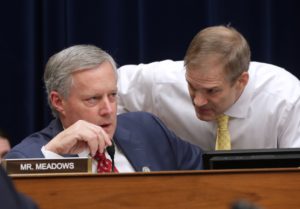 What's funny here, in a morbid sort of way, is the idea that this might dissuade Trump's allies even for a second in their quest to use the Steele dossier to undermine the Russia investigation's legitimacy. It will not, of course — Horowitz's findings will be spun into proof that the entire probe was criminal to its core, no matter what Horowitz actually determines.
Indeed, there's no telling just how far Barr may end up going when it comes to hyping the conclusions of his own internal review in order to achieve that delegitimization.After all, Barr has already raised serious suspicions in this regard, by releasing a summary of the special counsel's findings that misrepresented them in multiple, staggeringly dishonest ways.
What's more, Barr has also suggested that Trump's "witch hunt" language is reasonable, and has called on us to appreciate how victimized Trump felt by the probe when evaluating his efforts to obstruct it. In other words, Barr is basically trying to legitimize Trump's thoroughly corrupt attacks on Barr's own Justice Department. So when it comes to what Barr might say about the conclusions of his own internal review into law enforcement's conduct, all bets are plainly off.
We still don't know what the inspector general's internal review will turn up, to be sure. But it appears at least possible that it will undermine Trumpworld's alt-narrative that the only real crime was the investigation itself. This wouldn't be surprising, given that so many other promised revelations along those lines ended up crashing and burning.
If so, Barr may nonetheless continue to push that alt-narrative, needless to say, but it might be an even tougher sell with the public.
William "Coverup" Barr cannot get out in front of Inspector General Horowitz's report, or he would appear to be putting his thumb on the scale (not that this corrupt partisan hack much cares, given his outrageous conduct to date).  And Horowitz's report appears not to be ready before Robert Mueller's scheduled testimony next week.
Barr, who previously said he had no problem with Mueller testifying before Congress, has now changed his tune in appears a panic. On Monday, he suggested that Mueller could defy the subpoenas of Congress, with the DOJ's support (more obstruction of Congress). Barr said Mueller shouldn't 'subject himself' to testimony before Congress:
Attorney General William Barr said Monday that he doesn't believe former special counsel Robert Mueller should have to "subject himself" to testifying before Congress about the Russia investigation.
During an interview with the Associated Press, Barr accused Democrats of trying to create a "public spectacle" by interviewing Mueller.
"I'm not sure what purpose is served by dragging him up there and trying to grill him," Barr told the AP. "I don't think Mueller should be treated that way or subject himself to that, if he doesn't want to."
Muller is testifying in open session before the House Judiciary and Intelligence Committees on July 17. The former special counsel has given no indication that he will not appear as planned to testify.
Barr himself has been held in civil contempt by the House for refusing to adhere to a subpoena and produce the unredacted Mueller report and its underlying evidence.
House Democratic leaders also plan to move forward with criminal contempt proceedings for William Barr, Wilbur Ross over census records.
Not since the Nixon era has there been so much corruption and abuse of power in an administration.