I have from time to time referred to our radical Republican-controlled Arizona legislature as the "Alabama of the West." Alabama is without question the most ignorant and regressive backwater in America, and has been forever, but occasionally the Arizona legislature gives Alabama a challenge to its title.
This week Alabama reclaimed its title. Just as Alabama engaged in massive resistance to federal civil rights laws and court ordered desegregation, it is now engaged in massive resistance to U.S. Supreme Court decisions recognizing a woman's constitutional right to privacy in reproductive decisions (Griswold), and a constitutional right to an abortion (Roe). In defiance of these decades-old court precedents, the Alabama legislature voted to criminalize all abortions without exceptions for rape or incest, and to subject doctors who perform abortions to prosecution and imprisonment for murder.
And as you might have imagined, Every Vote For Alabama's Abortion Ban Was From A White Man:
The Alabama state Senate passed the country's strictest abortion bill this week in a 25-6 vote ― and as many people noted, all 25 of those "yes" votes came from white male senators. All Republicans.
"These 25 men, who will never be pregnant, just legislated more rights to rapists than to women, girls & victims of rape/incest," Nahanni Fontaine, a member of the Legislative Assembly of Manitoba in Canada, tweeted Wednesday alongside an image of the state senators.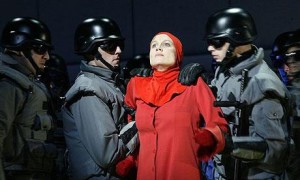 The Human Life Protection Act, passed Tuesday night, is an extreme anti-abortion measure that bans the procedure in all cases, including rape and incest. The only exception to the legislation is if the life of a pregnant woman is at risk.
If Gov. Kay Ivey (R) signs the bill into law, performing an abortion procedure would become a felony offense punishable by a minimum sentence of 10 years in prison. Ivey has not publicly stated whether she will sign the bill.
She will sign it. This is part of a national legal/political strategy of the so-called Christian Right.
UPDATE: The ink hadn't even dried on the bill before Gov. Kay Ivey signed it. Alabama governor signs nation's most restrictive anti-abortion bill into law. Ivey noted in her signing statement that the new law may be unenforceable due to the Supreme Court's Roe V. Wade decision that legalized abortion in all 50 states. But, the new law was passed with the aim of challenging that decision, Ivey said.
The legislation would go into effect within six months of the governor's signature.
Of the 27 Republicans in the state Senate, 25 voted to pass the bill and two did not vote. Amendments introduced by the state's only four female senators were all dismissed.
Many people on Twitter noticed the irony of a group of male politicians legislating women's bodies.
"25 white men in Alabama, who can never get pregnant, decided that rapists' rights are more important than the rights of the women and girls they've raped," Twitter user OhNoSheTwitnt wrote.
If passed into law, the bill would disproportionately affect marginalized women, particularly poor women of color who already struggle to afford safe abortions.
"Wealthy women will still be able to afford access to a safe abortion, in secret, regardless of a ban," Guardian reporter Rossalyn Warren pointed out on Twitter. "Yes the law in Alabama is an attack on women ― but more specifically, it's an attack on poor and marginalised women."
Rolling Stone senior writer Jamil Smith argued that the abortion ban will "put a lot more black women in prison than anyone else."
Alabama is only the latest state to pass an extreme anti-abortion measure. Just this year, Ohio, Kentucky, Georgia and Mississippi have passed laws banning abortion after six weeks, a point at which many women don't even realize they're pregnant. And Texas lawmakers are considering the death penalty for any woman who undergoes an abortion procedure.
Before the vote, the ACLU of Alabama warned the legislature what happened the last time that they enacted an unconstitutional restriction on the constitutional right to an abortion.
The Alabama legislature has never been successful in court defending its unconstitutional restrictions on the constitutional right to an abortion. The ACLU of Alabama promises to sue if Gov. Kay Ivey signs this facially unconstitutional ban on all abortions.
The ACLU this week also sued the state of Ohio for it's Six-Week Abortion Ban:
The American Civil Liberties Union filed a lawsuit on Wednesday challenging Ohio's six-week ban on abortion, opening up the latest front in a multi-state legal fight over laws that ban abortion after a fetal heartbeat is detected.
Republican Gov. Mike DeWine signed one of the most restrictive abortion laws in the country in mid-April. The law, called "heartbeat legislation," bans nearly all abortions after the fetus's heartbeat can be seen or heard, usually after about six weeks of pregnancy — before most women are aware they are pregnant. The law also has no exemptions for rape or incest.
Ohio was the sixth state to adopt a six-week ban, joining Georgia, Iowa, Kentucky, North Dakota, and Mississippi, but these laws have either been blocked in court or haven't taken effect yet. The Ohio law is set to take effect July 10; the ACLU is seeking an immediate court order delaying the start date while the lawsuit goes forward.
Note: U.S. District Judge Joseph H. McKinley Jr. on Friday struck down a Kentucky abortion law that would halt a common second-trimester procedure to end pregnancies. The state's anti-abortion governor Matt Bevin (R) immediately vowed to appeal to the 6th U.S. Circuit Court of Appeals. Federal Judge Strikes Down Kentucky Abortion Law. ACLU attorney Alexa Kolbi-Molinas said the judge's ruling "affirms that health, not politics, will guide important medical decisions about pregnancy." All These Six-Week Abortion Bans Are Likely To Get Blocked By The Courts. That's The Point.
The ACLU, which filed the lawsuit on behalf of Planned Parenthood and other reproductive health providers on Ohio, estimates that the state's law would prohibit 90 percent of abortions performed in the state. The group is arguing that the law violates women's right to privacy under the Fourteenth Amendment.
Health care providers who violate the Ohio law would face up to a year in prison and a $2,500 fine, and they could face even stiffer fines from the state medical board and lose their license.
Ohio's legislature passed similar measures twice before, but they were vetoed both times by the state's former Republican governor John Kasich. This session, the state's Republican legislators passed the bill again, confident their new governor, DeWine, would act in their favor.
Model heartbeat bills were originally circulated by fringe anti-abortion groups in 2013, but the legislative push has picked up speed over the past year.
Many women do not know they are pregnant before six weeks — pregnancies are measured from the date of a woman's last period, not the date of conception — making these laws a nearly complete ban on abortion in many cases. Ohio's law includes an exception only if the mother's life is threatened or she faces serious bodily harm from carrying the pregnancy to term.
Courts in Iowa, Kentucky, and North Dakota have blocked similar laws so far. Most anti-abortion politicians and activists are aware that these bills have no chance of becoming law in their state or surviving lower court review, but they're pushing them in an effort to get the issue back before the Supreme Court. The ultimate goal is to convince the justices to overturn or greatly weaken Roe v. Wade, the 1973 Supreme Court decision that legalized abortion nationwide under the Fourteenth Amendment.
In the Ohio lawsuit, the ACLU quoted DeWine saying that he was signing the law in an effort to advocate for "reversal of existing legal precedents."
These states are engaged in "massive resistance" to U.S. Supreme Court decisions recognizing a woman's constitutional right to privacy in reproductive decisions (Griswold), and a constitutional right to an abortion (Roe).
Actually, not so "massive." Republican Christian Right fundamentalists, or the "Sons of Jacob" if you prefer, who support banning all abortions represent a small minority of less than 20 percent of the public consistently over several decades, per Gallup.
But this small minority, the "Sons of Jacob," believe that Justice Kavanaugh is the fifth vote to overturn Roe v. Wade (1973) (recognizing a right to privacy under the Due Process Clause of the 14th Amendment for a woman's decision to have an abortion), and by logical extension the earlier privacy precedent, Griswold v. Connecticut (1965), (recognizing a right of privacy to be found in the "penumbras" and "emanations" of other constitutional protections, establishing the basis for the "right to marital privacy" with respect to intimate practices, i.e., contraception). The "Sons of Jacob" are doing everything they can to push lawsuits up to the U.S. Supreme Court for what they believe will be their inevitable "victory."
They may be right. Justice Stephen Breyer hits the panic button for Roe v. Wade. A small minority of religious zealots may succeed in taking away the constitutional rights of more than half of the population simply because they are women with a womb.
"In the end, abortion is an issue of fundamental human rights. To force women to undergo pregnancy and childbirth against their will is to deprive them of the right to make basic decisions about their lives and well-being, and to give that power to the state." – Katha Pollitt.
UPDATE: The news media have long allowed conservative religious voices to dominate the national conversation on abortion, but progressive clergy have been part of the movement to advance reproductive rights since before Roe v. Wade legalized abortion in 1973. Progressive Women Of Faith Decry Restrictive Abortion Bills As Immoral:
Members of the Religious Coalition for Reproductive Choice, an interfaith group that advocates for abortion rights and is based in Washington, D.C., said that Alabama's "uncommonly harsh" bill was an affront to their religious convictions.
"These laws are designed and supported by elected officials who speak of their conservative Christianity as though it were the only authentic religious point of view. It isn't," the coalition said in a statement.
"We are Christians, Jews, people of other faiths and of no faith, and we demand accountability from our elected officials in protecting religious liberty, which requires ensuring that no one set of religious beliefs is ever imposed on us all.  That's our right as Americans."