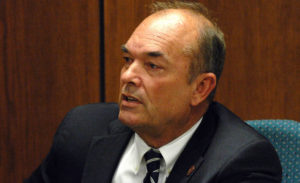 The Arizona legislature is about to be consumed by the sexual harassment ethics complaint filed by Rep. Michelle Ugenti-Rita against Rep. Don Shooter. Unbelievably, there was no formal, written policy in the House of Representatives available to legislators detailing how to respond to sexual harassment claims. Rules, enforcement lacking to prevent sexual harassment among lawmakers.
So the House has now drafted its first sexual harassment policy ex post facto to address the sexual harassment ethics complaint against Rep. Don Shooter. But that draft policy does not go far enough. No LGBT protections in Arizona Legislature's new harassment rules:
When Arizona House Speaker J.D. Mesnard released a new harassment policy this week, members of the Legislature's LGBT caucus felt something was missing.
The policy prohibits workplace discrimination in the Arizona House of Representatives based on someone's race, age, national origin, religion, sex, disability or veteran status, among others.
Not included in that lengthy list: protections for House members or their staffers who might face discrimination for being lesbian, gay, bisexual or transgender.
NOTE: The Arizona Civil Rights Act does not provide for express protections for sexual orientation and gender identity. A bill has been introduced in the Arizona legislature every year since at least 1994 to add sexual orientation and gender identity to the Arizona Civil Rights Act but only once, to the best of my recollection, has a bill ever received a committee hearing. It has always been opposed by GOP leadership, because it is opposed by the religious right Center for Arizona Policy.
State Rep. Daniel Hernandez, D-Tucson, said he and other members of the recently formed LGBT caucus are going to push to change that.
Hernandez said while the policy allows anyone to report instances of sexual harassment, the portion dealing with discrimination should be amended to include sexual orientation and gender identity.
"I would like to see that it gets spelled out," he said, "just so there isn't confusion or issues later on."
The Arizona Republic editorializes today, Our View: Fix this law if Arizona truly wants to tackle harassment:
Arizona lawmakers deserve credit for responding to allegations of sexual harassment by retooling anti-harassment policies in both the House and Senate.
But the changes, which don't go far enough, reveal major flaws in state anti-discrimination laws.
First some kudos to legislative leadership for stepping up to meet a challenge.
After allegations of sexual harassment, legislative leadership revising policies to make it clear that people deserve to work and contribute to this state in an atmosphere free of hostility and harassment.
But they left out some people.
LGBT protections could be included
They did not include protections based on both sexual orientation and gender identity.
Anything less is not good enough.
This raises an interesting dilemma because the state's own laws against discrimination do not cover sexual orientation or gender identity.
This is an anachronistic relic of less enlightened times. But it is more than an oversight.
There have been efforts to update Arizona's anti-discrimination laws to include LGBT individuals.
Lawmakers mistakenly rejected those efforts.
This is because of the undue influence of Arizona's religious right over the Arizona legislature, led by Trent Franks, Len Munsil, and more recently, Cathi Herrod of the Center for Arizona Policy, "Arizona's 31st Senator." These lobbyists have steadfastly opposed any rights or protections for sexual orientation and gender identity under Arizona law.
It should be noted that the federal Civil Rights Act of 1964, as amended, also does not provide for express protections for sexual orientation and gender identity.
Earlier this year the 7th Circuit Court of Appeals in an 8-3 decision, ruled for the first time, that the federal Civil Rights Act of 1964, as amended, extends to sexual orientation, marking a major workplace victory for gays and lesbians. Federal appeals court: Civil rights law covers LGBT workplace bias:
"It is actually impossible to discriminate on the basis of sexual orientation without discriminating on the basis of sex," Chief Judge Diane Wood wrote for the majority. "It would require considerable calisthenics to remove the 'sex' from 'sexual orientation.'"
Earlier this month the U.S. Supreme Court rejected an appeal from the 11th Circuit Court of Appeals, leaving a split among the circuits. Supreme Court won't hear LGBT job discrimination case. The 11th Circuit held that the fight belonged in Congress, which "has not made sexual orientation a protected class."
The U.S. Supreme Court is widely expected to hear such a case in the near future because federal appeals courts are split on whether workplace discrimination laws protect sexual orientation.
House Speaker J.D. Mesnard is using that gap in Arizona law as the justification for excluding protections from the new anti-harassment policy in the House.
He has said the new House policy that does not mention sexual orientation or gender identity is "consistent" with state law.
It is also inadequate – as is the state law regarding discrimination.
Fix the policies, then fix Arizona law
The solution is clear: Mesnard should fix the policy.
Then he should work on fixing the state law.
The Senate's retooled ethics policy got closer to what's needed.
That chamber's updated policy prohibits face-to-face conduct, as well as posting cartoons, pictures or calendars, that could constitute an insult based on race, color, religion, sex, pregnancy, sexual orientation, national origin, age or disability.
That is a strong statement against behavior that can create a hostile work environment. It specifically includes sexual orientation, which covers people who can be targets of slurs and cruel comments.
It does not, however, include gender identity.
That is an odd omission considering how much time at the Legislature has spent debating [Center for Arizona Policy drafted] "bathroom bills," which can lead to discussions that express open hostility toward transgender people.
Arizona lawmakers are well aware people are no longer hiding their orientation or identity. It takes courage for those who have been discriminated against to stand up and demand to be accepted for who they are.
Only 1 way to ensure all are protected
Our state's lawmakers need to show the decency – and courage – to make sure they feel welcome and respected.
Senate President Steve Yarbrough has said his intent is not to leave anyone out. Wendy Baldo, chief of staff for the Senate Republican majority caucus, has said the intent is "zero tolerance" for all forms of discrimination.
Fine. We don't challenge their intent or sincerity.
But future Legislatures might not be so committed to fairness.
Rather than rely on the goodwill of future leaders, the Senate should add "gender identity" to its ethics policy.
Then Yarbrough should join Mesnard in leading the Legislature to include sexual orientation and gender identity in the state's anti-discrimination laws.
This should be a priority when lawmakers meet in 2018.
It is time for Arizona to join the 21st Century. But for religious bigotry, this legislation is a no-brainer.