The next critical issue this country must address is whether or not to reopen schools for the next school year during an out of control coronavirus pandemic that is exponentially growing worse every day (Florida reported 15,299 confirmed coronavirus cases on Sunday — a new single-day record for any state, according to its health department).
Education Secretary Betsy DeVos told "Fox News Sunday" that public schools that don't reopen in the fall should not get federal funds, and that the money should be redirected to families who can use it to find another option for their children.
In other words, DeVos is following Rahm Emanuel's old advice, "You never want a serious crisis to go to waste. And what I mean by that [is] it's an opportunity to do things that you think you could not before."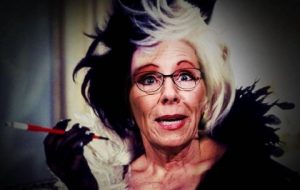 Cruella De Vil wants to use the coronavirus pandemic to further her goal of destroying public education and turning it into a for-profit private education system off which millionaires like the DeVos family can make a tidy profit. She has zero concern for the health and safety of children. Well, other than the the children of parents who can afford to send their kids to her private for-profit schools.
The Trump death cult killed your grandma with its ignorance, incompetence and indifference to human life during this pandemic, now they are coming for your children and educators.
House Speaker Nancy Pelosi said on CNN's "State of the Union" Sunday that Education Secretary Betsy DeVos' aggressive push to fully reopen schools this fall is "malfeasance and dereliction of duty," accusing the Trump administration of "messing with the health of our children."
"The president and his administration are messing with the health of our children. We all want our children to go back to school. Teachers do, parents do and children do. But they must go back safely."
"And when we hear what the administration is saying, we know they have no appreciation for the failure that has brought us to this point. Going back to school presents the biggest risk for the spread of the coronavirus. They ignore science and they ignore governance in order to make this happen."
"If there are CDC guidelines, they should be requirements. But most importantly, and I hope the Republicans will join us, we have to call upon the president to implement the Defense Protection Act so that we can have the PPE, the personal protective equipment, as well as the testing equipment and equipment to evaluate the tests."
Nancy Pelosi is correct. The New York Times reported this week, As Trump Demanded Schools Reopen, His Experts Warned of 'Highest Risk':
Federal materials for reopening schools, shared the week President Trump demanded weaker guidelines to do so, said fully reopening schools and universities remained the "highest risk" for the spread of the coronavirus.
The 69-page document, obtained by The New York Times and marked "For Internal Use Only," was intended for federal public health response teams to have as they are deployed to hot spots around the country. But it appears to have circulated the same week that Vice President Mike Pence announced that the Centers for Disease Control and Prevention would release new guidelines, saying that the administration did not want them to be "too tough." It is unclear whether Mr. Trump saw the document, nor is it clear how much of it will survive once new guidance is completed.
What is clear is that federal health experts are using a road map that is vastly different from what Mr. Trump wanted.
While it is mostly a compilation of C.D.C. documents already posted online, it includes reopening plans drafted by states, districts and individual schools and universities. And the package, from the Community Interventions and Critical Populations Task Force, is pointed.
"While many jurisdictions and districts mention symptom screening, very few include information as to the response or course of action they would take if student/faculty/staff are found to have symptoms, nor have they clearly identified which symptoms they will include in their screening," the talking points say. "In addition, few plans include information regarding school closure in the event of positive tests in the school community."
And its suggestions for mitigating the risk of school reopenings would be expensive and difficult for many districts, like broad testing of students and faculty and contact tracing to find people exposed to an infected student or teacher.
The debate about school reopenings comes as the virus is spreading at its fastest pace yet across the country, a trend some attribute to states reopening prematurely this spring on a timeline encouraged by Mr. Trump. Now some states are pausing their reopening plans and in some cases reimposing restrictions to contain the spread. Schools in California have had to cancel their plans for in-person classes as the virus surges.
Groups representing education leaders praised the document, saying after months of mixed messages from the federal government, the inclusion of specific plans could serve as a blue print for schools and families to help navigate the uncertainty that the fall will bring.
"What it tells us is left to its own devices, the C.D.C. can do a pretty good job in compiling a comprehensive document that shows the complexity of what institutions are facing," said Terry W. Hartle, a senior vice president of the American Council on Education, which represents 1,700 college and university presidents and higher education executives.
"The good news is, this is very thoughtful and complete," he added. "The bad news is, it's never been released."
[A]s President Trump and Education Secretary Betsy DeVos were trying to pressure local schools to comply with their reopening vision, the document was expressly saying the federal government should not override local judgment.
Since May, the C.D.C. website has cautioned that full reopening would be "highest risk," and that in both K-12 and higher education settings, the more people interact, "and the longer that interaction, the higher the risk of Covid-19 spread." The "lowest risk," the guidelines say, would be for students and teachers to attend virtual-only classes — an option the administration this week began a full-court press against.
The Trump White House is opposing the recommendations of its own administration.
Wednesday, Mr. Trump rejected the C.D.C. guidelines, calling them "very tough & expensive" on Twitter. Then Mr. Pence announced that the C.D.C. would issue new recommendations next week. "We just don't want the guidance to be too tough," he said.
Trump also tweeted, "The Dems think it would be bad for them politically if U.S. schools open before the November Election, but is important for the children & families. May cut off funding if not open!"
This malignant narcissist sociopath sees everything through the filter of how it may affect him politically, without any concern for the health and safety of any individual.
This dispute appears entirely focused on the children who attend school to me, with not enough attention being paid to the health and safety concerns of teachers and staff who will teach the children, those individuals who are most at risk.
Education Week maintains a memorial page for Educators We've Lost to the Coronavirus (updated July 1) (screenshot sample). There are already hundreds of victims of COVID-19. There will be many more.
The New York Times reports, 'I Don't Want to Go Back': Many Teachers Are Fearful and Angry Over Pressure to Return:
Many of the nation's 3.5 million teachers found themselves feeling under siege this week as pressure from the White House, pediatricians and some parents to get back to physical classrooms intensified — even as the coronavirus rages across much of the country.
On Friday, the teachers' union in Los Angeles, the nation's second-largest district, demanded full-time remote learning when the academic year begins on Aug. 18, and called President Trump's push to reopen schools part of a "dangerous, anti-science agenda that puts the lives of our members, our students and our families at risk."
Teachers say crucial questions about how schools will stay clean, keep students physically distanced and prevent further spread of the virus have not been answered. And they feel that their own lives, and those of the family members they come home to, are at stake.
"I want to serve the students, but it's hard to say you're going to sacrifice all of the teachers, paraprofessionals, cafeteria workers and bus drivers," said Hannah Wysong, a teacher at the Esperanza Community School in Tempe, Ariz., where virus cases are increasing.
School systems struggling to meet the financial and logistical challenges of reopening safely will need to carefully weigh teachers' concerns. A wave of leave requests, early retirements or resignations driven by health fears could imperil efforts to reach students learning both in physical classrooms and online.
On this point, the Arizona Capitol Times adds, Public schools brace for possible wave of teacher retirements:
While President Trump and his administration try to push schools across the country to reopen, Arizona is facing a situation where positive COVID-19 cases continue to skyrocket and teachers who don't feel safe returning to the classroom might retire.
School districts are worried about higher numbers of teachers opting for retirement instead of subjecting themselves to in-person classes while Arizona is facing an exponential increase in positive COVID-19 cases.
Gov. Doug Ducey delayed the first day of school until August 17, after education leaders throughout the state questioned whether Arizona was ready for in-person learning. Kristel Foster, the governing board president for Tucson Unified School District, said teachers and staff still don't want to return to schools until the number of cases start to decrease.
Foster said she was expecting a rather large number of teachers to file for retirement, but couldn't provide a rough estimate. Anecdotally, she said retirements seem likely to climb, but she's also hearing teachers considering taking a leave of absence or Family Medical Leave.
Leave of absence would be unpaid with no benefits, Foster said, but would still guarantee them a job after the leave is over. For medical leave, she said it depends on the situation.
"It feels like mayhem. It feels very unsafe and uncomfortable and I'm afraid our teachers may not come back," Foster of Tucson Unified School District said.
* * *
Chris Kotterman, the Arizona School Boards Association's director of governmental relations, said he's also hearing higher retirements are possible.
"A wave of retirement has been a concern for school districts for a number of years," Kotterman said, adding that the workforce is older.
A 2015 study from the Arizona Department of Education estimated that nearly a quarter of teachers would be eligible for retirement within four years.
"Whenever you have a challenge that sort of leads teachers to be less confident of their working conditions, that's a risk," he said.
Arizona already has a significant teacher shortage. A COVID-19 induced wave of retirements and sick leaves will greatly add to this shortage. There will not be enough teachers to maintain class sizes. (more below).
Returning to The Times:
On social media, teachers across the country promoted the hashtag #14daysnonewcases, with some pledging to refuse to enter classrooms until the coronavirus transmission rate in their counties falls, essentially, to zero.
Now, educators are using some of the same organizing tactics they employed in walkouts over issues of pay and funding in recent years to demand that schools remain closed, at least in the short term. It's a stance that could potentially be divisive, with some district surveys suggesting that more than half of parents would like their children to return to classrooms.
* * *
Many doctors, education experts, parents and policymakers have argued that the social and academic costs of school closures on children need to be weighed alongside the risks of the virus itself.
The heated national debate about how and whether to bring students back to classrooms plays upon all the anxieties of the teaching profession. The comparison between teachers and other essential workers currently laboring outside their homes rankles some educators. They note that they are paid much less than doctors — the average salary nationwide for teachers is about $60,000 per year — but are more highly educated than delivery people, restaurant workers or most staffers in child care centers, many of whom are already back at work.
Now, as teachers listen to a national conversation about reopening schools that many believe elevates the needs of the economy and working parents above the concerns of the classroom work force, many are fearful and angry. They point out that so far Congress has dedicated less than 1 percent of federal pandemic stimulus funds to public schools stretching to meet the costs of reopening safely.
The message to teachers, said Christina Setzer, a preschool educator in Sacramento, is, "Yes, you guys are really important and essential and kids and parents need you. But sorry, we don't have the money."
This has always been the message to teachers.
Teachers say many of their questions about how schools will operate safely remain unanswered. They point out that some classrooms have windows that do not reliably open to promote air circulation, while school buildings can have aging heating and cooling systems that lack the filtration features that reduce virus transmission.
Although many districts are spending millions this summer procuring masks, sanitizers and additional custodial staff, many teachers say they have little faith that limited resources will stretch to fill the need.
They also worry about access to tests and contact tracing to confirm Covid-19 diagnoses and clarify who in a school might need to isolate at home in the event of a symptomatic student or staff member.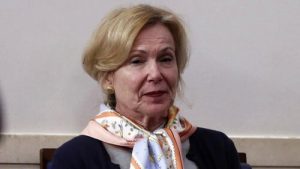 The C.D.C. has advised against regular testing in K-12 schools, but on Wednesday, Dr. Deborah L. Birx, the White House coronavirus response coordinator, said the Trump administration was exploring whether testing being developed for other vulnerable environments, like nursing homes, could be used in schools.
[A]fter major pushback from educator groups, who felt there was too little attention on the health risks for adults who work in schools, the Academy of Pediatrics joined with the two national teachers' unions on Friday to release a statement saying, "Schools in areas with high levels of Covid-19 community spread should not be compelled to reopen against the judgment of local experts."
In Arizona, Ms. Wysong, 30, said she was willing to return to her Tempe classroom; she is not in a high-risk category for complications from Covid-19 and her school caps classes at 15 students. But given the long-term teacher and substitute shortage in Arizona, which has some of the lowest educator salaries in the nation, she said she believed the overall system could not reopen safely with small enough class sizes.
With many teachers reluctant to return to work, according to polls, staffing will be a major challenge for districts across the country. So will ensuring the safety of educators and staff.
I can see the Trump administration trying to pit parents who want their children back in school against the teachers unions trying to protect the health and safety of its at risk members as a political ploy which Trump and Betsy DeVos would relish. These evil GOP bastards are truly shameless.