A highly anticipated House Intelligence Committee interview with Stephen Bannon has been postponed until next week the committee said on Tuesday, as negotiations continue over the terms of his appearance. Bannon's House Intel testimony postponed: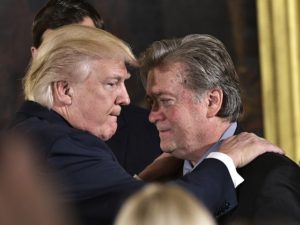 Bannon, the former White House chief strategist, was expected to skip his scheduled appearance Tuesday before the House Intelligence Committee, according to sources familiar with his plans. The move sets the stage for a showdown with lawmakers who had issued a bipartisan subpoena for his testimony.
"This is unacceptable, and the Committee remains united on this matter — the Committee's subpoena remains in effect and his interview has been rescheduled for next week. Testifying before the Special Counsel does not obviate Mr. Bannon's obligations under the subpoena issued by the Committee," Rep. Adam Schiff, D-California, the committee's ranking Democrat said on Tuesday in a statement. "Should Bannon maintain his refusal to return and testify fully to all questions, the Committee should begin contempt proceedings to compel his testimony."
Bannon was ordered to return to Capitol Hill Tuesday morning after a marathon meeting with the committee behind closed doors last month, where he refused to answer the committee's questions about his time working for Trump during the transition or in the White House.
Bannon declined to answer the questions in light of executive privilege concerns, a claim of privilege Rep. Adam Schiff, the panel's top Democrat, called "breathtaking."
Note: The President has not expressly asserted "executive privilege" over any conversations he had with Stephen Bannon in an advisory role. Instead, the White House is asserting that Bannon cannot answer any questions about his time on the Trump campaign, in the White House, and even after he was fired and left the White House: essentially imposing a "gag order." There is no recognized privilege for such a gag order. This is witness tampering and obstruction of justice. Let's just call this what it is.
Two sources close to Bannon tell ABC News that the committee has still not determined the proper scope of questioning with the White House, and that the White House has said its position "has not changed on declining to authorize Bannon to answer questions" about his time working for Trump, according to one of the sources.
That source noted Bannon is willing to discuss "anything and everything" with special counsel Robert Mueller.
The committee, in light of Bannon's expected absence, could move to hold him in contempt, beginning a process that could end in a full House vote authorizing GOP leaders to seek criminal charges against Bannon.
President Trump's lawyers are now asserting that he will not be interviewed by the Special Counsel after Trump has repeatedly said he was looking forward to testifying under oath for the Special Counsel. Yeah, no one saw this coming (I did).
The New York Times reports, In Russia Inquiry, Lawyers Tell Trump to Refuse Mueller Interview:
Lawyers for President Trump have advised him against sitting down for a wide-ranging interview with the special counsel, Robert S. Mueller III, according to four people briefed on the matter, raising the specter of a monthslong court battle over whether the president must answer questions under oath.
His lawyers are concerned that the president, who has a history of making false statements and contradicting himself, could be charged with lying to investigators. Their stance puts them at odds with Mr. Trump, who has said publicly and privately that he is eager to speak with Mr. Mueller as part of the investigation into possible ties between his associates and Russia's election interference, and whether he obstructed justice.
As Josh Marshall correctly notes, Trump To Plead the De Facto 5th:
The Times is reporting that the President's personal lawyers are recommending that he refuse to be interviewed or questioned by Robert Mueller's investigators under any circumstances. Let's be candid about what this means. The President is pleading the 5th while trying to avoid saying that's what he's doing. Let's call it the de facto 5th. The constitutional law is clear cut. It's not at all hypothetical. A sitting President has no blanket right to refuse to cooperate with a criminal investigation.
Mr. Trump's decision about whether to speak to prosecutors, expected in the coming weeks, will shape one of the most consequential moments of the investigation. Refusing to sit for an interview opens the possibility that Mr. Mueller will subpoena the president to testify before a grand jury, setting up a court fight that would drastically escalate the investigation and could be decided by the Supreme Court.
Mueller should just end this stonewalling and subpoena Trump to testify before the grand jury. Enough of this bullshit.
Rejecting an interview with Mr. Mueller also carries political consequences. It would be certain to prompt accusations that the president is hiding something, and a court fight could prolong the special counsel inquiry, casting a shadow over Republicans as November's midterm elections approach or beyond into the president's re-election campaign.
But John Dowd, the longtime Washington defense lawyer hired last summer to represent Mr. Trump in the investigation, wants to rebuff an interview request, as do Mr. Dowd's deputy, Jay Sekulow, and many West Wing advisers, according to the four people. The lawyers and aides believe the special counsel might be unwilling to subpoena the president and set off a showdown with the White House that Mr. Mueller could lose in court.
Mueller is not going to lose in court. There are judicial precents from the Clinton years that the president must testify in response to a subpoena, even before a grand jury. Times When a President Has Testified Under Oath. Clinton answered the Special Prosecutor's questions from the White House, his image and voice beamed out over closed-circuit television. There is no IOKIYAR exception.
More bullshit stonewalling from Trump's lawyers:
They are convinced that Mr. Mueller lacks the legal standing to question Mr. Trump about some of the matters he is investigating, like the president's role in providing a misleading response last summer to a New York Times article about a meeting Mr. Trump's son Donald Trump Jr. had with Russians offering dirt on Hillary Clinton. The advisers have also argued that on other matters — like the allegations that the president asked James B. Comey, then the F.B.I. director, to end the investigation into the former national security adviser Michael T. Flynn — the president acted within his constitutional authority and cannot be questioned about acts that were legal.
The order written by Rod Rosenstein establishing the special-counsel investigation is very broad. It states that the special counsel is "authorized to conduct the investigation" that  includes "any links and/or coordination between the Russian government and individuals associated with the campaign of President Donald Trump" as well as "any matters that arose or may arise directly from the investigation." Mueller Can Pursue Whatever Crimes He Uncovers.
Presidents have often agreed to speak with federal prosecutors who are investigating their actions or those close to them. But President Richard M. Nixon refused to turn over to the special prosecutor investigating him tapes of incriminating conversations with aides. The matter eventually went before the Supreme Court, which ruled in 1974 that the president, like every American, was not above the law and had to comply with the special prosecutor's request.
"The upshot of the Nixon tapes case was that any president is going to have an extremely hard time resisting a request from a law enforcement officer," said Neal K. Katyal, an acting solicitor general in the Obama administration and a partner at the law firm Hogan Lovells.
"In general," he added, "presidents do sit for interviews or respond to requests from prosecutors because they take their constitutional responsibility to faithfully execute the laws seriously, and running away from a prosecutor isn't consistent with faithfully executing the laws."
Just another count in the articles of impeachment.
UPDATE: POLITICO reports, Schiff: Bannon, Lewandowski defy committee's requests in Russia probe:
The top Democrat on the House Intelligence Committee said Wednesday that former White House chief strategist Steve Bannon is refusing to testify about his time on the post-election transition team and in the administration.
"The White House has limited his testimony to a set of fourteen yes-or-no questions they pre-approved," Rep. Adam Schiff (D-Calif.) said in a statement, describing a communication from Bannon's attorney about his participation in the committee's probe of Russia's role in the 2016 election.
Schiff said a second witness, former Trump campaign manager Corey Lewandowski, also indicated through an attorney that he won't make a second appearance before the committee, "despite an earlier pledge to do so."
"Neither Bannon nor Lewandowski have articulated legitimate grounds for refusing to appear and answer questions before Congress, and we fully expect them to return," Schiff said.
* * *
Schiff said it's now necessary to "enforce the subpoena on Bannon" — a call that could include seeking a contempt of Congress citation. He also called on the committee to subpoena Lewandowski to force his return to Capitol Hill.
"The Majority has committed to requiring both Bannon and Lewandowski to answer Committee questions and it is time that we move to do so," he said.
Doonesbury comic strip August 12, 1974.