The House on Tuesday approved a bill banning most abortions after 20 weeks of pregnancy, advancing a key GOP priority for the third time in the past four years — this time, with a supportive Republican president in the White House. The purpose of the bill is to create a direct legal challenge to Roe v. Wade, which provides for access to abortion in the first 24 weeks.  With Trump's backing, House approves ban on abortion after 20 weeks of pregnancy: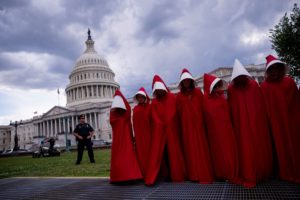 The bill, known as the Pain-Capable Unborn Child Protection Act, is not expected to emerge from the Senate, where most Democrats and a handful of moderate Republicans can block its consideration. But antiabortion activists are calling President Trump's endorsement of the bill a significant advance for their movement.
The White House said in a statement released Monday that the administration "strongly supports" the legislation "and applauds the House of Representatives for continuing its efforts to secure critical pro-life protections."
The bill provides for abortions after 20 weeks gestation only when they are necessary to save the life of the mother or in cases of rape or incest. Under the bill, abortions performed during that period could be carried out "only in the manner which, in reasonable medical judgment, provides the best opportunity for the unborn child to survive" — note, not the life of the mother — and would require a second physician trained in neonatal resuscitation to be present.
How Arizona's congressional delegation voted:
Stricter Abortion Ban: The House on Oct. 3 voted, 237-189, to outlaw abortions after 20 weeks of fertilization on the belief that the fetus can feel pain by then. This repudiates Roe v. Wade's ruling that abortion is legal up to viability that occurs at about 24 weeks or later. A yes vote was to pass HR 36
Voting yes: Martha McSally, R-2, Paul Gosar, R-4, Andy Biggs, R-5, David Schweikert, R-6, Trent Franks, R-8
Voting no: Tom O'Halleran, D-1, Raul Grijalva, D-3, Ruben Gallego, D-7, Kyrsten Sinema, D-9
Women's Health Exemption: The House on Oct. 3 defeated, 181-246, a bid by Democrats to add an overall woman's health exemption to HR 36 to go with exemptions already in the bill in cases of incest or rape or to save the mother's life. A yes vote was to permit abortions after 20 weeks if necessary to protect the mother's health.
Voting Yes: O'Halleran, Grijalva, Gallego, Sinema
Voting No: McSally, Gosar, Biggs, Schweikert, Franks
On Friday, the Trump Administration Rolls Back Birth Control Mandate:
The Trump administration on Friday moved to expand the rights of employers to deny women insurance coverage for contraception and issued sweeping guidance on religious freedom that critics said could also erode civil rights protections for lesbian, gay, bisexual and transgender people.
The twin actions, by the Department of Health and Human Services and the Justice Department, were meant to carry out a promise issued by President Trump five months ago, when he declared in the Rose Garden that "we will not allow people of faith to be targeted, bullied or silenced anymore."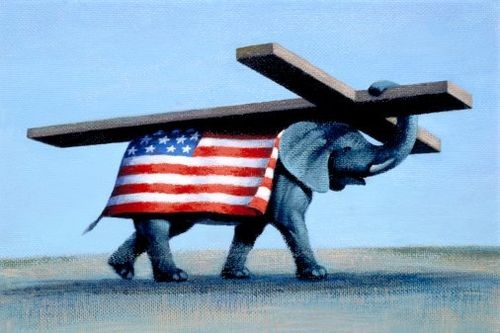 Attorney General Jeff Sessions quoted those words in issuing guidance to federal agencies and prosecutors, instructing them to take the position in court that workers, employers and organizations may claim broad exemptions from nondiscrimination laws on the basis of religious objections.
At the same time, the Department of Health and Human Services issued two rules rolling back a federal requirement that employers must include birth control coverage in their health insurance plans. The rules offer an exemption to any employer that objects to covering contraception services on the basis of sincerely held religious beliefs or moral convictions.
More than 55 million women have access to birth control without co-payments because of the contraceptive coverage mandate, according to a study commissioned by the Obama administration. Under the new regulations, hundreds of thousands of women could lose those benefits.
The contraceptive coverage mandate, issued by the Obama administration under the Affordable Care Act, removed cost as a barrier to birth control, a longtime goal of advocates for women's rights. But the mandate ensnarled the federal government in more than five years of litigation, which overshadowed many other aspects of the health care law.
The rules issued on Friday prompted more lawsuits and threats of lawsuits. The attorney general of Massachusetts, Maura Healey, and the attorney general of California, Xavier Becerra, filed lawsuits to block the new rules, which took effect immediately.
Both said the rules violated the First Amendment, which bars government action "respecting an establishment of religion."
* * *
The new initiatives came a day after Mr. Sessions changed the Justice Department's position on a related issue: whether a ban on workplace discrimination on the basis of "sex" in the Civil Rights Act of 1964 encompasses discrimination on the basis of gender identity. The Obama administration had adopted the view that it does cover transgender people, but Mr. Sessions said the department should take the position in court that it does not.
Mr. Sessions's guidance issued on Friday directs federal agencies to review their regulations with an eye to expanding their protections for religious believers. Conservative religious individuals and organizations have objected for years to nondiscrimination laws that have affected whom they can hire and fire, whom they can serve and how they can operate. The new directive affords them far broader latitude.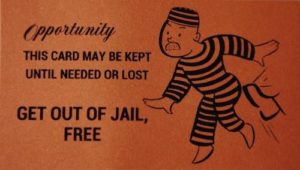 Tea-Publicans are crafting a broad exception to civil rights laws amounting to a "license to discriminate," or a "get out of jail free card" if you prefer, based upon an idividual's religious beliefs.
An individual could claim that his or her individual religious beliefs, a religion of one — and there are more of these people out there than you realize — as opposed to the doctrine of an established religious organization, is a matter of their religious belief to discriminate against others on the basis of race, color, national origin, age, sex, sexual orientation or sexual identity. This broad exception would swallow the rule of law. Sessions Issues Blatant 'License to Discriminate' With 'Religious Freedom' Memo:
Attorney General Jeff Sessions intensified the Trump administration's "all-out assault on LGBTQ people" Friday by issuing a "religious freedom" directive to federal agencies that rights groups said would "categorize LGBTQ Americans as second-class citizens who are not equal under the law."
Outlined in a 25-page memo (pdf), the directive lays out the White House's "muscular view of religious freedom" first expressed in an executive order signed by President Donald Trump in May. The memo details 20 "principles of religious liberty" to which all federal agencies will be expected to adhere.
"Under the new policy, a claim of a violation of religious freedom would be enough to override concerns for the civil rights of LGBT people and anti-discrimination protections for women and others," the Associated Press noted. "The guidelines are so sweeping that experts on religious liberty are calling them a legal powder-keg that could prompt wide-ranging lawsuits against the government."
In crafting the policy guidance, the Department of Justice (DOJ) consulted extensively with "religious and political groups with a history of opposing protections for LGBT people," but not "specifically" with any LGBTQ rights organizations, Buzzfeed reported on Friday.
Unsurprisingly, the DOJ's directive was met with effusive praise by right-wing lawmakers and religious organizations, and fierce condemnation by civil rights groups that argue the Sessions memo constitutes little more than a "license to discriminate" against the LGBTQ community.
Chad Griffin, president of Human Rights Campaign (HRC), the nation's largest LGBTQ rights organization, said in a statement on Friday that the Sessions directive is a "blatant attempt to further Donald Trump's cynical and hateful agenda."
Justice Department policy as outlined in the new memo "will enable systemic, government-wide discrimination that will have a devastating impact on LGBTQ people and their families," Griffin concluded. "Donald Trump and [Vice President] Mike Pence have proven they will stop at nothing to target the LGBTQ community and drag our nation backwards. We will fight them every step of the way."
HRC argued in its press release that the Sessions directive would allow:
Federal contractors to deny services to LGBTQ people.
"Agencies receiving federal funding, and even their individual staff members, [to] refuse to provide services to LGBTQ children in crisis, or to place adoptive or foster children with a same-sex couple or transgender couple simply because of who they are."
"A Social Security Administration employee [to] refuse to accept or process spousal or survivor benefits paperwork for a surviving same-sex spouse."
The new DOJ memo comes amid a flurry of policy moves by the Trump administration this week that will disproportionately affect women and the LGBTQ community, including a rollback of the federal birth control mandate and a reversal of government policy that protected transgender workers from discrimination.
In a statement on Friday, Vanita Gupta, president and CEO of The Leadership Council on Civil and Human Rights, argued that the Sessions directive is "yet another mean-spirited attack against the LGBTQ community, people of color, and other minorities.
"Federal agencies, government contractors, and grant recipients should not be permitted to discriminate simply by citing a religious belief for doing so," Gupta concluded. "We urge the federal courts to reject the radical efforts by this administration to justify discrimination on the basis of religion. We are strengthened as a nation when we work to protect and balance the rights and dignity of all."
Gail Collins of the New York Times sums up what has been a bad week for civil rights in America. Out of Control on Contraception:
This week in the world of Washington and sex:
— The House of Representatives passed a bill banning late-term abortions.
— One of the co-sponsors announced he was resigning from office after word came out that he had urged his lover to have an abortion.
— The anti-abortion Trump administration announced it was going to let employers off the hook if they didn't want to cover contraception in their employee health programs.
Is anything wrong with this picture?
Many people of good will believe the country's commitment to human rights makes abortion immoral. Fair enough. The best way to avoid abortions is to avoid unwanted pregnancy, which means making it as easy as possible for women to practice birth control.
How can you fight against both abortion and contraception? There are only two possible explanations.
One is that you're a hypocritical politician trolling for right-to-life votes without any personal convictions whatsoever. The suddenly retiring congressman from Pennsylvania, Tim Murphy, would appear to fit into that category. Everyone in Washington has now read the text his girlfriend reportedly sent, complaining that he was making anti-abortion posts on his Facebook page while responding to her news that she might be pregnant by suggesting a quick termination.
Farewell, Representative Murphy. If you hadn't been forced to resign, you'd probably have come up with a terrific post extolling President Trump's announcement. Even though I'll bet you were a contraception fan in private life.
Let's call the second category Many Variations on the Little Sisters of the Poor. They're people of sincere religious conviction, trying to impose their own personal theology on Americans who don't share it.
Some of them claim, with no scientific backing, that birth control involves fertilized eggs being expelled from the uterus and is therefore abortion. Others just believe that it's immoral for a woman to have sex without accepting the possibility of pregnancy.
"To put it simply, contraception is anti-baby," says the American Life League on its website.
O.K., not a sentiment most Americans share.
When the Obama administration was putting the Affordable Care Act into operation, it struggled long and hard to allow employers with anti-contraception convictions to avoid directly providing the benefits, while making sure women still got birth control as part of their health care plan.
The Trump backtrack wasn't about protecting employers' right to express their "sincerely held religious beliefs." It was about empowering them to impose those beliefs on their workers. "A landmark day for religious liberty," said House Speaker Paul Ryan.
No, it wasn't. It was a tough day for the First Amendment, for the people who've been struggling to make unwanted pregnancies, and abortion, as rare as possible.
It worked really well, though, for the hypocrites who want to kowtow to the religious right without any concern for the inevitable consequences.
Too bad Representative Murphy won't be around for the celebrations.