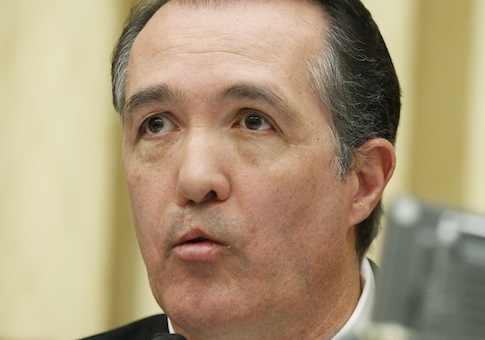 I happened to run across Arizona's most embarrassing congresman, Rep. Trent Franks, in a segment on MSBC discussing The Guardian reporter who was phyically assaulted by the Montana GOP House candidate Greg Gianforte — who still won his race yesterday, by the way.
Franks told MSNBC that liberals must share the blame: "The left has precipitated this tense, confrontational approach throughout the country in recent months."
Seriously?
This is after a campaign in which his pal Donald Trump castigated the media as the "enemy of the American people," and continues to do so as President.
This is after a campaign in which his pal Donald Trump incited violence against protestors and members of the media at his rallies, for which he is being sued in federal court. It's plausible Trump incited violence, federal judge rules in OK'ing lawsuit.
This is after his pal Donald Trump threatens to weaken First Amendment protections for reporters.
Which leads to this story in the New York Times. A Journalist Was Body Slammed, but Some Conservatives Want the News Media to Apologize:
In this time of intense partisanship, shiv-in-the-kidney politics and squabbles over the meaning of truth, can Americans come together and agree that a politician slamming a journalist to the ground for asking a question is wrong?
The answer, it turns out, is no.
Heated anti-media language is a fixture of the Trump era, with journalists derided by the president as "the enemy of the American people" and cast as villains in recent weeks by conservatives who say speculation about Russian ties to the White House is a news media-driven plot.
But the episode in Montana, which sent Mr. Jacobs to the hospital for an examination, came on the heels of several other cases involving reporters and physical altercations, raising alarms among advocates for journalists.
In West Virginia, a public radio reporter was arrested this month in the statehouse as he tried to ask a question of Tom Price, the secretary of health and human services. In Washington last week, a reporter was pinned against a wall by security personnel as he tried to ask a question of a member of the Federal Communications Commission.
To political reporters, Mr. Jacobs's experience seemed the troubling next step in a growing trend.
"Sadly, shamefully, disgustingly, it has come to this," lamented Gene Policinski, an executive at the Newseum in Washington. The Reporters Committee for Freedom of the Press also condemned the rough handling of Mr. Jacobs, calling the recent spate of incidents involving reporters "an assault on the very core of democratic life."
Representative Mark Sanford, a South Carolina Republican, said on Thursday that he saw a direct link between the Montana episode and what he described as an erosion of American civic life.
"Some demons have been unleashed," Mr. Sanford said in an interview, "which I think are threatening to those who believe in free speech and free governance."
The notion that Mr. Trump's unorthodox behavior — the insults and personalized attacks that were once anathema to the presidency — might be trickling down the political food chain was echoed by others on Thursday.
"There are people who are listening to this dog whistle," said April Ryan, the White House correspondent for American Urban Radio Networks. She recalled a hot-mike moment last week where Mr. Trump and his Homeland Security secretary, John Kelly, were overheard joking about using a ceremonial saber on the press.
"It is not cool," Ms. Ryan, who encountered brusque treatment herself at a White House press briefing, said in an interview. "Who are we? Are we a third-world country? You cannot persecute the press for asking questions about the truth."
* * *
Back in Montana, where the special election was held on Thursday, some journalists found that residents were not necessarily disturbed by the account of Mr. Gianforte's behavior — some, in fact, seemed to relish it.
A CNN correspondent, Kyung Lah, wrote on Twitter about an interaction with a Republican voter on Thursday morning. When Ms. Lah said she worked for CNN, the voter replied: "You're lucky someone doesn't pop one of you."
Joel Simon, executive director of the Committee to Protect Journalists, and Alexandra Ellerbeck, the senior Americas and U.S. research associate at the Committee to Protect Journalists, write at the Washington Post, In America, attacks on the press are turning literal (excerpt):
[T]he actions of Montana congressional candidate Greg Gianforte, who is accused of body-slamming Guardian reporter Ben Jacobs on Wednesday after Jacobs pressed him for his view of the Republican health-care bill, represent an alarming escalation. Gianforte faces a misdemeanor assault charge in the altercation.
The experience of countries that have seen a serious and rapid decline in press freedom — from Mexico to Ethiopia, Russia and Turkey — shows that the process proceeds in stages, with the media first being delegitimized and undermined. The United States has reached a juncture in which critical questions must be asked: How much do we as a society value freedom of the press? How energetically are we willing to fight for it?
* * *
It is clear that the threat to journalists in the United States has escalated to a stage beyond angry rhetoric. That's troubling enough for America, but what's at stake is not just the rights of journalists in this country but also press freedom as a global value. When Trump calls the media the "enemy of the American people," he provides fodder for dictators around the world to justify their own press abuses. The Cambodian government cited Trump in February when it threatened to shutter foreign media outlets. The Russian and Syrian governments and Chinese state media have used Trump's "fake news" epithet in criticizing the press.
But the Trump administration seems to have little concern for this global impact. Already, the president has met with the leading jailers of journalists — Chinese President Xi Jinping, Egyptian President Abdel Fatah al-Sissi and Turkish President Recep Tayyip Erdogan — whose countries together accounted for 56 percent of all journalists imprisoned worldwide late last year. Trump has declined to publicly call on these countries to improve conditions for their media.
This is not to say that Trump or anyone in his administration bears responsibility for Gianforte's confrontation with Jacobs; Gianforte alone must grapple with any legal consequences of his actions. But as the president of the United States, Trump is responsible for upholding and defending our political values and the constitutional principles at the heart of our democracy. Our president owes it not only to the people of this country, but also to all those around the world who are fighting for a free press, to condemn the most recent attack. Let us hope he can find his voice.
As you might imagine, this didn't happen. 'Great win in Montana!' Trump trolls his traveling press corps with snark about congressional winner who body-slammed a political reporter 24 hours before the polls closed:
Donald Trump took a moment away from diplomacy on Friday to do what he does best: troll the media about an election result.
'Great win in Montana,' he told a group of pool reporters as he strolled past them in the Sicilian town of Taormina, where this weekend's G7 summit is underway.
No one had asked the president about Thursday night's controversial election that saw Greg Gianforte win a seat in Congress despite physically assaulting a reporter 24 hours before.