Update to Trump attempts to undermine the intelligence community with his loyalists.
The Washington Post reports,Trump announces shakeup at top of U.S. intelligence:
President Trump said in a tweet Thursday that he will name Joseph Maguire, the director of the National Counterterrorism Center, as the acting director of national intelligence, following his aborted effort to install a political loyalist.
Maguire is a retired Navy admiral not steeped in the inner workings of the intelligence community, but his appointment was seen as steadying in the middle of a tumultuous shake-up in the top ranks of the country's spy agencies.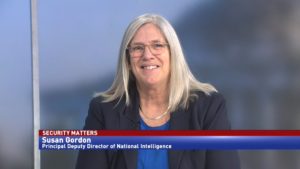 As Trump announced ­Maguire's appointment, he also said that Sue Gordon, the deputy director of national intelligence, would resign and not serve in the acting role when director Daniel Coats also departs next week.
Democratic and Republican lawmakers had said they wanted Gordon, a career intelligence official, to fill in for Dan Coats. But Trump was reluctant to keep someone with whom he had never formed a close bond. The president and his aides also regarded her as a career official and consequently suspicious, according to officials with knowledge of the president's views.
WTF is this supposed to mean? Catherine Rampell of The Post offers a plausible explanation. For Trump and his cronies, draining the swamp means ousting experts:
At last, the mystery of this apparent broken swamp-drainage promise has been solved. Turn outs what Trump and his cronies meant by "the swamp" wasn't regulatory parasites or crooked officials, but experts.
In a handwritten letter to Trump reviewed by The Washington Post, Gordon wrote that she had offered her resignation "as an act of respect & patriotism, not preference. You should have your team." (Sue Gordon's subtle but significant Trump protest).
A U.S. official said that Gordon was "heartbroken" and agonized over her decision to step down, but that she recognized she served at the president's pleasure.
In her letter of resignation, Gordon emphasized her years of experience and praised intelligence agency employees.
"I am confident in what the Intelligence Community has accomplished, and what it is poised to do going forward," Gordon wrote. "I have seen it in action first-hand. Know that our people are our strength, and they will never fail you or the Nation. You are in good hands."
Sen. Richard Burr (R-N.C.), chairman of the Senate Intelligence Committee, praised Gordon, [and said] "Sue Gordon's retirement is a significant loss for our Intelligence Community," the senator said in a statement. "In more than three decades of public service, Sue earned the respect and admiration of her colleagues with her patriotism and vision. She has been a stalwart partner to the Senate Intelligence Committee, and I will miss her candor and deep knowledge of the issues."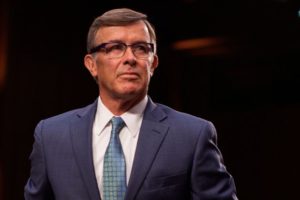 Current and former intelligence officials were relieved by Maguire's appointment, although it wasn't clear whether Trump would formally nominate him as the permanent intelligence director. Maguire was already confirmed by the Senate for his current position and by law is allowed to assume the duties as acting director.
Maguire, who was a Seal Team 6 commander, has extensive experience in counterterrorism operations and national security, said Mike McConnell, a former director of national intelligence who worked with Maguire during the George W. Bush administration.
"He listens, he's deliberate and he makes good decisions. He's the kind of guy that all the troops want to have as boss and would follow him anywhere," McConnell said.
"Joe is a terrific leader who cares deeply about the men and women of the intelligence community," said Nick Rasmussen, who held Maguire's job at the counterterrorism center under Bush and President Barack Obama. "He's someone who has always accepted the call to serve his country in whatever way is required. This is no different."
Maguire does not appear to be a "yes man" who will tell Trump only what he wants to hear to confirm his own deeply uninformed biases (i.e., Russia and North Korea are his besties), nor does he appear to be a Trump loyalist. This does not appear to be someone Trump would want to keep in the DNI position, because Maguire will give his unvarnished assessments that Trump does not want to hear.
Which is why there is already media speculation that Trump is considering Ambassador Pete Hoekstra, "the human sieve," who was found to have leaked or otherwise publicly mishandled classified information when he was chairman of the House Intelligence Committee.
Steve Benen reports, Needing an intel director, Trump praises controversial former rep:
Director of National Intelligence Dan Coats is on his way out. Principal Deputy Director of National Intelligence Sue Gordon was shown the door. Donald Trump's recent choice of Rep. John Ratcliffe (R-Texas) to serve as DNI ended in a humiliating fiasco.
So, who's next? Bloomberg News noted yesterday that Pete Hoekstra, who used to serve as the chairman of the House Intelligence Committee and who's currently serving as the U.S. ambassador to the Netherlands, is in the mix.
Today, the president mentioned him by name.
Pete Hoekstra, the U.S. ambassador to the Netherlands and a former congressman from Michigan, is getting buzz about possibly becoming President Donald Trump's top intelligence adviser.
Speaking in Washington on Friday, Trump was asked by reporters about the possibility of Hoekstra being nominated to be the official director of national intelligence and the president has positive words for him.
"I like Hoekstra a lot," Trump said.
That being the case, let's take a stroll down memory lane.
If the Michigan Republican's name sounds at all familiar, it may be because Hoekstra became the butt of jokes in late 2017 after making some very strange claims about the Netherlands – and then getting caught lying about it to a Dutch news outlet.
He might also be known for having run a failed gubernatorial campaign in 2010, and then a failed U.S. Senate campaign two years later.
But what I consider the most important part of Hoekstra's background was his nine-term tenure on Capitol Hill.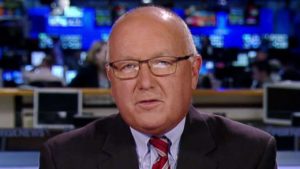 At face value, it hardly seems outrageous to think a former House Intelligence Committee chairman could help oversee the U.S. intelligence community. The trouble in this case is how Hoekstra performed in his congressional role.
In June 2006, for example, Hoekstra was so determined to help the Bush/Cheney administration's position on the war in Iraq that he and then-Sen. Rick Santorum (R-Pa.) held a press conference to declare, "We have found weapons of mass destruction in Iraq."
We had not found weapons of mass destruction in Iraq.
But perhaps most striking is Hoekstra's record of handling sensitive information in an unfortunate way. As regular readers may recall, in one especially memorable incident, the Michigan Republican confirmed to the Washington Post, on the record, that Nidal Malik Hasan had exchanged emails with Anwar al-Awlaki. It was a problematic revelation – that federal officials had kept secret for a reason.
The Atlantic had a related report in 2012, noting senior U.S. intelligence officials who said there were "concerns" about Hoekstra's loose lips.
Those concerns were well grounded. In August 2007, Hoekstra wrote an op-ed condemning leaks, but the op-ed itself was accused of including a leak with classified information about U.S. intelligence budgets. In November 2006, Hoekstra pushed the Bush administration to publish online a vast archive of Iraqi documents captured during the war. The idea was to let far-right bloggers "prove" that Saddam had WMD, but Hoekstra's plan led to the accidental release of secret nuclear research.
And in 2009, iHoekstra was supposed to keep secret his itinerary in Iraq, but he instead broadcasted his whereabouts on Twitter.
If Trump "likes Hoekstra a lot," these details may not matter. In fact, if recent history is any guide, this blog post probably offers more vetting than the White House is prepared to do.
But given the Michigan Republican's history, if the president nominates him, the confirmation hearings may be unpleasant.
Returning to the Washington Post:
"President Trump has repeatedly demonstrated that he is seemingly incapable of hearing facts that contradict his own views," Sen. Mark R. Warner (D-Va.), the vice chairman of the Senate Intelligence Committee, said in a statement.
"The mission of the intelligence community is to speak truth to power. Yet in pushing out two dedicated public servants in as many weeks, once again the President has shown that he has no problem prioritizing his political ego even if it comes at the expense of our national security," Warner said.
"The retirements of Dan Coats and Sue Gordon represent a devastating loss to the Intelligence Community, and the men and women who serve in it," Rep. Adam B. Schiff (D-Calif.), the chairman of the House Intelligence Committee, said in a statement.
"Gordon brought decades of experience and encyclopedic knowledge of the agencies to bear, and her absence will leave a great void. These losses of leadership, coupled with a president determined to weed out anyone who may dare disagree, represent one of the most challenging moments for the Intelligence Community."
Dumbing down the intelligence agencies with Trump loyalist yes men puts the national security of the United States seriously at risk. Every member of Congress should be deeply concerned about what is happening.