West Virginia public school teachers decided "enough is enough" and staged a statewide strike. "Over 15,000 teachers and school support employees in all 55 West Virginia counties have been out on strike for [nine] days, as they and supporters from around the state [flooded] the capitol in Charleston, W.V., demanding higher pay and affordable healthcare." West Virginia Teachers Are Now Out on a Wildcat Strike. The Labor Movement Should Follow Their Lead.: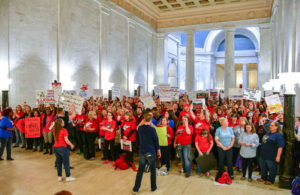 Bucking a deal struck between the West Virginia Education Association (WVEA) and the state government, school workers have defied both union leadership and state law, which affords them no right to strike and does not recognize their right to collectively bargain. These restrictions haven't stopped West Virginia educators from leading what may be one of the most important labor actions in years.
With "right-to-work" laws spreading across the country, and a Janus Supreme Court decision that could decimate public-sector unions on the horizon, striking teachers are offering a blueprint for how to win when the odds are stacked against labor: Strike, win and then keep striking to win more—no matter what union leaders say.
The walkout in West Virginia has now become what's known as a wildcat strike: A mass work action carried out by the rank-and-file and without the express consent of union leadership. [Last] Tuesday, after agreeing to a five percent raise for teachers and three percent raise for other public-sector workers, WVEA leaders declared victory. But the rank-and-file weren't having it, breaking out into chants of "We are the union bosses!" and "Back to the table!"
Yesterday, the governor and legislature of  West Virginia agreed to the teachers demands. All In with Chris Hayes reports, As West Virginia teachers' strike ends, is Oklahoma next? (video link).
Across Oklahoma, teachers, labor organizers, parents and school boards are taking steps to follow West Virginia in launching their first major strike since 1990 to demand higher pay from the state Legislature. Oklahoma comes closer to joining West Virginia in a major teacher strike:
On Thursday, the Oklahoma Education Assn. teachers union plans to unveil a shutdown strategy and a proposed funding measure to pressure lawmakers to boost spending for education in the state. The union said 80% of more than 10,000 respondents to an online survey backed closing schools in support of a walkout.
Association President Alicia Priest said the union was "working toward" bringing all districts on board with a possible walkout, as in West Virginia, though she said "not everyone is on board yet, and that's OK."
"The goal is not a walkout," Priest said. "The goal is for us to have funding for public education to best meet the needs of our students."
Next week, teachers in Tulsa, one of the state's biggest school districts, plan to engage in a work-to-rule protest – a labor slowdown in which workers do only the minimum amount of work required. They have the backing of top administrators, who said they plan to support a teacher walkout and school shutdowns "should they become necessary."
Here in Arizona, the bottom of the barrel for public school teachers, Arizona teachers plan protest Wednesday over low pay:
Thousands of Arizona public-school teachers and their supporters are expected to wear red to work Wednesday in protest of the low pay they say has exacerbated the state's critical shortage of qualified teachers.
The effort to stage a statewide teacher protest started last week and has since gained rapid momentum on social media among teachers, said Noah Karvelis, one of the protest organizers and a music teacher in the Littleton Elementary School District.
Karvelis created a closed Facebook group over the weekend called Arizona Teachers United to mobilize teachers' support for the protest. The group had more than 11,000 members as of Tuesday evening.
Karvelis said Arizona teachers have been galvanized by the efforts of the West Virginia teachers who started a nine-day strike across all 55 of the state's school districts. The strike led to an agreement by that state's Legislature to boost pay by 5 percent.
Arizona and West Virginia are similar: They both rank among the worst for teacher pay. When adjusted for cost of living, median pay for elementary teachers in Arizona ranks 50th nationally at $42,474, according to the Arizona State University Morrison Institute for Public Policy. The report puts high-school teacher median pay at 49th nationally.
"They really set a strong example of what's possible, even with a Republican governor, even with Right to Work being the law of the land essentially as it is here," Karvelis said of West Virginia's teachers. "That really emboldened us."
Arizona teacher pay remains among the lowest in the nation despite a 1 percent increase approved by the Legislature last year, as well as an infusion of cash from a ballot measure called Proposition 123.
The 2016 measure, pushed by Gov. Doug Ducey, settled a lawsuit filed by the school districts over the Legislature not fully funding inflation during the Great Recession.
But many teachers have been unsatisfied by the state's efforts and have said they don't do enough to address the flood of qualified educators leaving Arizona's classrooms.
The majority of Arizona's schools staffed classroom teaching positions with teachers who were either underqualified or inexperienced during the 2016-17 school year, an Arizona Republic analysis found.
As of last November, school districts had filled more than 1,000 teaching positions this school year through Emergency Teaching Certificates that require only a bachelor's degree and no formal teacher training.
Joshua Buckley, a teacher and president of Mesa Public Schools' teachers' union, said he hoped Wednesday's demonstration shows "that teachers have power."
"We're at a moment in Arizona where we're starting to see all those cracks show up because of the lack of funding, whether it's literal cracks in school buildings or classrooms that have more than 35 students," Buckley said.
Momentum for strike?
West Virginia's teacher strike first took shape through a similar mobilization of teachers wearing red, and teachers in another low-pay state, Oklahoma, are also organizing for possible job action.
But organizers of Arizona's teacher protest said they do not plan to go that far yet.
Instead, they described Wednesday's action as the "first step" toward mobilizing support among the state's teachers.
According to the Associated Press, an Arizona attorney general opinion from 1971 said there's no statewide law banning a teacher strike, but nevertheless found that a statewide teacher strike would be illegal under common law and participants could lose their teaching credentials.
That A.G. opinion is of questionable validity in relation to First Amendment rights to peaceably assemble and to petition the government for a redress of grievances. A.G. opinions do not have the same force and effect of court decisions, in particular with respect to constitutional rights. They can be challenged in court.
Teachers on social media, including several who said they supported striking, worried about the impact of a strike on their already-low incomes.
Joe Thomas, president of the Arizona Education Association, told The Arizona Republic last week that he hoped to see improvements made by state leaders before teachers reached the point of striking.
Thomas on Tuesday told the Associated Press that he's seen increasing interest in a teacher strike. He said he suggested to Karvelis recently that a group action such as wearing red would be a good way to gauge teachers' sentiments and the potential willingness for a statewide job action.
"It's a great indicator — if two wear red, people probably aren't upset — people probably aren't agitated," Thomas said. "But if you get your whole school site — I don't know what the magic number is, 80 percent? If everybody shows up in red, that may be a good indicator that people are ready to take a larger action."
Laurie Roberts writes at The Republic, Arizona teachers ready to follow West Virginia's lead and go on strike?
West Virginia teachers were sick and tired of their lofty status as the 48th most poorly paid teachers in the nation.
Sick and tired of a Republican governor and legislature that always cried poverty when it came time to pony up for teachers. Unimpressed with West Virginia leaders' plan to phase in a 2 percent pay raise.
So 20,000 West Virginia teachers went on strike on Feb. 22. Public schools in all 55 counties of the state were closed as teachers demanded a 5 percent raise and better health benefits.
Now, after nine days of no school, the Republican-run Legislature has unanimously passed and West Virginia Gov. Jim Justice signed legislation giving teachers (and other state employees) a 5 percent pay raise. The governor also has set up a task force to  address the state's lousy health insurance program.
"Today," Justice said," is a new day in education."
A new day that teachers never would have seen had they not taken a stand. Or more specifically, a walk.
Arizona's teachers paid less than West Virginia's
Meanwhile, here in Arizona, teachers are also getting sick and tired of their lofty status as the 49th (for elementary teachers) and 50th (for high school teachers) most poorly paid in the nation, according to a study by the Morrison Institute.
They remain unimpressed with Arizona leaders' plan to phase in a 2 percent pay raise.
This week, a couple of Arizona teachers launched Arizona Teachers United REDforED, asking their colleagues across the state to wear red to school on Wednesday. They've even got a pair of hashtags: #REDforED and #AZWhatIsThePlan – a question best posed to that great advocate for public education, Republican Gov. Doug Ducey.
"West Virginia is showing the entire nation what can happen when teachers stand in solidarity," the group says on its Facebook page. "Arizona's teachers are taking note and realizing that now is the time for us to start organizing our campuses and districts."
#RedForEd on Wednesday
Is Wednesday's RedforEd campaign a political statement? Or is it an opportunity to gauge interest in following West Virginia's lead and walking out of Arizona's classrooms?
That's a monumental undertaking and teachers have got to be monumentally fed up for it to work.
Too soon to say what will happen but I note that the Arizona Education Association has announced that it will hold a press conference on Wednesday, "where AEA President Joe Thomas will make an announcement on behalf of the 20,000 teachers and education support professionals we represent in the state."
This has got to be the stuff of nightmares for Ducey, who is up for re-election this year and who constantly tells us how much he's done for the schools.
MAKE THEM SEE RED!