"The most corrupt sheriff in America" finally lost his elected office last Novenber, and now justice may finally arrive for Crazy Uncle Joe Arpaio. Criminal contempt trial of former Sheriff Joe Arpaio set to open Monday: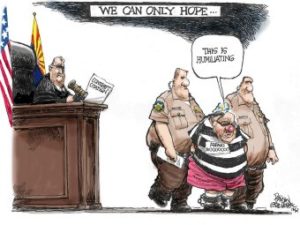 Joe Arpaio — the man, not the lawman — is the defendant in a federal criminal trial scheduled to begin in Phoenix on Monday.
Unlike before, efforts by his attorneys to delay, dismiss or otherwise adjust the trial this time around have not been successful so far.
The court proceeding is scheduled to last for two weeks, with prosecutors from the U.S. Department of Justice's Public Integrity Section.
The former Maricopa County sheriff is accused of defying a federal judge's orders that barred Arpaio from enforcing federal immigration law.
The alleged criminal contempt of court happened over a period of 18 months in 2012 and 2013, when Arpaio was still in office.
Arpaio already has been found in civil contempt for the same case. Under the law, the difference between civil and criminal contempt is intent — whether the defendant willfully or unintentionally violated a judge's order.
Defense attorneys are pursuing a bold strategy: They will argue that U.S. District Judge Murray Snow's initial order was invalid, or at the very least unclear, and Arpaio is therefore blameless.
"He's being prosecuted for doing something that the federal government has always told (local law enforcement) to do," said Jack Wilenchik, one of Arpaio's attorneys. "It's an assault on logic to say that local law enforcement cannot even cooperate with federal authorities, if that's what federal law enforcement wants you to do."
Defense attorneys are sticking to this tack despite earlier futile efforts to further the narrative.
They have repeatedly sought a jury trial, presuming that an audience without legal acumen would be more likely to sway in their favor. [The court has dened a jury trial.]
Prosecutors have pushed back on this strategy in their pretrial court filings, arguing that the defense is attempting to politicize the case and deflect focus from the issue at hand. Criminal contempt is defined by a deliberate defiance of a court and is not a question of the underlying order.
* * *
Former U.S. Attorney Paul Charlton said the defense's argument is unlikely to hold water with U.S. District Judge Susan Bolton, who is presiding over the bench trial.
"Generally, Judge Bolton is a no-nonsense judge who will impartially review the facts and the law," Charlton said. "And the issue that's immediately before her is whether Joe Arpaio intentionally violated Judge Snow's orders."
10 years in the making
For immigration-rights advocates, this moment in court was a decade in the making — a dramatic finale of what began as a 2007 racial-profiling lawsuit against the Sheriff's Office. Plaintiffs, including the American Civil Liberties Union, alleged that the sheriff's signature immigration patrols violated Latinos' constitutional rights.
In December 2011, months before the trial was to begin, Snow issued a preliminary injunction over the Sheriff's Office. The order banned deputies from detaining anyone solely on suspicion that they were undocumented immigrants and without cause to believe a crime had been committed.
In May 2013, Snow officially determined the office had racially profiled Latinos. The following months would introduce multimillion-dollar reforms to the Sheriff's Office, including anti-bias training, recording devices for deputies and a court-appointed monitor to ensure the agency followed the letter of the law.
But information emerged that the Sheriff's Office continued to detain people suspected of being in the country illegally for at least 18 months after the judge's preliminary order — up to May 2013 and maybe beyond. This and other allegations of court violations resulted in a civil-contempt trial that spanned several months in 2015.
Snow found that the defiance of his orders did amount to civil contempt and could be criminal. He referred the case to the Department of Justice.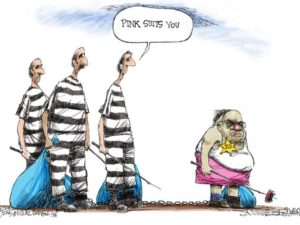 The trial could be the personal reckoning for the man whom many say ushered in a culture of fear among people without legal status living in the county. Though the Sheriff's Office as an entity was admonished by a federal judge, and the county forced to pay tens of millions of dollars for reforms, this trial is the first time Arpaio has had personal skin in the game.
The former sheriff, who is 85, could face as much as six months in jail if convicted, although experts say incarceration is unlikely.
There is more background reporting in this report, but you get the gist of it.
Justice delayed is justice denied. Justice may finally arrive for Crazy Uncle Joe Arpaio.