After a resounding loss in 2016, Matt Heinz is running again in Tucson's Congressional District 2, hoping that data, dollars and good publicity will help him beat incumbent Martha McSally.
A doctor and former AZ state representative (2009-2013), Heinz is doing the nuts-and-bolts work of planning to appear at 120 house parties and calling Democratic precinct captains like me.
A physician since 2003, his key issue is health care and making sure that Americans have health insurance. In contrast, McSally eagerly voted to end health insurance for 22 million people, telling her GOP colleagues, let's get this "fucking thing" done.
Last April Heinz left an overnight shift at Tucson Medical Center on two hours sleep to speak at a health care forum in Green Valley. "I spent 45 minutes answering excellent questions. People asked if I would run again," he says. His patients at Tucson Medical Center are also pressing him to run.
"I don't bring up politics with my patients. But I was treating a woman who was actively having a heart attack. She said, 'I'm a Republican from Vail and I voted for you.' She closed the conversation by saying, 'It was worth having this heart attack to meet you.'"
Data and donations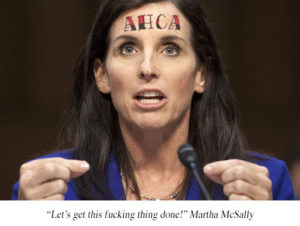 Heinz commissioned a survey by Public Policy Polling that showed McSally is vulnerable. Fully 56% of voters in District 2 said they were less likely to vote for McSally because of her hideous vote to repeal the Affordable Care Act. The survey of 944 voters said a whopping 53% disapproved of McSally's job performance and only 40% approved.
It also showed that if the election were held today, Heinz would garner 48% of the vote compared with McSally at 44%. The data inspired Heinz to seek another shot at McSally.
"This made me realize that I had to run for Congress," he says. "It shows there is a pathway to win the general election."
A follow-up PPP poll on June 20 found that he pulls in the support of 40% of Democratic primary voters in the district, while carpetbagger Ann Kirkpatrick gets 30%.
Of course, polling also predicted that Hillary Clinton would be elected President. The reality is that McSally clobbered him in 2016 with 57% of the vote, compared with 43% for Heinz. McSally also sucked from the bowels of dark money to raise $8.2 million to run against Heinz, compared with the $1.6 million he raised.
This caused the Democratic Congressional Campaign Committee (DCCC) to abandon him in 2016, a fact that leaves him chastened. So far Heinz says he's raised $200,000 in donations, but McSally already has $764,862.
But Heinz says he has other guns in his arsenal, including a 200,000-person email list and a nationwide LGBT support network he can tap into.
"I can talk to people in New York and San Francisco who will support me. It's a big deal being able to call in that interest nationally," he says.
Face-to-face campaigning
He also has the glow of favorable publicity from the influential Daily Kos blog, which has published every press release Heinz sends in.
At age 40, he's in the middle of the pack of Democratic candidates for Congress, who range in age from 30 to 68.
Heinz says this time he'll make time to for face-to-face campaigning after Democrats criticized him for failing to run an in-person campaign in 2016,
"Going forward, I can work 10, 5 or 2 shifts per month at the hospital," he says. "I can dial down my medical practice when I need to and I'll be doing that to maximize my ability to meet people."

"The personal touch is how I won my legislative race in 2008," he says.
And he says he can rebut McSally's pandering to veterans. (Her July 6 email falsely claims she got funding for the A-10 airplane at Davis-Monthan, when voters should know it was the Army that saved it — not her.)
"I'm not going to let her play the veteran card. I say, 'thank you for your service,' but now the people of Southern Arizona need job creation and healthcare. And voting to take health care away is not good for the district," he says.
Besides, ex-colonel McSally is reportedly an idiot in meetings with generals and admirals who outrank her, interrupting them and talking over them.
"She's like a hummingbird on caffeine," Heinz says.
You can support Matt Heinz at www.heinzforarizona.com.