Update to The cruelty is the point: New Trump policy to detain migrant children indefinitely. The anticipated lawsuit challenging Trump's unlawful action has been filed.
The Hill reports, 20 states sue Trump administration over Flores rule:
A coalition of 20 states led by California and Massachusetts on Friday announced a lawsuit against the Trump administration's proposed rule to amend the longstanding court order that limits the detention of migrant minors to 20 days.
It's the first major litigation against the Trump administration's plan to rescind the Flores settlement agreement, a rule that would allow the federal government to indefinitely detain asylum-seeking families, including minors, until their cases are reviewed by immigration courts.
"This new Trump rule callously puts at risk the safety and well-being of children. It undermines a decades-old agreement reached in court by the federal government to prevent the unlawful detention of immigrant children," said California Attorney General Xavier Becerra in a statement on Monday.
"No child deserves to be left in conditions inappropriate and harmful for their age. We're taking the Trump Administration to court to protect children from the irreparable harm caused by unlawful and unnecessary detention. With our partners across the country, we will fight for the most vulnerable among us," added Becerra.
The lawsuit, which was filed on Monday, argues that the Trump administration's proposed rule will endanger minors by removing state licensing requirements for family detention centers.
The states also argue that the expansion of family detention will lead to an uncontrolled expansion of for-profit detention, creating incentives for more families to be detained, and that prolonged detention under any circumstances has negative long-term medical consequences for children.
The lawsuit alleges the rollout of the rule violates the Administrative Procedure Act and the due process clause of the Fifth Amendment to the Constitution.
The Flores settlement agreement was first imposed on the federal government in 1997 as a result of a lawsuit. It was amended in 2015 to make its benefits extend to migrant minors traveling as part of family units.
Monday's lawsuit is the 13th filed by California against the Trump administration on immigration matters, and the 57th filed on any issue.
In July, California sued the federal government, saying it was not providing soap, clean water or toothbrushes to migrants detained based on the regulations imposed by Flores.
"This has become a very frequent sight, but we're not going to stop doing what we need to do unless the federal government stops trying to change the law by breaking the law," said Becerra.
"The state has interest in this. California, its economy, its people, will be impacted," Becerra added. "We're going to go in as a party because the interests of our state are at stake."
Becerra also announced the state is filing a preliminary injunction against the Trump administration's public charge rule.
Under that proposal, set to take effect in October, migrants who legally use or have used Social Security or other benefits would face significant obstacles in obtaining permanent residency or citizenship in the future.
Activists have argued the public charge rule would especially hurt American citizen children of immigrants without legal status, as their parents would be disincentivized from using social programs.
"Public charge is nothing but family separation by any other name — mother has to decide whether to feed her kids," said California Gov. Gavin Newsom (D).
Earlier, two California counties, Santa Clara County and San Francisco, filed the first lawsuit against the Trump administration's new "public charge" rule that allows the government to deny entry or green cards to immigrants based on their use of public programs like food stamps and Medicaid. California counties file first lawsuit over Trump 'public charge' rule. The lawsuit is seeking a temporary injunction in the District Court for the Northern District of California.
Last week, New York Attorney General Letitia James announced a lawsuit against the Trump Administration's Public Charge Rule. Attorney General James Announces Lawsuit Against Trump Administration Over Public Charge Rule. James jointly filed the suit in Manhattan federal court with New York City's law department and Connecticut and Vermont's respective state attorneys general. Thirteen other states had already filed a suit against the proposed change last week. Three more states sue over 'public charge' immigration rule.
History Lesson
Laurel Leff explains how the Trump administration's "public charge rule" resurrects the same immigration policy that once kept out Jews fleeing Nazi Germany:
During the Nazi era, roughly 300,000 additional Jewish refugees could have gained entry to the U.S. without exceeding the nation's existing quotas.
The primary mechanism that kept them out: the immigration law's "likely to become a public charge" clause. Consular officials with the authority to issue visas denied them to everyone they deemed incapable of supporting themselves in the U.S.
It is not possible to say what happened to these refugees. Some immigrated to other countries that remained outside Germany's grip, such as Great Britain. But many — perhaps most — were forced into hiding, imprisoned in concentration camps and ghettos, and deported to extermination centers.
The Trump administration is now resurrecting "the public charge" clause as a way to limit legal immigration without changing immigration law. On Aug. 12, U.S. Citizenship and Immigration Services announced new regulations that will deny admission to those unable to prove under tough new standards that they won't claim government benefits.
As someone who has studied European Jews' attempts to escape Nazi persecution and immigrate to the U.S., the administration's evocation of the public charge clause is chilling.
Preventing 1930s immigration
The public charge clause stretches back to an 1882 act, which was then incorporated into a 1917 law, that spelled out the classes of aliens who could be excluded from the U.S., including "persons likely to become a public charge."
For the first five decades, the public charge provision barred few people, basically only those unable to work due to physical or mental handicaps.
After the 1929 stock market crash and the ensuing Great Depression, the Hoover administration sought to combat unemployment by reducing the number of immigrants. But it didn't want to change the recently implemented Immigration Act of 1924 that set annual overall and country-by-country quotas.
In September 1930, the State Department issued a press release that told consular officials that they "must refuse the visa," to anyone they believed "may probably be a public charge at any time." The instructions achieved the desired effect. Within five months, only 10% of the quota slots allotted to European immigrants had been filled.
When the Roosevelt administration assumed power in March 1933, it continued the new interpretation of the public charge clause. As refugees from first Germany and then most of Europe sought to escape Nazi persecution, the State Department used the public charge clause to limit the number of foreigners, most of whom were Jews, from immigrating to the U.S.
* * *
Neither the language of the 1917 act nor the press release that doubled as an executive order indicated how applicants could prove they wouldn't require public support. Should they show proof of assets? What kind of assets and in what amounts? Should they provide sworn affidavits from Americans vowing to support them? But who could provide such affidavits, and what financial resources must they possess?
With few guidelines and vast discretion, consular officials could basically do what they wanted.
Top State Department officials made clear what it was they wanted: to reduce immigration as much as possible. They also made clear that consular officials' careers hinged upon accomplishing that goal. The State Department largely succeeded, primarily by relying upon the public charge clause, historians who have researched its use agree. Once World War II started in 1939, security concerns also were used to deny visas.
About 200,000 refugees from countries under Nazi domination were admitted to the U.S. as immigrants. About 550,000 could have been under existing U.S. quotas. Only once during the 12 years of the Nazi regime, in 1939, was the German quota filled. In all other years, the quota ranged from 7% to 70%.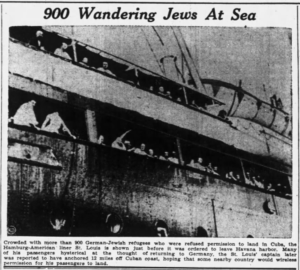 For those of you who know history, this led to the infamous case of the M.S. St. Louis, a passenger ship carrying more than 900 Jewish refugees fleeing Hitler's Nazi Germany in 1939, who were denied permission to disembark in Florida. A State Department official telegraphed the passengers, telling them that they "must await their turns on the waiting list and qualify for and obtain immigration visas before they may be admissible into the United States." A Ship of Jewish Refugees Was Refused U.S. Landing in 1939. This Was Their Fate. The passengers were returned to Europe. The world's refusal of the St. Louis' desperate refugees was a death sentence for 254 refugees—approximately half of the number who had returned to the European continent in 1939. Many who did not die were interned in concentration camps.
Laurel Leff continues:
Reviving the public charge clause
Although immigration laws have changed considerably since the 1930s and 1940s, the existing Immigration and Nationality Act retains a version of the public charge clause. It is as vague as earlier incarnations. Anyone who is likely at any time to become a public charge is inadmissible, but the act doesn't define what that means.
A related statute suggests "the availability of public benefits" shouldn't be "an incentive for immigration." It allows administering agencies to consider factors such as the applicant's age, health, family status and financial resources.
Immigration Services, which is under the Department of Homeland Security, will use the Trump administration's new rules to determine admissions to the U.S. at ports of entry and to assess status changes for certain immigrants already here.
The regulations specify negative and positive factors immigration officials must consider in deciding who is likely to become a public charge. Applicants who have enough money to cover "any reasonably foreseeable medical costs" or have a good credit score, for example, are judged favorably. Those who lack private health insurance, a college degree, sufficient English-language skills for the job market, or a well-to-do sponsor are assessed negatively.
Of recent applicants from Europe, Canada and Oceania, 27% had two or more negative factors under the new rules, Mark Greenberg of the think tank Migration Policy Institute told The Washington Post. Of those from Asia, 41% had two or more negative factors. Of those from Mexico and Central America, 60% had two or more negative factors.
The State Department is drafting similar rules for consular officers to use in issuing visas. The Justice Department is preparing to provide standards for use in deportation and other immigration court proceedings.
The regulations leave the ultimate determination "in the opinion" of the appropriate government official, but I see little reason to doubt the result will be fewer and different types of immigrants. The Trump administration is as likely to succeed in communicating what it wants to lower-level officials as was the Nazi-era State Department.
The crypto-fascist anti-immigrant extremist and presidential adviser Stephen Miller is the "Trump whisperer" who is crafting these cruel and inhumane immigration policies. This depraved, despicable, and dangerous man needs to be removed from any position of authority in the White House or in government.